Rural constituents largely accept the Republican as a politician who says what he believes, despite recent storm over allegedly racist remarks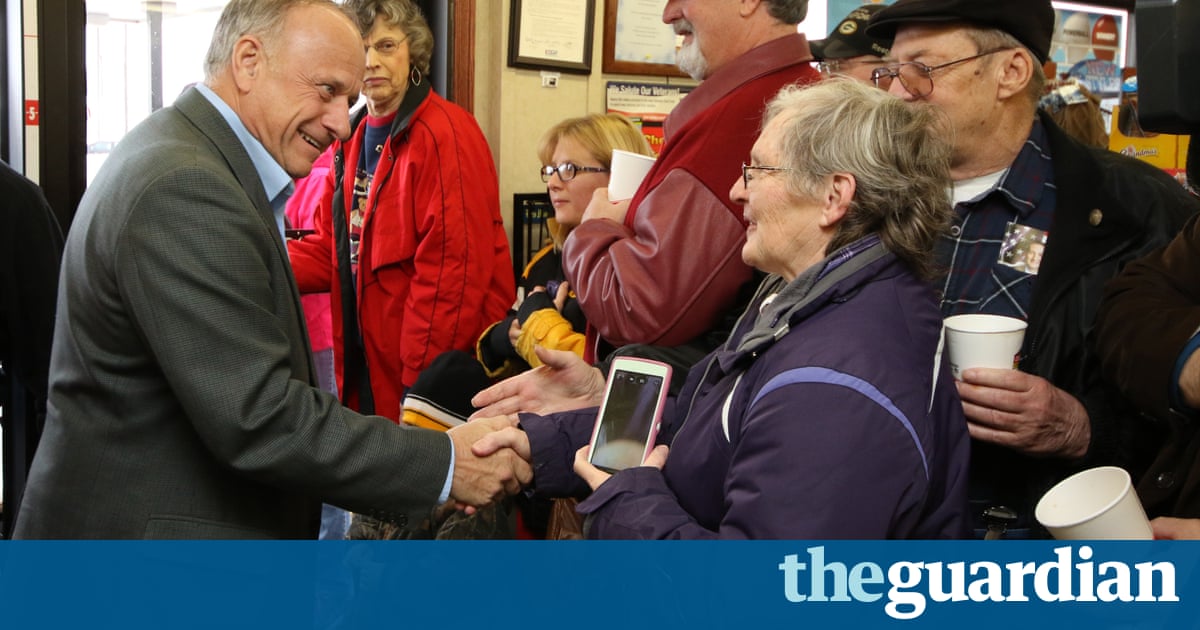 Outside his rural congressional district stretching over 39 Iowa counties, conservative U.S. Rep. Steve Kings stream of inflammatory comments generate outrage and condemnation. Back home, they rate little more than a shrug.
Thats just Steve being Steve, was how Tom Reiter put it, looking into a mirror while getting his hair cut on Thursday in Carroll. He doesnt pull any punches.
Its been that way since King, a former construction company owner and state legislator, was elected to Congress in 2002. Its still true, days after King tweeted his support for a far-right Dutch politician who opposes immigration and added: We cant restore our civilization with somebody elses babies.
Later in a radio interview, King responded to a question about changing demographics that could mean whites will no longer make up a US majority by predicting: Hispanics and the blacks will be fighting each other before that happens.
Kings comments prompted House Minority Leader Nancy Pelosi to call for Republican leaders to condemn what she called vile racism. House Speaker Paul Ryan told Fox News he disagreed with King about somebody elses babies. The White House also distanced itself from Kings comments.
In the fourth congressional district, dotted with small towns and some of the worlds most valuable farmland, King remains popular, typically winning 60% or more of the vote with reliable support even from those who feel uneasy about some of his statements.
The comments have included opposition to placing an image of black anti-slavery activist Harriet Tubman on the $20 bill, comments about immigrant children having calves the size of cantaloupes because of carrying marijuana across the border, and support for fortifying a border wall by placing an electric wire on top.
Although the Hispanic population is growing in Iowa cities such as Storm Lake with large meat processing plants, the district remains overwhelmingly white and deeply conservative, with about 70,000 more Republicans than Democrats. It backed Trump in the 2016 election by nearly two to one, with some counties giving the Republican six times more votes than Democrat Hillary Clinton.
Many voters credit King for a willingness to speak his mind despite criticism.
Hes honestly saying what he believes, said Pat Luther, a retired teacher who joined her husband for coffee and a frosted doughnut on Thursday at Bunkers Dunkers Bakery in Jefferson. Her husband, Dave Luther, nodded and added: Political correctness makes me tired.
The couple have lived most of their lives in Jefferson, a city of 4,200 on the southern edge of the district, and acknowledged some of Kings comments make you cringe. But Dave Luther, a Republican and retired insurance agent, said he believes King doesnt mean to be offensive.
Hes just concerned about immigration and how our country is changing, he said.
Although the entire district favors Republicans, apart from Ames, home to Iowa State University, it gets more conservative heading north and west. Heading west to Carroll, hair stylist Amy Riddle agrees with customer Reiter that in a conservative district, voters are willing to overlook statements from a congressman they trust, and agree with on issues.
If you know the character of a person, youre able to give him a little grace, she said.
Don Kass, the chairman of the Republican party in Plymouth County, said he sometimes wished King wouldnt feed the liberal bears but added that most criticism comes from people outside the district.
Since they agree with King on the issues, said Gwen Ecklund, a Republican leader in Crawford County, voters dont worry about his comments.
I think theres a skepticism among the voters regarding Washington and the media and because of that, the voters may not seem to take it as seriously as others do, she said.
Not everyone supports King, though its hard to find someone who thinks voters will reject the congressman. One who holds out hope is Democrat Kim Weaver, who ran against King in 2016. She lost in 38 of 39 counties but expressed optimism as she edges toward another run next year.
Maybe its just that Im naive, but I dont believe the people in north-west Iowa are horrible racist bigots, not aware of whats going on, said Weaver, who works as an advocate for seniors in care centers.
Weaver said Kings recent comments prompted a flood of donations from inside and outside the district to an exploratory committee she has established.
People are starting to realize, this guy really means this stuff, she said.
Dorla Neiderheiser, a retired nurse from the 200-person city of Paton in Greene County, said shed like to see King replaced, quipping that People on the coasts must feel like were uneducated. Still, she said, A lot of people seem to want to hear it that way.
Libertarian Dale Gentry, a retired teacher from Rockwell City who owns an auto restoration business just off the 2,100-person citys town square, is no fan of the congressman.
Steve doesnt plug his mind in before his mouth takes off, he said.
But Gentry did not have a lot of faith in the two political parties, which he said cater to a left and right fringe.
Thats not the way it should be, he said. Weve lost the middle-of-the-road guys.
Read more: www.theguardian.com