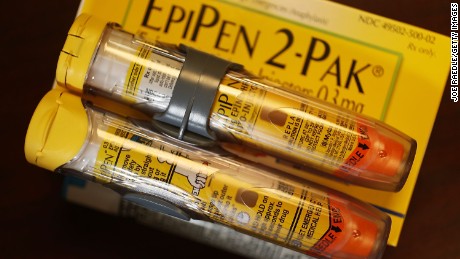 (CNN)Hillary Clinton will announce a plan Friday that aims to stop drug companies from charging "excessive, unjustified" prices to consumers, spurred by the dramatic increases in specific drug prices.
A number of spikes in drug prices have drawn national attention in the last year. Most recently, Mylan, the producer of EpiPen, has come under sharp scrutiny for raising the cost of the lifesaving tool that relaxes muscles in the midst of a severe allergic reaction by 500%.
Clinton, according to an aide, will create a new "drug-pricing consumer response team" that would look to target "unjustified, outlier price increases in long-standing, life-saving treatments."
The team, according to Clinton's plan, will "monitor price increases" and have the authority to intervene in the drug market by "supporting alternative manufacturers that enter the market and increase competition, to bring down prices and spur innovation in new treatments."
The group, which will be made up of federal public health officials, patient advocates and independent experts, will also be able to approve importation of similar drugs from "developed countries with strong safety standards" and penalize drug companies who hike prices.
"Over the past year, we've seen far too many examples of drug companies raising prices excessively for long-standing, life-saving treatments with little or no new innovation or R&D," Clinton said in a statement Friday. "It's time to move beyond talking about these price hikes and start acting to address them."
Clinton added that Americans deserve medications "without being burdened by excessive, unjustified costs" and that she is "ready to hold drug companies accountable when they try to put profits ahead of patients, instead of back into research and innovation."
Clinton has been animated by drug price surges since she launched her campaign in 2015.
In October, Clinton
called for a federal probe
of Turing, a company that raised the price of Daraprim to $750 a pill from $13.50 after it acquired the drug, and got into a spat with CEO Martin Shkreli.
Clinton accused Shkreli of price gouging and mentioned him in stump speeches. The biotech CEO, who faces two counts of securities fraud and various conspiracy charges for another company, responded to Clinton with "lol" — laugh out loud.
Clinton first weighed in on Mylan raising the price of EpiPen's in August, calling the increases "outrageous."
"Over the last several years, Mylan Pharmaceuticals has increased the price of EpiPens by more than 400%," she said. "That's outrageous — and it's just the latest troubling example of a company taking advantage of its consumers."
Heather Bresch, Mylan's CEO, is West Virginia Sen. Joe Manchin's daugher. Manchin is a Clinton supporter.
Read more: www.cnn.com