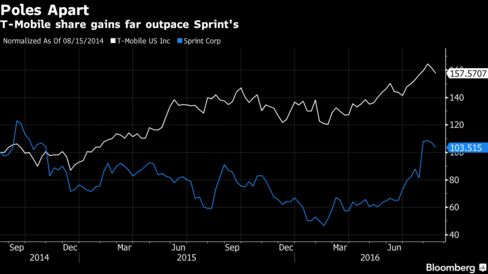 SoftBank Group Corp.s Masayoshi Son has a 300-year plan, so if combining Sprint Corp. and T-Mobile US Inc. takes a few years longer than he hoped, thats OK.
Son, who became one of the worlds wealthiest men by turning Tokyo-based SoftBank into a telecommunications and technology powerhouse, still would like to merge the U.S. wireless providers, according to people familiar with his thinking. SoftBank owns more than 80 percent of Sprint after acquiring the majority stake in 2013, part of Sons famed plan to build a business empire that can endure through the centuries.
Son considered buying T-Mobile in 2014, before abandoning the effort when officials at the U.S. Federal Communications Commission and Justice Department signaled they were against a theoretical merger. Theres a key figure who will determine if Son makes another run at T-Mobile: the yet-to-be named new head of the FCC. If Son feels that person is more amenable to a combination to take on market leaders AT&T Inc. and Verizon Communications Inc., he will probably try again, said the people, who asked to not be identified because the matter is private.
Neither presidential campaign has said who might be named to lead the FCC. The choice is important because the agency has the power to recommend a proposed deal be sent to an administrative hearing. Such an action could delay a transaction indefinitely. The threat of administrative hearing is what caused Son not to go forward with a T-Mobile deal in 2014, the people said. Last year, FCC officials said they would recommend a hearing on Comcast Corp.s proposed acquisition of Time Warner Cable Inc., causing the Philadelphia-based company to drop its bid days later.
T-Mobile reversed losses to close 0.3 percent higher at $46.38 in U.S. trading. SoftBank shares fell as much as 4.9 percent in Tokyo trading.
Best Argument
Sons best argument to the FCC to allow a merger may be that Sprint would never be a robust fourth competitor if left alone. Since his aborted attempt to combine Sprint and T-Mobile two years ago, the companies have been on separate trajectories. While Sprint has had to address financing by mortgaging assets and cutting costs to stay solvent, T-Mobile has sharpened its image as the underdog challenger to Verizon and AT&T. And by offering features like free video streaming, carryover data and low prices, T-Mobile has become the fastest-growing U.S. carrier.
You would need to see a pretty significant reversal of fortunes across both
companies — Sprint and T-Mobile — for the antitrust enforcers to change their
views, said Gene Kimmelman, a former Justice Department official whos now president of the Washington-based policy group Public Knowledge. Youd have to see a clear demonstration of a company in jeopardy.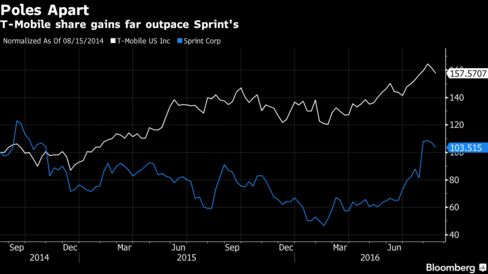 Matthew Nicholson, a spokesman for SoftBank in Tokyo, declined to comment, as did representatives of Sprint and T-Mobile.
The Justice Department can also sue to block a merger, but Son is willing to fight that in court, arguing that the wireless market has changed since AT&Ts attempt to buy T-Mobile in 2011, the people said. AT&T withdrew its $39 billion offer for T-Mobile instead of going to court against the Justice Department, which said it would sue to block the deal. The government argued that putting No. 2 AT&T with then-No. 4 T-Mobile would have left the wireless market too concentrated. FCC Chairman Tom Wheeler has said in recent years that the U.S. wireless market needs four strong wireless providers to provide pricing and service competition.
In Washington, antitrust enforcers dont want to jeopardize benefits, such as lower pricing plans, that emerged from T-Mobile after AT&T pulled its bid, said Kimmelman at Public Knowledge. FCC and Justice Department officials have worked closely on merger policy and that likely wouldnt change with a Clinton administration, he said.
Japan Example
In a Trump administration, there would be a lot greater likelihood of companies like Sprint rolling the dice, Kimmelman said. Its a whole new ball game.
The next head of the FCC would have to be convinced that putting Sprint and T-Mobile together would benefit consumers by bolstering a stronger third competitor to AT&T and Verizon. Son can point to Japan for evidence. He acquired Vodafones failing Japanese operation in 2006 and turned it into a well-financed rival that competes against No. 1 NTT DoCoMo Inc. and No. 2 KDDI Corp.
There arent any current talks between Sprint and T-Mobile — theyre actually forbidden. Opening bids for federal airwaves started this week in the FCCs so-called incentive auction. TV broadcasters have agreed to hand over certain radio wave licenses to the agency, which in turn will offer the spectrum for sale to wireless carriers, including AT&T, Verizon and T-Mobile. Sprint isnt participating. The spectrum could fetch as much as $86.4 billion. During the bidding, which could last until early next year if the auction doesnt raise enough money in the early rounds, carriers are prohibited from any deal discussions.
Six Quarters
Sprint is showing some signs of recent success, which may upend Sons merger plans if the FCC is looking for failure. Until last year, Sprint had lost subscribers for seven straight years. The introduction of half-off prices and $5 iPhone leasing broke that streak, but it didnt keep Sprint from falling behind T-Mobile to last place among the top four providers.
Under Chief Executive Officer Marcelo Claure, Sprint has posted six consecutive quarters of subscriber gains while cutting $2 billion in costs and slashing its 2016 network spending by 30 percent. Still the company hasnt had a profitable year in almost a decade. To buy time for a turnaround or acquisition and avoid another costly trip to the high-yield debt market, SoftBank has helped Sprint raise alternate funding by using its assets as collateral, including phones, network equipment and wireless airwave licenses.
In the past two years, T-Mobile shares have risen about 60 percent while Sprints are up 6 percent.
SoftBanks $32 billion acquisition of ARM Holdings, announced last month, may be another obstacle to a T-Mobile merger, according to Jonathan Chaplin, an analyst at New Street Research in New York. SoftBanks ability to finance a transaction with cash is limited by the ARM transaction, he said.
Youve got this asset with a tremendous amount of momentum at T-Mobile that sooner or later is going to need a lot more spectrum to fuel its growth, and Sprint has a treasure trove of spectrum, Chaplin said on Bloombergs Deal of the Week podcast last month. Sprints biggest advantage in going after T-Mobile is moving fast and moving aggressively, and the more cash they can put into the offer, the better positioned they are.
Still, if Son targets T-Mobile, theres no guarantee SoftBank will walk away with it. French mobile-phone carrier Iliad SA could make another offer after scrapping a plan to acquire T-Mobile in 2014. Dish Network Corp. has courted T-Mobile several times and even attempted to buy Sprint before SoftBank outbid the satellite-TV provider.
Cable providers Comcast and Altice NV, which acquired both Cablevision Systems Corp. and Suddenlink Communications in the past year, have both expressed a desire to invest more in wireless.
The rule of thumb is that Democratic administrations will allow an industry to consolidate down to four players, and Republicans will let an industry go down to three, said Roger Entner, an analyst at Recon Analytics LLC. Masa has to hope that the next presidents name is Donald.
Read more: www.bloomberg.com