The Republican Party is pouring significant money into a Kansas special election for Congress in the final days of the campaign an early sign that voter backlash to President Donald Trump is creating political dividends for Democrats in one of Americas most conservative pockets.
The Republican spending in the 4th Congressional District race,first reported by the Wichita Eagle, is likely a response to a surge in Democratic enthusiasm in the district, which happens to be the base for Koch Industries, the conglomerate owned by the right-wing megadonor Koch brothers.
Early voting showing higher-than-normal Democratic turnout in the predominantly Republican district suggests that Republicans have reason to be worried.
Although Republicans will maintain control of both chambers of Congress until 2018, at least, a strong Democratic showing in Kansas and four other U.S. House special elections before June could still affect Trumps agenda in the next two years.
Republicans are not going to stand up to this guy if they see that their re-election is in jeopardy when they stand with him, said Tom Bonier, CEO of Democratic electoral data strategy firm Target Smart. This is an indicator of whats to come and whether or not Republicans are going to be rubber-stamping Trump or standing up to him.
The Kansas seat opened when Trump tapped tea party stalwart Mike Pompeo to head the Central Intelligence Agency. The district, which covers a south-central swath of the state that includes Wichita, re-elected Pompeo by more than 31 percentage points in November.
But now, as the Wichita Eagle reports, the National Republican Congressional Committee is injecting $92,000 into the deep-red district in the campaigns final days. The Washington-based campaign arm for House Republicans bought $67,111 worth of television ads, according to a local news channels disclosure form obtained by the Eagle.
The NRCC is spending an additional $25,000 on digital advertising, according to a Federal Election Commission disclosure. Half of those funds are earmarked to boost Ron Estes, the Republican candidate, and the other half will target Democrat James Thompson.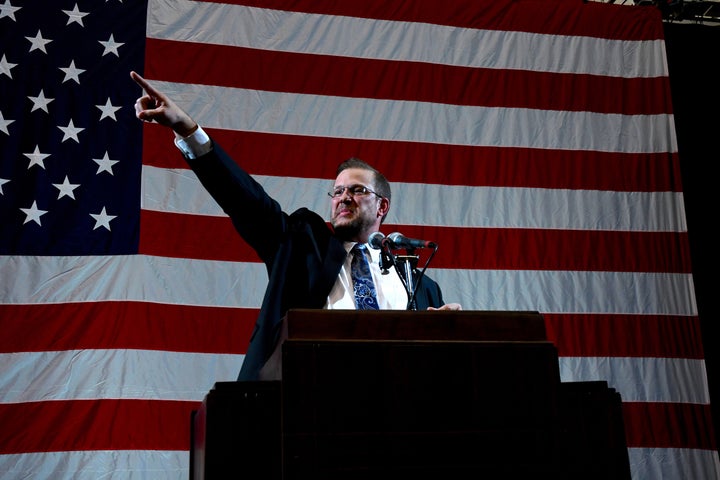 Thompson, a civil rights attorney and Army veteran, is trying to capitalize on public opposition to the hard-line conservative agenda of Kansas Gov. Sam Brownback (R). Brownback on Fridayvetoed an expansion of Medicaid passed by the states Republican-controlled legislature.
Estes, the Kansas state treasurer,emphasizesbudget savings and his fiscally conservative record.
Absentee voting by mail began across the 4th District on March 20. Early in-person voting also began at the end of March. Election Day is Tuesday.
In 10 out of the 17 counties where early in-person voting data were available, 41 percent of voters were registered Democrats and nearly 48 percent were registered Republicans as of Wednesday, according to Boniers analysis of state figures. (Although the Democratic National Committee is one of Target Smarts clients, the firm is not working on the special election in Kansas in any capacity, Bonier said.)
In the districts 2016 general election, by contrast, registered Democrats made up 23 percent of the electorate, while nearly 52 percent of voters were Republican.

Democrats have narrowed the gap in absentee voting by mail as well. Thus far, 43 percent of absentee voters across the district are registered Democrats, while 45 percent are Republicans.
Thats a major change from 2016, when Republicans topped Democrats in absentee voting by 29 percentage points.
Bonier also found evidence that registered Democrats who did not vote in the 2014 midterm elections people sometimes known as casual voters are turning up this time. Of the 1,326 people who did not participate in the 2014 midterm elections, but have already voted in the special election either in person or by mail absentee ballot 44 percent are registered Democrats and 29 percent are registered Republicans.
Early voting patterns, of course, are a notoriously inconsistent indicator of final election outcomes. Registered Democrats do not necessarily vote for the Democratic candidate, and turnout on Election Day itself is often what makes the difference.
Bonier acknowledged these caveats. But Democrats near parity with Republicans in absentee voting, where the GOP often does better, suggests this year could be different.
And, in such a heavily Republican district, Democrats do not need to win to demonstrate that the wave of anti-Trump enthusiasm has electoral staying power. Holding a Republican margin of victory to 15 percentage points would be a huge accomplishment, Bonier said.
The special election in Kansas has largely flown under national Democrats radar.The Democratic Congressional Campaign Committee has not invested in the race, but the organization seemed pleased that Republicans felt compelled to do so.
President Trump won this traditionally red district by 27 points just a few short months ago, so the fact that the NRCC is panicking now confirms how strong the headwinds are that Republicans face across the country, DCCC spokesman Tyler Law said in a statement.
The national Democratic Party and liberal activists have focused heavily on the contest for Georgias 6th Congressional District, where 30-year-old filmmaker Jon Ossoff is running a competitive race in the seat vacated by Health and Human Services Secretary Tom Price. High Democratic turnout in early voting in Ossoffs district bodes well for him, too.
Like the Kansas race, the battle to fill Montanas House seat has gotten less national attention.
But the Democratic candidate in the district, Rob Quist, a popular banjo player who supported Bernie Sanders presidential bid, has generated substantial enthusiasm across the state, raising the possibility of an upset there as well.
Read more: www.huffingtonpost.com