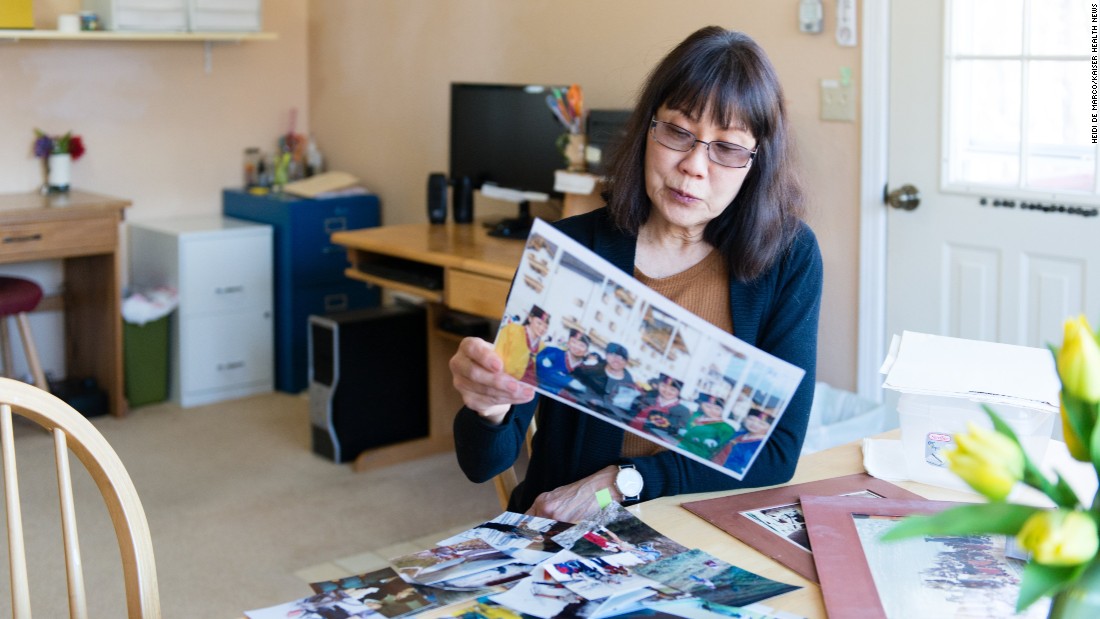 Wasilla, AlaskaAs her husband lay moaning in pain from the cancer riddling his body, Patricia Martin searched frantically through his medical bag, looking for a syringe.
She had already called the hospice twice, demanding liquid methadone to ease the agony of Dr. Robert Martin, 66. A family practice physician known to everyone as "Dr. Bob," he had served this small, remote community for more than 30 years.
But the doctor in charge at Mat-Su Regional Home Health & Hospice wasn't responding. Staff said he was on vacation, then that he was asleep. Martin had waited four days to get pain pills delivered, but her husband could no longer swallow them. Now, they said, she should just crush the drugs herself, mix them with water and squirt the mixture into his mouth. That's why she needed the syringe.
"I thought if I had hospice, I would get the support I needed. They basically said they would provide 24/7 support," she said, shaking her head in disbelief, three years later. "It was a nightmare."
The Martins had entrusted the ailing doctor's final days to one of the nation's 4,000-plus hospice agencies, which pledge to be on call around-the-clock to tend to a dying person's physical, emotional and spiritual needs.
A KHN analysis of 20,000 government inspection records reveals that missed visits and neglect are common for patients dying at home. Families or caregivers, shocked and angered by substandard care, have filed over 3,200 complaints with state officials in the past five years.
Those complaints led government inspectors to uncover problems in 759 hospices, with more than half cited for missing visits or other services they had promised to provide at the end of life, KHN found.
The horrifying reports, which do not include victims' names, describe a 31-year-old California woman whose boyfriend tried for 10 hours to reach hospice as she gurgled and turned blue, and a panicked caregiver in New York calling repeatedly for middle-of-the-night assistance from confused hospice workers unaware of who was on duty.
In Michigan, a dementia patient moaned and thrashed at home in a broken hospital bed, enduring long waits for pain relief in the last 11 days of life, and prompting the patient's caregiver to call nurses and ask, "What am I gonna do? No one is coming to help me. I was promised help at the end."
Only in rare cases were hospices punished for providing poor care, the investigation showed.
Using death records and public records searches, KHN identified some victims of the worst abuse detailed in the complaints and interviewed surviving family members.
Contacted by KHN, Patricia Martin tearfully said she'd given up hope that anyone would take seriously her complaints about her husband's care. She had enrolled him in hospice when the metastatic prostate cancer reached his brain, expecting the same kind of compassionate, timely attention he had given his own patients.
But Bob Martin had the misfortune to require care during a long holiday weekend, when hospices are often too short-staffed to fulfill written commitments to families. It took six days and three more calls before he received the liquid methadone he needed. Hospice denied his wife's requests for a catheter, and she and her son had to cut away his urine-soaked clothing and bedding, trying not to cause him additional pain. The supervising hospice doctor never responded. A nurse who was supposed to visit didn't show up, saying she was called for jury duty.
"It was just sheer chaos," Patricia Martin said. "It makes me wonder about other people in this situation. What happens to them?"
Hospice is available through Medicare to critically ill patients expected to die within six months who agree to forgo further curative treatment. The care is focused on comfort instead of aggressive medical interventions that can lead to unpleasant, drawn-out hospital deaths.
Although many people think of hospice as a site where people go to die, nearly half of hospice patients receive care at home, according to industry figures.
Hospices must stipulate in each patient's care plan what services will be provided, when and by whom, and update that plan every 15 days. Hospices are licensed by state health agencies and subject to oversight by federal Medicare officials and private accreditation groups.
But when it fails, federal records and interviews show it leaves patients and families horrified to find themselves facing death alone, abandoned even as agencies continue to collect taxpayer money for their care.
In St. Stephen, Minn., Leo Fuerstenberg, 63, a retired Veterans Affairs counselor, died panicked and gasping for air on Feb. 22, 2016, with no pain medication, according to his wife. Laure Fuerstenberg, 58, said a shipment sent from Heartland Home Health Care and Hospice included an oxygen tank, a box of eye drops and nose drops, but no painkillers.
"They were prescription drugs, but it didn't say what they were or how to give them," she recalled. "I just panicked. I called the hospice, and I said, 'We're in trouble. I need help right away.' I waited and waited. They never called back."
"That last part of it was really horrible," she said. "The one thing I promised him is that he wouldn't be in pain, he wouldn't suffer."
Later, state investigators determined that Heartland's on-duty hospice nurse had muted her cellphone, missing 16 calls for help. Hospice officials did not respond to repeated interview requests.
"They never followed their protocol, and I've never had anybody from there say 'We failed, we were wrong,'" said Fuerstenberg, a school counselor who said she relives her husband's death daily. "If that had been me on my job, I'd be fired."
Her account was among more than 1,000 citizen complaints that led investigators to uncover wrongdoing from January 2012 to February 2017, federal records show. But experts who study hospice say many more families may be too traumatized to take further action.
The complaints offer only a glimpse of a larger problem, warned Dr. Joan Teno, a researcher at University of Washington in Seattle who has studied hospice quality for 20 years. "These are people who got upset enough to complain."
"I would venture to say whatever measure you want to use, there are an exponential number of positive stories about hospice that would overwhelm the negative," said Jonathan Keyserling, NHPCO's senior vice president of health policy.
When you serve over a million people and families a year, "you're going to have instances where care could be improved," he added.
"It's like medical malpractice. It's relatively rare, but when it happens, it tarnishes the entire field," she said.
"That's a failing grade," Teno said. "We need to do better."
Kaiser Family Foundation polling conducted for this story found that out of 142 people with hospice experience, 9 percent were "dissatisfied" and 89 percent "satisfied" with hospice. (Kaiser Health News is an editorially independent program of the foundation.)
Indeed, many people give hospice glowing reviews. Lynn Parés, for instance, gushed about her experience from 2013 to 2014 with Family Hospice of Boulder, Colo. When Parés' 87-year-old mother cut her leg, staff came daily to treat the wound. A nurse visited every day in the dying woman's last week of life. The hospice also provided family counseling, spiritual guidance and volunteers who surrounded her mother's bedside, singing old-time songs.
"They were in constant contact with us," Parés said of the hospice. "It's amazing to me how much heart there is involved in hospice care." After her mother died, Parés and her siblings donated part of their inheritance to the hospice. "I can never say enough good about them."
For instance, data show many hospices fail to provide extra care in times of crisis. To get Medicare payments, hospices are required to offer four levels of care: routine care, which is by far the most common; respite care, to give family caregivers a break for short time periods; and two levels of so-called crisis care, continuous care and general inpatient care, when patients suffer acutely. But 21 percent of hospices, which together served over 84,000 patients, failed to provide either form of crisis care in 2015, according to CMS.
While there's no guarantee that a given patient will need crisis care, not offering any such care for an entire year raises a concern about "whether they're providing adequate symptom control," Teno said.
"I'd be very surprised if there wasn't a significant proportion of those people" — at least 5 percent — "who really needed that service," she said.
Regardless of how often they visit, hospices collect the same flat daily rate from Medicare for each patient receiving routine care: $191 for the first 60 days, then $150 thereafter, with geographic adjustments as well as extra payments in a patient's last week of life.
In Minnesota, Fuerstenberg's pleas for help went unanswered on a Sunday evening; her husband died just after midnight on Monday. She was appalled when she received a bill for care the agency said occurred on that day.
"When they got paid for nothing, it was like a slap in the face," said Fuerstenberg, who filed a complaint with Minnesota health officials last year. She heard nothing about the case from hospice officials and didn't learn it had been investigated until she was contacted by Kaiser Health News.
In St. Paul, Va., a small town in the Appalachian mountains, Virginia Varney enlisted Medical Services of America Home Health and Hospice, a national chain, to care for her son, James Ingle, 42, who was dying of metastatic skin cancer. On his final day, Christmas Day 2012, he was agitated, vomiting blood, and his pain was out of control. Varney called at least four times to get through to hospice. Hours later, she said, the hospice sent an inexperienced licensed practical nurse who looked "really scared" and called a registered nurse for backup. The RN never came. Ingle died that night.
Varney said she felt numb, angry and "very disappointed" in the hospice care: "It's like they just didn't do anything. And I know they were getting money for it."
"They told me 24 hours a day, seven days a week, holidays and all," Varney said. "I didn't find that to be true."
An investigation by Virginia state inspectors, which corroborated Varney's story, revealed hospice staff changed the records from that night after the fact. The registered nurse was fired that February. The hospice declined to comment for this story.
Just how often are hospice patients left in the lurch? Inspection reports, performed by states and collected by CMS, don't give a clear answer, in part because hospices are reviewed so infrequently.
Unlike nursing homes, hospices don't face inspection every year to maintain certification. Based on available funding, CMS has instead set fluctuating annual targets for state hospice inspections. In 2014, CMS tightened the rules, requiring states to increase the frequency to once every three years by 2018.
Often, promising to do better is the only requirement hospices face, even when regulators uncover problems. The Office of the Inspector General at the federal Department of Health and Human Services has called for stricter oversight and monitoring of hospice for a decade, said Nancy Harrison, a New York-based deputy regional inspector general. One problem, she said, is there is no punishment short of termination — barring the hospice from receiving payment from Medicare or Medicare — which is disruptive for dying patients who lose service.
CMS records show termination is rare: Through routine inspections as well as those prompted by complaints, CMS identified deficiencies in more than half of 4,453 hospices from Jan. 1, 2012, to Feb. 1, 2017. During that same time period, only 17 hospices were terminated, according to CMS.
In Alaska, officials at Mat-Su Regional Home Health & Hospice, which cared for Bob Martin, cited patient privacy rules in declining to comment about his case. But "[we] strengthened our policy and procedures" as a result of the investigation, administrator Bernie Jarriel Jr. said in an email. "Members of our caregiving team have been re-educated on these practices."
In Minnesota, officials with the local Heartland Home Health and Hospice agency referred questions to its corporate owner, HCR ManorCare of Toledo, Ohio. Officials there did not respond to multiple requests for comment about Leo Fuerstenberg's care. CMS documents indicate the nurse who missed 16 messages "was re-educated on responsibilities of being on call."
Hospice industry officials note that resolving hospice complaints can be difficult during the fraught days at the end of life.
"Hospice is like any other health care provider in that there may be misplaced expectations," said the NHPCO's Keyserling.
Hospice providers must ensure that communications are clear and understood and patients and families must voice their concerns, he added. When that doesn't happen, problems can follow.
Jim Mills, 56, a retired Navy submariner from West Liberty, Ky., is still angry about the care his wife, Leeanne Mills, 54, received in the summer of 2016 at Mountain Community Hospice, then run by Hospice of the Bluegrass in nearby Lexington. She was diagnosed in 2011 with ocular melanoma and spent five years in treatment for the rare eye cancer. When all options were exhausted, the couple recalled the excellent hospice care given to Mills' father and brother-in-law.
"My wife and I saw that, so we said 'OK,'" Mills recalled. "My wife wanted to die in the home that she and I lived in."
But the experience was devastating, he said. Instead of round-the-clock care for his wife, he said the hospice left him alone to grapple with her excruciating pain. He detailed dozens of alleged problems with her care, ranging from a hospice nurse who didn't respond for five hours to a middle-of-the-night call for pain medications to suspicions that use of a drug pump hastened her death.
"I'm in panic mode," Mills recalled. "I don't know what to do. I'm no doctor. I'm no nurse."
Kentucky state health officials who investigated Mills' complaint in October 2016 found "no deficient practice," records show. Mountain Community Hospice, run by the Kentucky agency now known as Bluegrass Care Navigators, also disputed Mills' version of events. Lawyers representing the agency said in a letter that care his wife received was appropriate and suggested that the trauma of loss may have colored his perceptions.
"MCH treated your wife and family with dignity and compassion throughout her hospice stay and was in no way negligent, abusive or harmful to her or your family," the letter said. "Unfortunately, emotional pain and anguish for dying patients and their loved ones are unavoidable in such tragic circumstances despite high quality and supportive hospice care."
Liz Fowler, the hospice president and chief executive, said in an email to KHN, "We are concerned when a family member has a negative perception of our care. We wish we could improve that perception."
But Mills said nothing will shake his belief that his wife was treated badly in her final days.
"There should be some clarity when a family is facing this, in whatever state it happens to be, they should know their rights, they should know what to expect," he said. "I want my wife's death and suffering to not have been in vain."
In a 2016 study, the OIG's Harrison and colleagues called for state surveyors to better scrutinize the plans of care hospices outline for their patients. And they recommended that CMS create a range of different levels of punishment for hospice infractions, such as requiring in-service training, denying payments, civil fines and imposing temporary management.
Back in Alaska, Patricia Martin said she's still waiting for officials with Mat-Su Regional Home Health & Hospice to answer questions about her husband's poor care. She urges other families enrolling patients in hospice to be vigilant.
"It is my hope that no other family or patient will ever have to go through the nightmare that we did," she said. "If they promise you they're going to do something, they should do it."
Read more: www.cnn.com