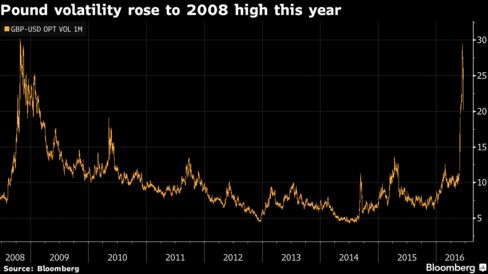 Enda Homan is going to pull an all-nighter — and he can hardly wait.
The senior foreign-exchange trader at Allied Irish Banks Plc in Dublin will be glued to his screens through dawn as U.K. voters decide whether to stay in the European Union. It promises to be a record-setting evening, whether in terms of trading volatility or in gallons of coffee consumed.
"It is a unique opportunity for traders, probably not seen since 1992 Black Wednesday, he said, referring to the September day when the U.K. government withdrew the pound from a European exchange-rate system. Sustenance will probably consist of Chinese noodles from the local deli, and I will also make sure that there is plenty of freshly brewed coffee to get us through the quiet bits while awaiting the results.
Across Europe, traders and their employers are making preparations for a big night. JPMorgan Chase & Co. has booked hotel rooms near its Canary Wharf offices, while Barclays Plc is bringing in sleeping bags and sending some employees home today so they can be fresh later on. Other banks are offering bunk beds, sushi and pizza. Everybody has coffee on the menu.
Click here for a guide on what to look out for on the night of the vote count
"All the trading desks are in war-preparation mode," said Frederic Ponzo, managing partner at GreySpark Partners, a financial consulting firm, in London. "Volatility is expected to spike up potentially more than during the Swiss unpeg event and volumes to potentially overwhelm them and their systems." Trading was frenzied and orders delayed last year when the Swiss National Bank suddenly removed its cap on the franc.
With polls showing a tight contest, traders will be poised to push the buy or sell buttons as early results become known in the wee hours of Friday morning. Because foreign exchange is the only major market that trades 24 hours a day, they wont be able to afford to miss a second: Aite Group LLC says profits or losses could reach hundreds of millions of dollars in a market subject to wild disruptions.
It will be a wild time for sterling: depending on how the vote goes, the pound will either sink to the lowest level in more than three decades or climb toward the highest this year, according to a Bloomberg survey of economists. In the run-up to the referendum, global stocks and currencies swung between gains and losses. The pounds volatility surged to the highest since 2008 when the lead in opinion polls fluctuated between the "Leave" and "Remain" campaigns.
About $140 billion in cash is waiting to be invested, according to Barclays, and investors holdings of cash are the highest since 2001, according to a Bank of America survey.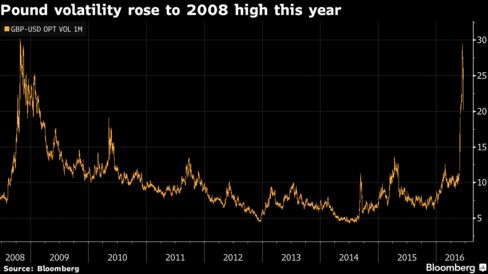 "Much of the frantic last-minute activity will take place in the hour or two before the early results emerge, meaning that U.K. bank staff will work closely with their counterparts in Asia – the open market at the time – to roll or adjust whatever hedge needs to be maintained," said Javier Paz, a senior analyst at Boston-based consulting firm Aite Group.
Equity traders too will be in early, long before the exchange opens at 8 a.m. London time.
The whole team is coming in at 2 a.m., when were likely to start to get a feel for the outcome, said Ben Kumar, an investment manager at Seven Investment Management in London who helps oversee the equivalent of about $15 billion. Its partly curiosity — wed all be up all night anyway. We need to make sure that theres a company message that we get out to our clients, that we are prepared for client calls and have something concrete to say.
Even some who arent going to be at the office plan to monitor the results in real time.
"I personally plan to stay up all night watching market reaction to have context for the trading day, said Gordon Shannon, a London-based money manager at TwentyFour Asset Management. "My wife had a baby last year so I have plenty of experience being up all night. I dont think Ill need much more than a coffee."
Hamburger Night
But for those facing an all-nighter at Royal Bank of Scotland Group Plc in London, fast food could be their main nourishment.
"We will have research and trading coverage and theres a 24-hour McDonalds across the road," said Ross Walker, a senior economist at RBS, referring to the fast-food chain.
For a QuickTake guide to the referendum, click here
Results are scheduled to come in through the night, with the Press Association estimating the first at about midnight local time. By 3:30 a.m., it predicts, more than half of the vote will have been tallied and the ballot count will be completed by 7 a.m.
Some traders, such as Mark Dowding, a London-based partner at Royal Bank of Canadas BlueBay Asset Management LLP, are still weighing staying up all night.
"You need fresh energy to make sound investment decisions the day after the vote, he said.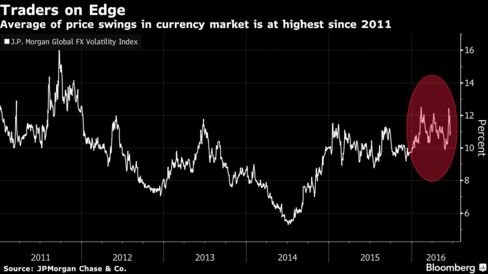 In Scandinavia, where this is the week of the midnight sun, things are a little more relaxed.
Danes, for instance, are celebrating Sankt Hans, or Saint Johns, Eve. Aurelija Augulyte, a strategist at Nordea Bank AB in Copenhagen, plans to head off to a bonfire beach party for a few hours before coming back to the office at about 5 a.m. Still, shell be in charge of Brexit coverage as its a holiday in Finland and Sweden, she said.
What can you do when your market is closed? Go on vacation. Joe Tracy, head of continental European equities at Svenska Handelsbanken AB in Stockholm, will leave Friday.
My personal view is there will be a Brexit, but that day I will be starting my vacation on my way to New York, said Tracy, who is in charge of all the banks Nordic equity sales to continental European clients. In Sweden, the markets are closed. Its the mid-summers eve party. Midsummers eve is one of our largest annual celebrations.
Read more: www.bloomberg.com