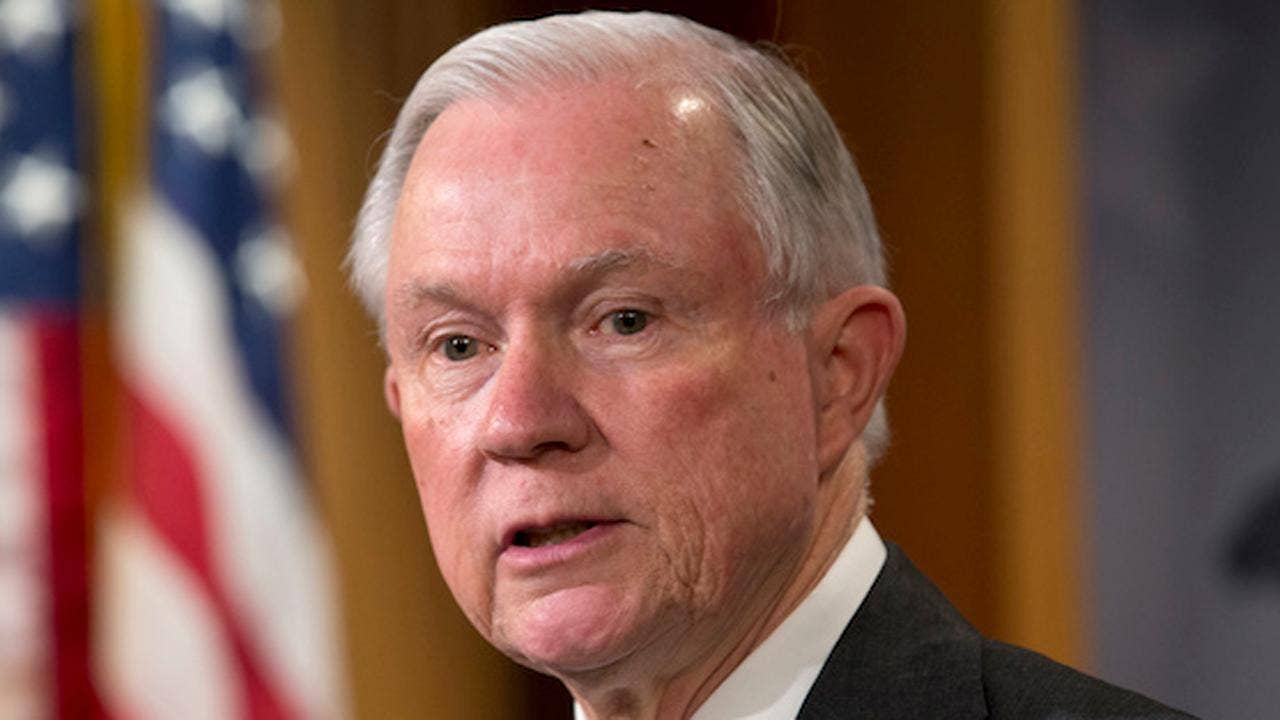 President Trump and Attorney General Jeff Sessions have made it clear they want to crack down on drugs, violent crime and illegal immigration, signaling what some experts say could be a shift in resources away from prosecuting white-collar criminals on Wall Street and beyond.
Sessions, visiting the southern border, sent a memo Tuesday to all 94 U.S. attorneys asking prosecutors to put more focus on immigration offenses. This was after he sent a memo last week announcing the creation of task force groups to focus on violent crimes, sentencing policies, illegal immigration, human trafficking and more.
Not on the list: white-collar crimes.
White-collar prosecutions in the U.S. fall under a pretty big umbrella. Typically, they involve non-violent, financially motivated offenses that cover everything from insider trading to embezzlement to Ponzi schemes to identity theft.
The push to prosecute these crimes exploded during the Bush and Obama years. Public rage grew as millions of Americans were forced to foreclose on their homes while big banks and Wall Street fat-cats profited.
Some white-collar defense experts predict prosecutions of securities law and other financial violations will now take a backseat as the DOJ refocuses its mission.
Alan Dershowitz, a prominent defense attorney and Harvard Law School professor, predicts a more conservative approach netting fewer prosecutions.
Bill Black, an associate professor of economics and law at the University of Missouri, predicted in a TV interview that white-collar crime would have a "field day."
While it's too early to track a pattern in prosecution stats, there are some signs the Trump administration is shifting its resources.
President Trumps fiscal 2018 budget proposal calls for cutting 4 percent of the Justice Department's budget. While its not known exactly where that money would come from, Sessions office reiterated to Fox News that combatting violent crime and restoring public safety are top priorities.
"To help achieve those goals, the Department, with the help of our critical federal, state, and local law enforcement partners, will be focusing much of its efforts on thwarting violent crime, drug trafficking, gun crime and gang violence, and criminal immigration enforcement, the DOJ said in a written statement.
When asked if white-collar crime prosecutions would be a lower priority, the DOJ declined to comment.
As attorney general, Sessions has a great deal of discretion as to what cases are brought and where the department will focus its enforcement attention.
Another indication of the DOJs shifting priorities was the very public firing of Preet Bharara, the U.S. attorney who had made a name for himself as the Sheriff of Wall Street. Bhararas team had aggressively gone after insider trading rings and market manipulators and had brought down Wall Street masterminds like Bernie Madoff and Raj Rajaratnam, former hedge fund manager and billionaire founder of the Galleon Group who received 11 years in prison — the longest-ever sentence handed down for violating insider trading laws.
During his tenure, Bharara obtained $14 billion on behalf of victims.
In the final few weeks of the Obama administration, more than $20 billion in corporate fines and penalties were doled out against big names like Deutsche Bank and Rolls-Royce.
Its up to the discretion of new presidents to replace U.S. attorneys, and Bharara was asked to submit his resignation along with almost every other U.S. attorney. Still, his situation drew added attention since Trump previously was thought to be keeping him on board, and Bharara refused to resign.
Part of the reason I said I was not going to resign and be fired was because I want the record to reflect for all time that there was a deliberate decision, not just a bureaucratic sweeping away of what had been there in the past, but a specific decision to change ones mind and deliberately fire me, particularly given what my offices jurisdiction is and where my office is situated, Bharara said at The Cooper Union in New York City last week, alluding to the fact that both Wall Street and Trump Tower fell within his jurisdiction.
On the campaign trail last year, Trump vilified Wall Street and repeatedly linked Democratic rival Hillary Clinton to the multimillionaires at Goldman Sachs. But like many presidents before him, his Cabinet and inner circle advisers now count several Goldman alumni, including National Economic Council Director Gary Cohn, Treasury Secretary Steven Mnuchin and chief strategist Steve Bannon.
But not everyone thinks Sessions will ease the pressure on white-collar criminals.
Companies and corporate executives should not expect any lessening of the enforcement attention under Sessions, said Scott Fredericksen, a former federal prosecutor and white-collar criminal defense partner at Foley & Lardner LLP.
Fredericksen believes the DOJ under Sessions has an appreciation for the deterrent value of prosecuting white collar crime and a willingness to use prosecutions to send a message of compliance.
Sessions, who served as a Republican senator before being confirmed to his current post, has 16 years of experience as a prosecutor in Alabama at both the federal and state level under his belt.
During a 2002 Judiciary Committee hearing, then- Sen. Sessions described himself as a tough prosecutor who prompted a lot better behavior in banking today.
Read more: www.foxnews.com