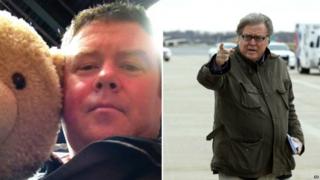 A Scottish man has ended up being confused with one of Donald Trump's closest advisers.
Steve Bannon, who lives in England, has been mistaken for Stephen Bannon, the former Breitbart news executive and chief strategist to the US president.
The Scot uses the Twitter handle @SteveBannon, while the other Mr Bannon uses @StephenBannon.
Steve, not Stephen, has changed his Twitter bio to: "Nothing to do with US politics or running the White House."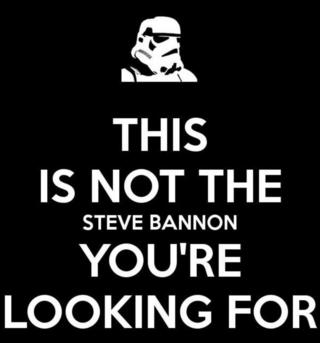 He has also changed the banner on his account to read: "This is not the Steve Bannon you're looking for."
In a very patient fashion, Mr Bannon has also been replying to people who are tweeting him about the current situation in the States as Mr Trump's presidency takes shape.
Despite Twitter "melting" his phone, Steve, originally from East Kilbride, has been directing people to "go after the other guy", "go find the right Steve Bannon" and to "get the right guy".
He told BBC Scotland News that he has coped with it all so far, and that his younger girls think the attention from "some cool social media sites" has been hilarious.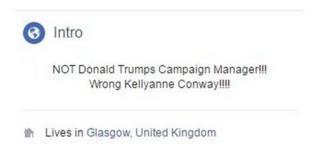 Mr Bannon is not the first Scot to end up in the spotlight because of the US election.
In November, Kellyanne Conway, from Glasgow, was being confused on Facebook her with US namesake at Trump HQ – a Republican Party campaign manager.
Ms Conway told BBC Scotland she could see the funny side after she received an array of "strange" emails including one that thanked her for "boarding the Trump train!".
She said messages had been sent to her intermittently throughout the US presidential race, but she was inundated when Mr Trump won the election.
The Glaswegian was forced to issue a disclaimer on her profile that warned she was the "wrong Kellyanne Conway!".
Read more: www.bbc.co.uk