Senate Minority Leader Chuck Schumer said Tuesday he withdrew the offer he made last week to give President Donald Trump more than the initial $1.6 billion he requested for a U.S.-Mexico border wall.
"It was part of a package" on immigration that didn't come together, Schumer of New York told reporters. "We're going to have to start on a new basis and the wall offer is off the table."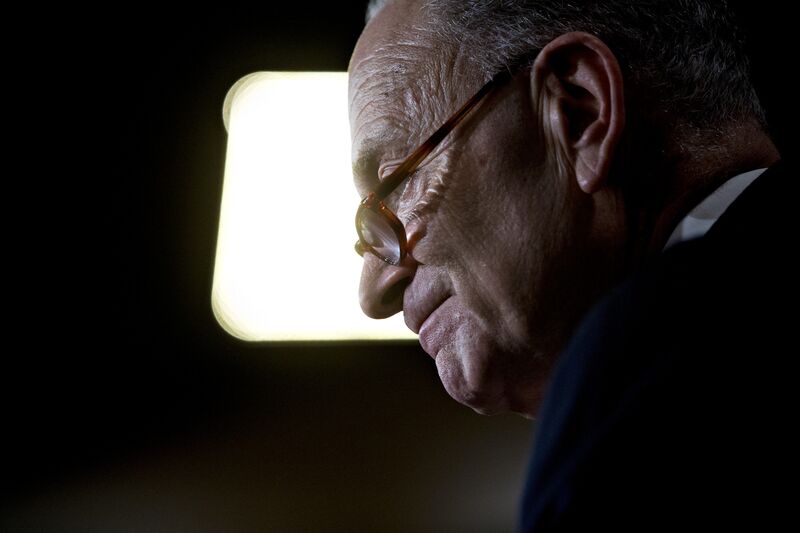 Republicans called the minority leader's move a step back in the continuing debate over immigration. The three-day shutdown that ended Monday may have hastened an immigration debate in the Senate, but it also deepened the acrimony and highlighted bitter divisions between the two parties that stand in the way of a compromise.
Still, Schumer said Monday's agreement to end the three-day government shutdown provided a "glimmer of hope" for renewed talks. Senate Majority Leader Mitch McConnell said he will keep his word to take up immigration next month as long as the government remains open. "Whoever gets 60 votes wins" on immigration bills, McConnell said.
After the impasse was resolved Monday, immigration hardliners and Trump's White House exulted in what officials swiftly portrayed as a Democratic surrender. "Big win for Republicans as Democrats cave on Shutdown," Trump said on Twitter late Monday. "Nobody knows for sure that the Republicans & Democrats will be able to reach a deal" on immigration, he tweeted on Tuesday morning, "but everyone will be trying."
White House congressional liaison Marc Short said Tuesday that bipartisan talks on immigration had restarted. GOP Senator Lindsey Graham of South Carolina said members of a bipartisan group will present ideas to top party members in the coming days.
Second-ranking Republican John Cornyn of Texas called Schumer's move a setback. He said a border-security plan will need more than a one-year appropriation in exchange for protecting young immigrants from deportation.
"We need a plan and we need the funding to pay for the plan as part of this negotiation," Cornyn said. "It's got to be a whole system of infrastructure, people and technology."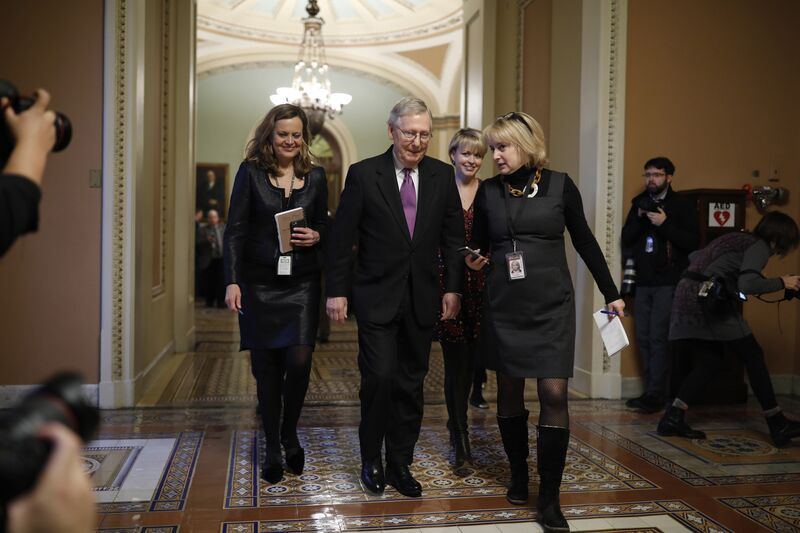 Progressives blasted Democratic leaders for giving in too easily to McConnell's vague promises, although he did offer some potentially significant concessions.
Throughout the showdown, the two sides largely stayed in their corners, with Democrats demanding protection for people known as dreamers — young undocumented immigrants brought to the U.S. as children — and Republicans attacking them for putting "illegal immigrants" ahead of American citizens.
As Graham said Monday, there's still no clear path in the Senate to getting the 60 votes needed to advance any immigration bill.
"There's a play being made by the White House to pick up 48 Republicans and 12 Democrats. That ain't gonna work. I've seen that play a bunch. That gets you nothing," Graham said. "There's a play by Democrats to pick up 12 of us. That ain't gonna work. We've got about five or six for my proposal, but you're not going to get 12."
'70 Votes'
"So the only way you're ever going to get something out of the Senate that has the chance to get on the president's desk is to make it close to 70 votes," he added.
They're not close yet.
Perhaps the most constructive result of the three-day standoff was that it crystallized which Senate moderates were most interested in a deal — and it got them talking. A bipartisan group of 22 senators met multiple times, with Republican Senator Susan Collins of Maine leading discussions about where they might find agreement.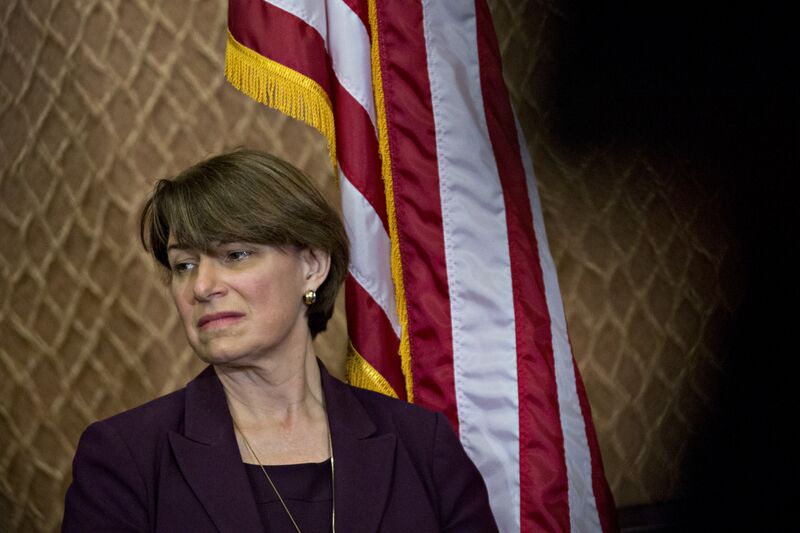 "If we had not taken this cause for two days, I don't think we would have had this commitment from the group of senators plus the majority leader to move forward in three weeks," said Senator Amy Klobuchar, a Minnesota Democrat.
But it's not at all clear that these new conversations will budge Republican leaders or Trump.
During the standoff, McConnell poured fuel on the animosity by accusing Democrats of holding the fate of government funding hostage to the cause of "illegal immigration," which some considered dismissive of the dreamers. And Trump released an ad over the weekend saying Democrats would be "complicit in every murder committed by illegal immigrants," sparking cries of racist fear-mongering.
Read more: Why 'Dreamers' Still Hold the Key in Budget Talks
What Trump will support regarding dreamers "depends on what we get in exchange," White House Budget Director Mick Mulvaney told CNN Tuesday. "What do we get for border security? What do we get for the wall?"
Some Republicans said the shutdown may actually do "lasting damage" to prospects of a dreamer legalization deal, House Freedom Caucus Chairman Mark Meadows said Sunday. If there's no action by March 5, the roughly 690,000 recipients under the Deferred Action for Childhood Arrivals, or DACA, program will begin to face the risk of deportation.
"There is a possibility" Congress could fail to act, Meadows of North Carolina said.
Some progressives said the outcome validated their deep concerns about whether Democratic leaders can use the limited leverage they have in the Senate minority.
'No Guarantee'
"The last three days made clear just how excruciating it is going to be to enact help for the dreamers," said Brian Fallon, a former spokesman for Schumer and Hillary Clinton's 2016 presidential campaign. "There is no guarantee that McConnell will follow through on his promise to allow a vote and even if he does, there is no guarantee the House will act."
Schumer said he had "reluctantly" put a border wall on the table in his negotiations with Trump on Friday shortly before the shutdown — but that the president rejected his offer.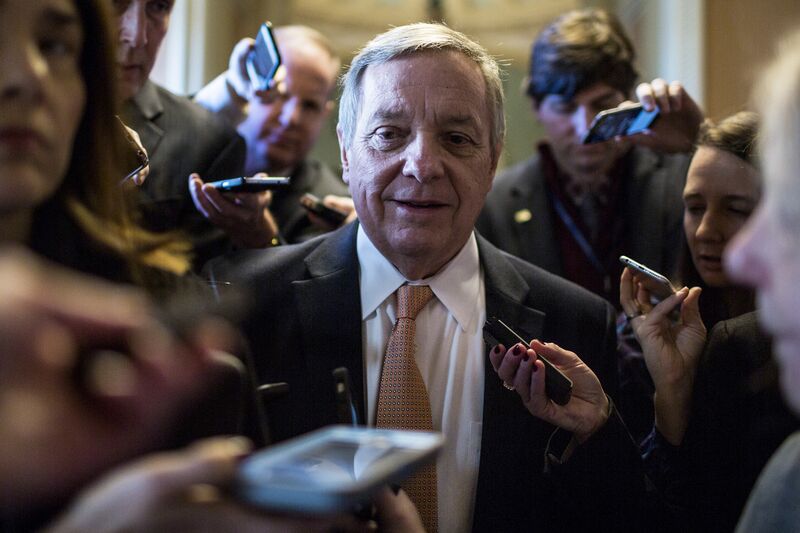 A variety of different factions has unveiled immigration proposals, ranging from a bipartisan plan by Graham and No. 2 Senate Democrat Dick Durbin of Illinois — which Trump has rejected — to a proposal by two House GOP chairmen that features a wish list of hardliners.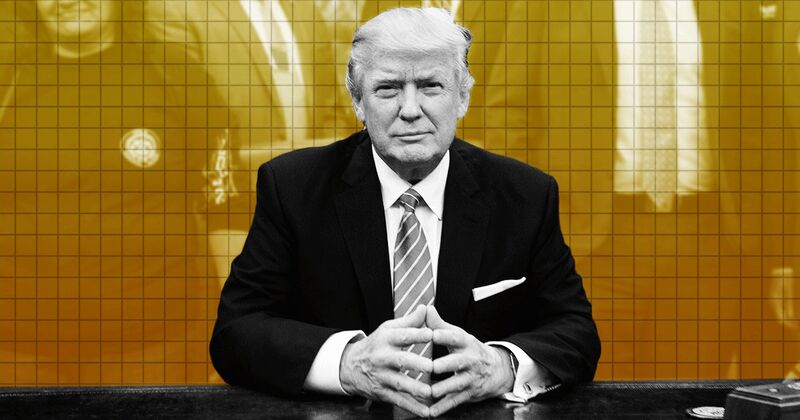 The president has yet to suggest where he may be willing to compromise, and nobody knows who's really in charge on the Republican side.
House Republicans have said they are not going to be bound by any proposal that emerges from the Senate.
Trump has at times spoken warmly about wanting to protect the dreamers and entertain a bipartisan bill, including during a televised meeting on Tuesday, Jan. 9. Two days later, Trump summarily rejected the Graham-Durbin plan.
'A Pretty Good Heart'
"The president's got a pretty good heart on this," Graham said later. "That Tuesday Trump, that guy could get us to a deal in five minutes."
Trump has tied any solution on the dreamers to three other issues — border security, ending the diversity visa lottery and restricting family preferences for immigration, a practice Republicans call "chain" migration.
And that's where the effort could fall apart.
Conservative Republicans insist on ending the ability of American citizens and green card holders to sponsor siblings, parents or adult children for green cards.
Defining Dreamers
Defining the dreamer population — age, length of time in the U.S. and other qualifications — "is fungible," said GOP Senator David Perdue of Georgia. "But you want to make sure you're not back here in five years, so you have to deal with border security, and you have to deal with the chain, so that the DACA population can't come in and legally then sponsor their parents."
For some Democrats, that's a bridge too far in the limited context of a dreamer deal. They're open to prohibiting the newly legalized population from sponsoring their relatives — but not restricting the sponsorship categories for citizens. Republicans say that's impossible.
Another issue that threatens to gum up a deal is the status of the parents of newly legalized dreamers and whether they would be allowed to stay.
The Graham-Durbin proposal would allow them to gain renewable three-year work permits, but not citizenship. Trump has rejected that compromise, and the White House cites a study that suggests millions of people could ultimately gain legal status as a result.
But Democrats aren't keen on limiting family-sponsored immigration for anybody other than the DACA recipients. "We did include a provision related to family reunification, which breaks my heart," Durbin said of his compromise bill. But outside the context of DACA recipients, he said he opposes restricting "legal immigration" to the country.
Democrats also have to decide how much they're willing to sacrifice on border security and immigration restrictions in the context of a DACA resolution. 
In a 2013 compromise, Senate Democrats voted unanimously to spend $46 billion on border security as well as end the diversity lottery, eliminate green card sponsorship of siblings and some adult children. But that was in the context of legalizing all of the estimated 11 million people in the U.S. illegally, not the much smaller set of dreamers.
A wall, which was a centerpiece of Trump's campaign platform, is unpopular among Americans in surveys and anathema to the liberal base. But it's not an automatic deal-breaker for Democratic leaders as long as it's not a concrete barrier across the entire southern border, according to party lawmakers and aides.
Read more: Why Trump's Wall Is a Budgetary Line in the Sand
The White House has softened its definition of a barrier to suggest it needn't cover the entire 2,000-mile frontier.
The administration insists the money actually be appropriated. "We want a guarantee," White House aide Marc Short told reporters late Sunday. "We feel jaded that it's happened multiple times where it's been authorized several times without the money coming."
Read more: www.bloomberg.com