Its been one helluva week in the White House, and, like a shot of adrenaline, the president has found the arrival of his Mini-Me invigorating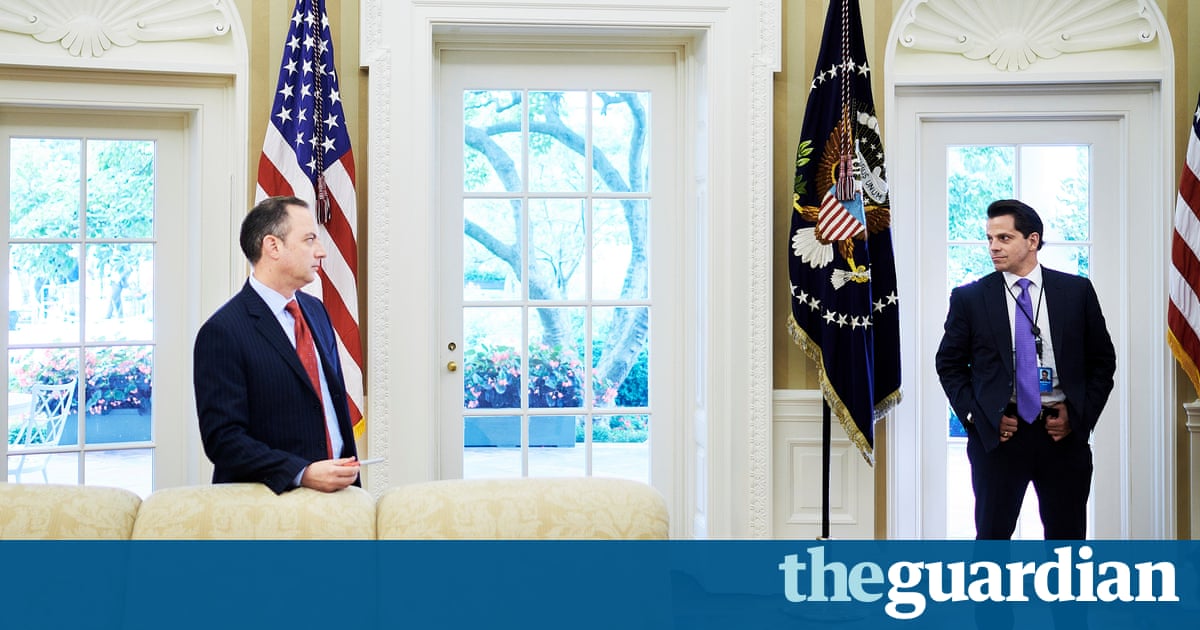 If looks could kill. There is Anthony Scaramucci going full alpha male: chest out, shoulders back, thumbs on belt, feet planted solidly apart, eyes fixed in a deadly stare. There is Reince Priebus, less obviously macho but with a face like thunder as he glares back, a yawning chasm between them. Many historic photographs have been taken in the Oval Office, but few have captured mutual loathing so indelibly.
Scaramuccis first week at the White House was one for the ages. The new communications director declared war on Priebus, branding him a fucking paranoid schizophrenic in what appeared to be a brazen play for his job as chief of staff which, late on Friday, went instead to Gen John Kelly, the homeland security secretary. He roared from TV studio to TV studio, offering his street fighters defence of Donald Trump and vowing to take out leakers. And not least importantly, he seemingly jolted the president back into his most unfettered, unscripted, offensive and authentically Trump-like self.
Indeed, just as Trump was an agent of disruption in the Republican party, so Scaramucci has run riot in the White House. Hes in a supernova phase at the moment, said William Cohan, an author who has known Scaramucci personally for seven years. Hes burning so bright and hot in the feeling that waiting out his foes has paid off.
Six months into the Trump administration, Scaramucci exploded like a new character in the second series of a TV drama designed to unsettle the cast and spice up storylines. The slick-haired wolf of Wall Street has been unleashed in Washington, a comparatively sedate government town, to bring his shtick to the political class. The Mooch is, as New York Times columnist Maureen Dowd put it, a self-promoter extraordinaire and master salesman who doesnt mind pushing a bad product and probably sees it as more fun.
In his first encounter with the press on 21 July, Scaramucci was smooth and self-assured, blowing a kiss and claiming that he and Priebus were like brothers who roughed each other up once in a while. The former hedge fund manager said his start date would be in a couple of weeks so he could be 100% totally cleansed and clean of business conflicts, but it was soon clear that he was working at full throttle.
Scaramucci deleted past tweets that showed him expressing admiration for Hillary Clinton and contradicting Trump on everything from climate change to gun control. He was all over the Sunday political TV shows with typical brio aimed at one viewer: his boss. On CBSs Face the Nation, for example, he said of Trumps hopes for healthcare legislation: I dont know if hes going to get what he wants next week. But hes going to get what he wants eventually. Becausethis guy always gets what he wants. OK?What I know about President Trump is that … hes got very, very good karma.
Scaramucci rapidly began a crusade to purge the White House of staff who have been leaking like a sieve since Trump became president. Im going to fire everybody! he warned. But the first leaker turned out to be the Mooch himself.
Read more: www.theguardian.com