Those who backed the Vermont senator in the primaries explain their reasons for rejecting Hillary Clinton, despite Sanders own pleas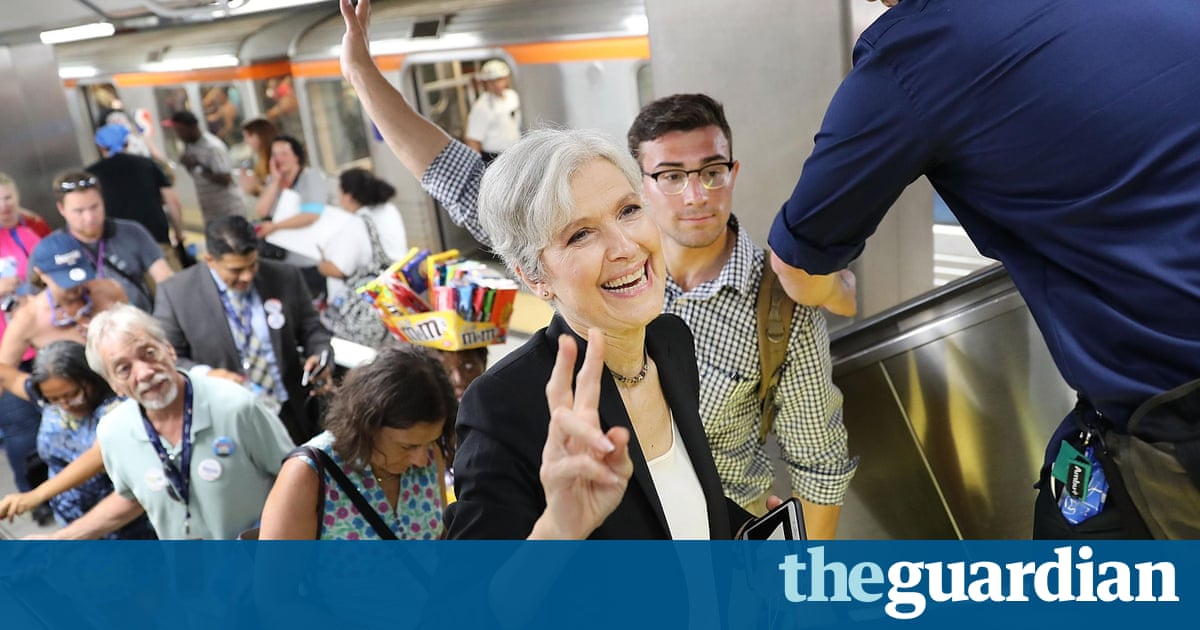 Bernie Sanders may have endorsed Hillary Clinton, praised Hillary Clinton and urged his supporters to vote for Hillary Clinton, but it seems even the maverick Vermont senator has been unable to convince his fans, many of whom say they are planning to cast their ballot for the Green party candidate Jill Stein instead on 8 November.
Support for Stein, who won 469,501 votes as the Green party nominee in 2012, was impossible to escape at the Democratic national convention last week. Inside the Wells Fargo Center, some Sanders delegates dressed in green and wore Green party pins.
Outside the hall, hundreds of Sanders supporters in Philadelphia to demonstrate against Clintons nomination attended a Green party rally at which Stein accused the Democratic party of derailing Sanders campaign.
Vanessa Perez was among the protesters outside the Wells Fargo arena. Originally a Sanders supporter, she plans to vote for Stein in November and will canvass for the presumptive Green party nominee over the next three months.
She has a lot of stances that are very similar to Bernies. And I just really strongly believe that you should always vote your conscience, Perez said.
The Democratic party clearly doesnt really care for the Bernie supporters and our stances, so we might as well work for a party that will.
Perez, 23, is from Florida a crucial swing state that offers 29 electoral college votes. It is also the state where Ralph Nader, running as a Green candidate, won 97,488 votes 2.5% of the states total in the 2000 presidential election. George W Bush narrowly defeated Democratic candidate Al Gore the margin is still disputed in the state, and some believe Naders candidacy cost Gore the election.
Perez said she is aware of that, but cant get herself to vote for Clinton.
I think I would regret more voting for her than I would voting for Jill and then possibly risking a Trump presidency, she said.
Because it condones all of the rigging and the fraud that went on and youre letting go of the prime opportunity to push forward a third party.
The idea that the Democratic National Committee, and the Clinton campaign, rigged the Democratic primary is fairly widespread among Sanders supporters. For some it is a big motivator in turning their back on the party.
My voice obviously wasnt heard in the primaries with the election that was so clearly rigged from the start, said Sarah Hernandez, a Sanders supporter. So in order to make my voice heard in the election, Ill be voting for Jill Stein.
Hernandez, 22, cited the DNC emails leaked by Wikileaks as showing that the DNC had their finger on the scale from the start. The emails showed officials actively favouring Clinton during the presidential primary process and plotting against Sanders, and led to the resignation of Debbie Wasserman Schultz, the DNC chair.
The race was so close in so many states that that really could have changed the outcome of the election, Hernandez said.
She noted that exit poll results in some states were way off from the final result. The companies that own these voting machines, she said, have also donated tens of thousands to the Clinton campaign.
She also claimed people had been paid to cheer for Clinton at the convention in Philadelphia, although the Guardian saw no evidence of this. The DNC has been contacted for comment.
It is not just her belief that the DNC is corrupt that has convinced her to vote Stein who Hernandez said has essentially the same platform as Bernie Sanders minus the corruption of Hillary Clinton and the assholery of Donald Trump but also that she lives in Texas, a state Trump is almost certain to win.
Im very worried [about Trump], she said. Should he win, that really legitimises a lot of racists. But at the same time, being in a red state, Im going to make my voice heard in the only way I know how.
But I am concerned that the DNC elected Hillary in the first place. Because they [Trump and Clinton] are either tied or shes even losing in some polls. Whereas Bernie consistently beat Trump by double digits [in hypothetical match-up polls]. We could win the House and the Senate back with those kind of numbers.
Stein is currently polling at 2.8%, according to RealClearPolitics vote tracker. Gary Johnson, the Libertarian party nominee, appears to be the more viable third party candidate, with 7%.
A CNN poll conducted after the convention and released on Monday found that 13% of Democrats and Democrat-leaning independents who would rather the party had nominated Sanders were now planning to vote for Stein, up seven points from a CNN poll held prior to the DNC. Some 69% said they would vote for Clinton, 10% for Libertarian party candidate Gary Johnson, and 3% for Trump.
But with the race between Clinton and Trump so close polling averages show them almost neck-and-neck some would-be Stein voters are having to be pragmatic.
In the Colorado primaries, Chela, who asked to use a pseudonym for personal reasons, voted for Sanders. She wants to vote for Stein in the general election a vote against the two party system in the United States and a vote against corporatism in the Democratic party but is wary of tipping her swing state in Trumps favour. Obama won Colorado in 2008 and 2012, but the state voted Republican in the three elections before that.
Im watching the polls very carefully, Chela said. If were within 10%, I feel Ill have to vote for Hillary just as a way to make sure Trump doesnt take the countrys presidency.
Chela, 69, made phone calls for Sanders during the primaries and managed to make it to her polling station, despite being in a wheelchair at the time.
She has a very progressive agenda and that agenda is not one supported by corporate money. Its very important to me.
Anu Pulskamp is also based in Colorado. She was a state delegate for Sanders and donated more than $1,500 to his campaign, as well as hours of time phone banking. Pulskamp echoed the anger of other Sanders supporters regarding the primary process.
Ive read hundreds of the DNC leaked emails. I feel that our votes were stolen. I dont think she won the primary fair and square, Pulskamp said. And if she had to cheat to do it, maybe she shouldnt become the first woman president.
Her distrust of Clinton and the Democratic party aside, Pulskamp is keen to continue the political movement Sanders started.
Voting for Jill at this point is continuing his revolution, she said. I dont want a two-party system any more. I dont think its fair.
I think by me voting for the third-party candidate, along with millions of other Bernie supporters, it will maybe show that the third party is possible in the future.
Read more: www.theguardian.com