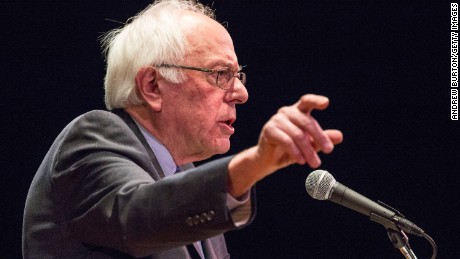 Charleston, South Carolina (CNN)Now it's time to see how Bernie Sanders performs under the lights.
The Democratic presidential debate Sunday night offers the Vermont senator one of his best chances to make the case to Democrats that he would be a stronger nominee than Hillary Clinton, who until recently took a hands off approach to her chief primary rival. It's their final scheduled meeting before the February 1 Iowa caucuses and comes as Sanders is surging in some early-state polls.
But he faces multiple challenges as he prepares to square off against Clinton.
For one, she is often at her best when her back is against a wall — as she demonstrated last fall during an 11 hour grilling by House Republicans over Benghazi or after losing early contests to then-Sen. Barack Obama in 2008. Meanwhile, the debate's location — just a block from the site of last year's racially motivated church shooting — and timing on the heels of the Iran nuclear deal's implementation could give Clinton an advantage in gun control or foreign policy discussions. Those are both areas where Sanders has struggled.
Sanders, meanwhile, got a taste of the challenge that would await him past Iowa and New Hampshire on Saturday night, as he, Clinton and former Maryland Gov. Martin O'Malley took turns speaking at a South Carolina Democratic Party dinner and the famous fish fry hosted by Rep. Jim Clyburn.
Without mentioning Sanders' name, Clinton landed some thinly-veiled blows on gun control, reminded the largely African-American crowd that it is "one of our first lines of defense" in the Democratic primary and latched herself to President Barack Obama, saying she "thought I was going to fall on the floor" when he sang "Amazing Grace" in the wake of the Charleston church shooting.
Since then, though, Sanders' campaign has ramped up spending in South Carolina and other early-voting states such as Nevada, including hiring staff, opening offices and getting on air with radio and television ads.
This has all come at a cost: Sanders spent about 90% of the money he raised in the last three months of 2015. But his aides see value in pumping as much money into the race as possible right now in a bid to seize on his growing momentum.
Delicate balance
Clinton faces a delicate balance, too, of distinguishing herself from Sanders without alienating Democrats whose support she will need if she ultimately wins the nomination.
For months, her campaign has publicly predicted a long slog through the Democratic primary. But, as a spate of ever-more-dire fundraising pitches to supporters have shown in recent days, Clinton's allies haven't responded with a sense of urgency.
Campaign chairman John Podesta wrote on Saturday evening to supporters: "We always knew this race would get tight, and that's what's happening now. Public polling shows we have a real race on our hands in Iowa and New Hampshire — and make no mistake, we could lose one or both of these contests."
He added: "I'm not an alarmist; I'm a realist."
Read more: www.cnn.com