Speaking at a town hall forum hosted by CNN ahead of the states primary, the Republican candidates also blasted Barack Obamas plans to travel to Cuba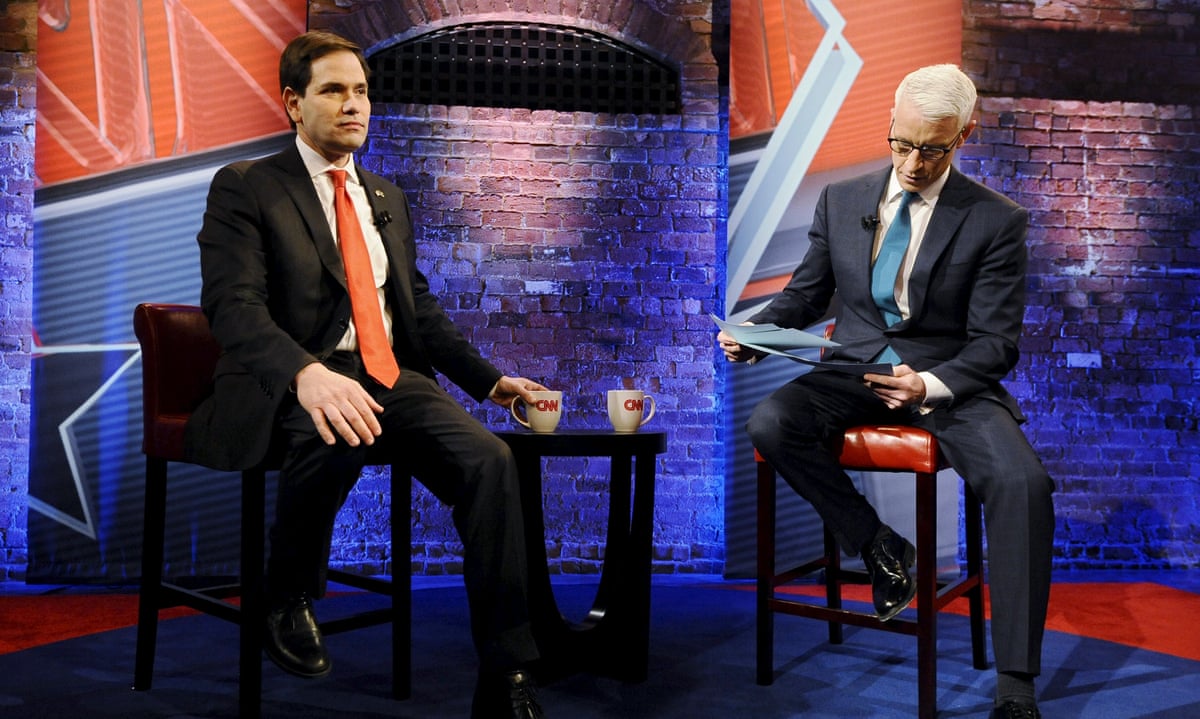 Republican presidential candidate Marco Rubio addressed the issue of race in deeply personal terms on Wednesday, drawing on his experience as a Cuban American whose family was occasionally confronted with racist comments.
Speaking at a town hall forum hosted by CNN, Rubio cited his childhood years living in Las Vegas, Nevada, during the Mariel boat lift in 1980. Some neighborhood kids taunted his family, Rubio said, asking: Why dont you go back on your boat and go back to your country?
I didnt know what they were talking about. What boat? My mom doesnt even swim. [Shes] afraid of water, Rubio said.
But his parents immigrants from Cuba who worked as a bartender and a maid raised him and his siblings to not be resentful, Rubio added.
Dont blame the kids. They must be hearing it from somebody, he recalled his parents as saying.
That disturbed me as a young child. For the most part in my life, I never saw that as a reflection on America but as a reflection on those kids. My parents never raised us to feel that we were victims.
Rubio has often discussed race relations on the campaign trail, largely in response to questions from the audience. But he has seldom spoken from experience, and has only recently revealed more of his personal side.
Rubios opponents have sought to portray him as robotic after the senator repeated the same line, almost verbatim, at least four times in a memorable encounter with New Jersey Governor Chris Christie at a Republican debate in New Hampshire. The torrent of criticism over Rubios scripted demeanor prompted the Florida senator to fall to a disappointing fifth-place finish in the state, setting back his campaigns momentum.
Rubio is seeking a comeback in South Carolina, where he is polling in third behind senator Ted Cruz of Texas and real estate mogul Donald Trump. Cruz also appeared at Wednesdays forum, as did retired neurosurgeon Ben Carson. Other Republican candidates will participate in a second town hall on Thursday in Columbia.
During his response on race, Rubio also brought an anecdote he has told on the campaign trail about a black friend who is frequently pulled over by police even though he is a cop.
He gets pulled over, never gets a ticket. No one has any explanation. What is he supposed to think? Rubio said, adding that a significant number of young African American men feel as if they are treated differently than the rest of society.
The senator also pushed back against the notion that the Republican party lacks diversity.
I got the endorsement of a governor of Indian descent, who endorsed a presidential candidate of Cuban descent, and tomorrow well be campaigning alongside an African American Republican senator, Rubio said, in reference to South Carolina governor Nikki Haley and Senator Tim Scott.
Also discussed in the forum was late-breaking news that Barack Obama would travel to Cuba next month. Rubio, a vocal critic of restoring diplomatic relations between Washington and Havana, said he would not travel to the island unless it was a free Cuba.
I will tell you the problem with the Cuban government. Its not just a communist dictatorship, its an anti-American communist dictatorship, he said.
Cruz, who took the stage after Rubio, also criticized rapprochement with its government. Asked if he would visit Cuba as president, the senator from Texas responded: Not as long as the Castros are in power.
Cruz continued to focus his fire on Trump, spending a lengthy portion at the top of his Q&A discussing their escalating feud. He described his reaction to receiving a cease and desist letter from Trump over an attack ad as an incident he simply could not take seriously.
Ill confess, I laughed out loud, Cruz said.
Carson, who has slipped dramatically in the polls, was characterized as usual by a quiet showing. He did, however, break with many Republican candidates on the issue of whether Obama should nominate a replacement for the late supreme court justice Antonin Scalia.
I probably would take the opportunity to nominate someone. Doesnt necessarily mean that person will be acted on or confirmed, he said. Why not do it?
Read more: www.theguardian.com