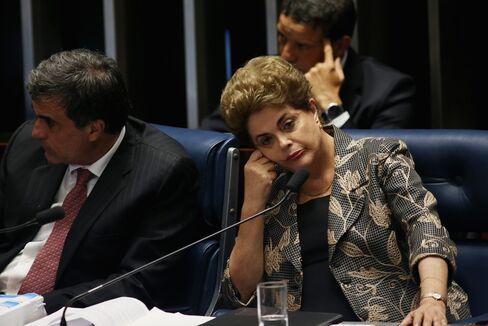 Dilma Rousseffs plea against the impeachment process that she likens to a political death sentence is failing to sway senators, with lawmakers on both sides of the aisle expecting the Brazilian presidents permanent ouster this week.
In her first appearance in Congress since proceedings started in December 2015, Rousseff cited minutia of budget laws, recalled her fight against the dictatorship and took questions from more than 40 senators in a marathon session that was still ongoing late Monday night. Supporters said she made a solid case for her defense, though critics countered it wont matter when it comes to the final vote on Tuesday or Wednesday.
"Dilma is defending herself with a lot of dignity and intelligence, but the senators came here with their minds made up," said Senator Regina Sousa of Rousseffs Workers Party. "Its very difficult to turn around the vote."
Acting President Michel Temer expects at least 60 votes in favor of Rousseffs ouster, according to one of his aides. That would be six more than the two-thirds majority needed to permanently remove her from office and confirm him as president until new elections are held in 2018. The aide, who asked not to be named because the tally isnt public, said he expected a final vote after 11 p.m. local time on Tuesday.
For a look at Temers plans for the presidency, click here.
Rousseffs testimony was her last defense in a nearly nine-month impeachment process that has plunged Brazil into political turmoil and deepened its recession. The Senate forced her to temporarily step down in May when it decided to try her on charges of using accounting tricks to mask a budget deficit.
Her conviction would give Temer some of the legitimacy he needs to revive growth, though he faces opposition within his own coalition to the austerity measures he says are needed to restore business and consumer confidence.
Brazils Ibovespa, the worlds best performing equity index this year, surged 1.6 percent on Monday amid investor optimism that impeachment would make way for more market-friendly policies under Temer. The real gained 1.1 percent.
"Dilmas speech didnt bring anything new — nothing that could threaten the impeachment process," said Henrique de La Rocque, a fixed income and derivatives manager at Brasif Management.
Bitter Suffering
In her opening remarks to Senators on Monday, Rousseff said the countrys elite manufactured charges against her after they lost the 2014 presidential election. She cautioned that inequality would increase under Temer, whose economic policies would undo the social gains achieved by her party.
Rousseff likened her travails to those she suffered as a prisoner of the military government, which ruled Brazil from 1964 to 1985.
During the fight against dictatorship, my body was marked by torture. I tasted the bitter suffering of prison for years, Rousseff said, her voice cracking on several occasions. I cant help but to again taste the bitterness of injustice.
Critics of Rousseff said they werent impressed by her appeal. Senator Ana Amelia de Lemos said the presidents budget policies — not her lifes story — were on trial. The chamber will still vote in favor of Rousseffs impeachment, said Senator Alvaro Dias of the Green Party, which is neither part of the government coalition nor the opposition.
Mismanaged Economy
Behind charges that Rousseff financed government spending without congressional approval is broader sentiment among many legislators and Brazilians that she mismanaged the economy. Several senators accused her of misleading voters in the 2014 election about the true state of public finances and the economic slowdown. Over the past two years, the budget deficit more than trebled to around 10 percent of gross domestic product, while the downturn drove unemployment into the double digits.
Rousseff, a 68-year-old trained economist, blamed the slowdown in China, monetary tightening in the U.S. and a severe drought in Brazil for the countrys woes. She said her opponents in Congress torpedoed many of her efforts to balance the budget.
Prominent figures joined Rousseff in what may have been her last public appearance as president, including 20 of her former cabinet members. Television often cut to images of her supporters watching in the Senate gallery, focusing frequently on her predecessor Luiz Inacio Lula da Silva, who was once the most popular politician in Brazil. Federal police have charged him with money laundering and corruption, though he denies the allegations.
Rousseff would be the second president impeached in the Senate since Brazils return to democracy, even though then-President Fernando Collor de Mello in 1992 resigned shortly before the final vote.
Limited Protests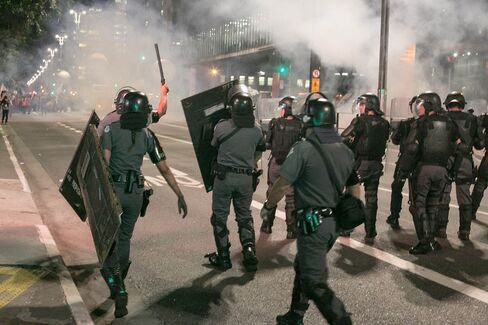 The proceedings attracted limited attention in Brazil. Only a few hundred people gathered outside the Senate building in the countrys capital. Police used tear gas to disperse crowds marching in favor of Rousseff in downtown Sao Paulo, while protesters blocked a major avenue in Rio de Janeiro. Still, the demonstrations were a far cry from the mass protests that drew millions to the streets in favor of impeachment over the past year.
Brazil is going to be fine, said Riordan Roett, director of Latin American studies at Johns Hopkins Universitys School of Advanced International Studies. "It will be back to politics as usual after they get through this.
Read more: www.bloomberg.com