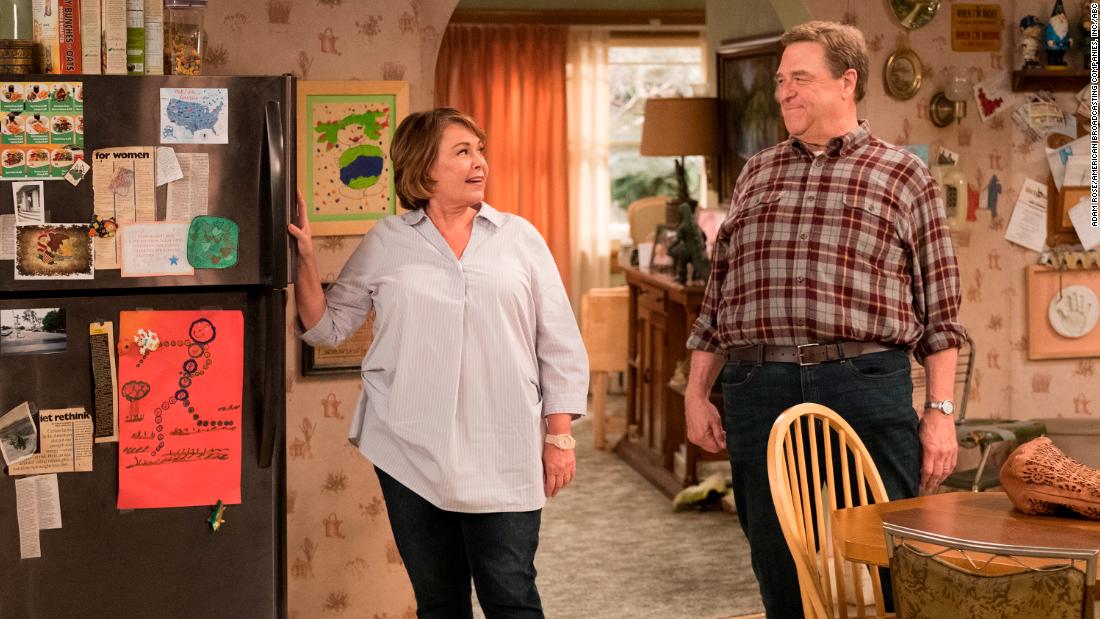 (CNN)The "Roseanne" reboot has reached 25 million viewers, surpassing even the audience for the iconic original run's finale in 1997. It was the strongest debut for any network television show this season — or any season for the past six years. But not everyone was ready to return to the blue-collar squalor of Lanford, Illinois.
Overnight, a cottage industry of
criticism
and
vows
to boycott
popped up
. People who usually pride themselves in the mantra that love trumps hate were calling Roseanne Barr a "
garbage person
" over her
support for Donald Trump
. Some of them were flaunting their prejudice, prejudging the show without watching any of it. Many of these repudiators, nearly entirely liberals, were bragging about a willful blind spot.
Here's a fun fact about social progress: It is painful and difficult. It is not a flipbook of our likes, comforts, and feel-good instaquotes. It is not achieved with galas. People are entitled to tune out whatever they want — and the entitled ones very much do — but what good is someone who doesn't listen to Chris Brown because of his abusive history with Rihanna if they don't listen to any music? What good is a supporter of Colin Kaepernick if they still tune in to root for their team to win every Sunday even with him out of the league?
Lots of liberals didn't want to watch "Roseanne." No matter what. Fine. That's their right. But ask those people: What *do* they watch? Maybe they would flock to the opposite of "Roseanne," if only such a show existed. As it turns out, it does.
Norman Lear's Netflix update of "
One Day At a Time
" features Penelope Álvarez, a gun-toting Cuban-American single mother and Army veteran, struggling to raise her son and lesbian daughter in the grit of Los Angeles on a shoestring budget with the help of her immigrant mom, played with the incomparable
EGOT
talent of Rita Moreno. "One Day At A Time" runs like state television from the Democratic National Convention. One episode centers on Penelope being stranded on hold with Veterans Affairs. Another portrays her struggle with
depression
and
stigma in her community
. The audience sees a school friend of her daughter's get deported and her daughter herself attend her quinceañera in a suit instead of a dress. The show highlights the hardships of the bilingual son whose skin tone registers as Latino while the daughter, whose Spanish is shaky, grapples with passing as white. Viewers need to be bilingual themselves to get all the jokes.
It is all absolutely riveting. And virtually unwatched.
On the third episode of the "Roseanne" reboot, the star falls asleep watching ABC, missing "Black-ish" and "Fresh Off The Boat." "They're just like us. There, now you're all caught up," she reassures her television husband, Dan. The glib joke gave fresh fodder to the self-righteous boycotters. How dare she insult those diversity stalwarts?! But, really, how dare people take umbrage at her insult of a show many of them can't be bothered to watch?
"Roseanne" is ugly, uncomfortable, and distressing. Good. That prickly embrace is how democracy and diversity and cosmopolitanism work. You are not going to like everything on the menu at that new Vietnamese or Indian or Oaxacan restaurant in your neighborhood. If liberals want escapist television, that's their right. But who are they to scold Trump voters for not being glued to every earnest, civic-minded episode they themselves can't be bothered to watch? That's the pot calling the kettle black-ish. In this renaissance of the finely crafted politics of hate — surely there's a word for that, no? partisanal? — we need to engage the fullness of otherness and its place in our society, not a filter of it. "Roseanne" is many things to many people. Who she is to you says more about you than it does about her.
Read more: www.cnn.com