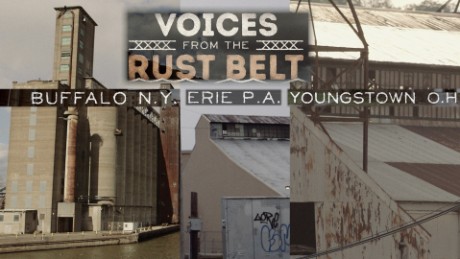 The voters of the Rust Belt have shaken up the 2016 presidential campaign: Hoping to jolt a political system they see as ineffective and out of touch, they have repeatedly revolted by supporting unlikely, anti-establishment candidates.
In both Donald Trump and Bernie Sanders, these voters see a potential for change they haven't felt in generations. They say they are willing to shed party allegiances and reimagine their priorities this year, even voting for a self-described democratic socialist, or for a flame-throwing real estate developer who has never served in government.
In doing so, they have become the engine of one of the most extraordinary elections in modern U.S. history.
CNN spent a week visiting three Rust Belt cities: Buffalo, New York; Youngstown, Ohio; and Erie, Pennsylvania. In nearly 30 in-depth interviews, voters in these economically depressed areas shared an unmistakable fascination with Trump and Sanders and their offbeat candidacies. They were willing to break out of their long-held voting patterns to back an unconventional choice. And Trump supporters expressed a raw anger at the idea that party leaders might try to deny him the nomination a warning for establishment Republicans publicly challenging their front-runner.
"The politicians that are going out of their way to destroy him — it's a very bad move," says Tim Wiles of Buffalo. "This is America; this is not Russia."
Frustration with the economic and political system is especially strong in the Rust Belt, a section of the country in the Northeast and Midwest once at the heart of the United States' manufacturing boom. Decades after the decline of heavy industries like steel production and coal mining, the region continues to struggle with decaying infrastructure, population decline and high unemployment.
Voters there are worried about economic stagnation and crime plaguing their communities. They are disappointed in Washington's elected officials. They are calling out for swift, radical change.
Read more: www.cnn.com