It is too late to remove the Senate candidate from ballots. The question now facing the party: will the accusations change Alabama voters minds?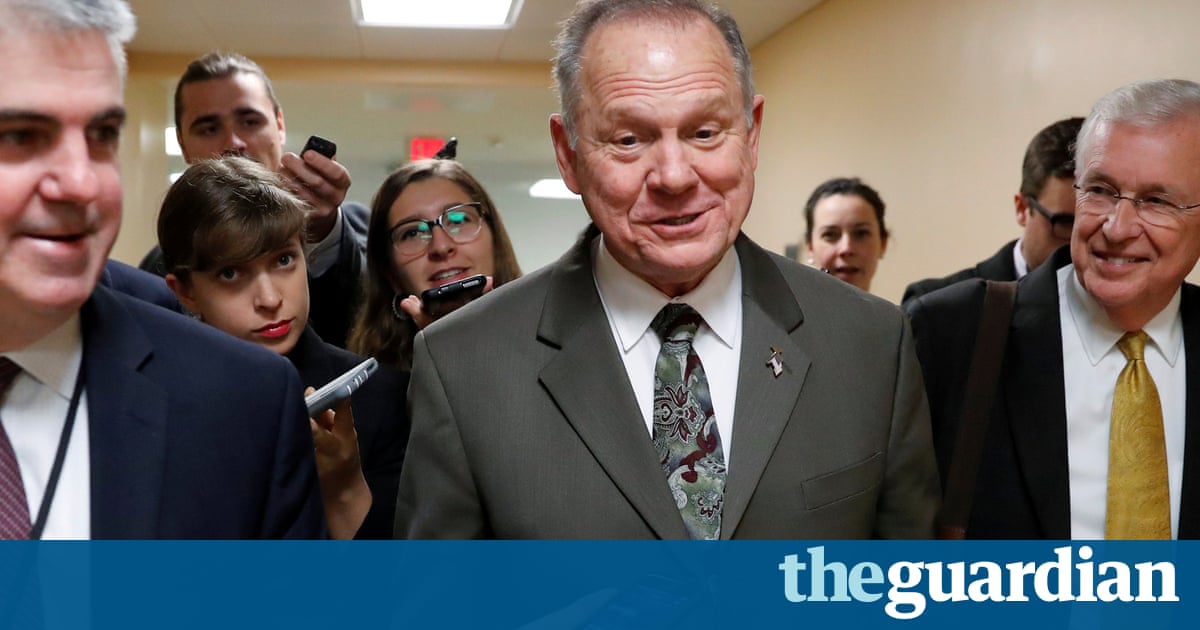 The explosive allegations of sexual abuse against a minor that have been leveled against Roy Moore present the GOP leadership with a tricky political crisis.
On Thursday evening, hours after the Washington Post reported allegations that he instigated improper sexual contact with a 14-year-old girl in 1979, when he was 32, Moore, who in less than five weeks is set to stand as Republican candidate in Alabama's special US senate election, appeared to be digging in for a fight.
In an indication of how the firebrand and former judge intends to handle the storm, he has begun fundraising on the back of it, accusing the Post, whose claims he denied, of a "vicious and nasty" attack. "The forces of evil are on the march," he said before appealing for campaign donations.
Such defiance is nothing new for Moore. His outsider's bid for the Republican nomination in Alabama and his subsequent victory in September over Luther Strange, who had been backed by the party establishment, including Donald Trump, was in itself an act of supreme defiance.
Before that he had shown defiance – bordering on disdain – towards the US constitution and the supreme court in his approach to the Ten Commandments and gay marriage.
But should he continue to doggedly refuse to step aside, as seems more than likely, the Republican leadership in the US senate could find itself in a bind as it seeks to hang on to the party's slender majority. The Democrats, whose sails have been filled by resounding victories across the country on Tuesday, are only three seats away from regaining control of the chamber in next year's mid-term elections, and are already eyeing Arizona and Nevada as potential targets.
Should Moore's travails cost the Republicans as reliable a seat as Alabama on 12 December, that could open up for the Democrats a credible path to the majority.
The sense of panic setting in for top Republicans could be sensed almost the moment the Washington Post story broke. Numerous prominent figures lined up to cast Moore into the wilderness, most using the same formula of words: "If these allegations are true, he must step aside."
Subscribers to that phrase included the majority leader, Mitch McConnell; the senior senator from Alabama, Richard Shelby; Senator Ted Cruz of Texas; and Susan Collins, senator from Maine. John McCain went further, saying there was no need for deliberation over veracity – Moore should go now.
Senior Republicans have already begun studying Alabama electoral law to work out what options they might have in terms of ousting a recalcitrant candidate, and what they will have discovered will provide precious little comfort. State rules say that Moore could decide to stand down of his own volition or he could be pushed by the local party, but in either case 76 days' notice has to be given and that deadline has already passed.
Whatever happens in the ensuing days, the name Roy Moore will appear on the ballot. Indeed, it is already on ballots that have started to be posted out to absentee voters.
That leaves the party with the choice of opting for a write-in candidate, but with just a month to go to election day, that would be a high-stakes strategy.
"Roy Moore was already a big problem, and now in the short term he is going to be an even bigger problem," said John Weaver, John Kasich's chief strategist in the 2016 presidential primaries. "The race in Alabama was closer than people thought even before this news happened."
The billion dollar question now is: what would Alabama voters make of child sexual abuse allegations relating to a man who is asking to be sent to Washington?
At face value, that would seem to be a simple question to answer. Deep south Alabama is one of the most religious states in the Union – with 82% of adults saying they believe in God with absolute certainty and almost half the population being active evangelical Christians, according to the Pew Research Center.
On the other hand, this was the state that voted for Trump over Hillary Clinton by a factor of two to one. Trump's remarks bragging about grabbing women by the genitals did not appear to faze this electorate.
Judging from the comments of Moore's supporters in Alabama on Thursday, a similar insouciance over alleged sexual abuse, in this case of a child, appears to be in play. Jim Ziegler, Alabama's state auditor, put an interesting twist on the story given the profound religiosity of the area.
"Take the Bible," Ziegler told the Washington Examiner, before going on to reference the relationship between Mary and Joseph. "Mary was a teenager and Joseph was an adult carpenter. They became parents of Jesus. There's just nothing immoral or illegal here, maybe just a little bit unusual."
Read more: www.theguardian.com