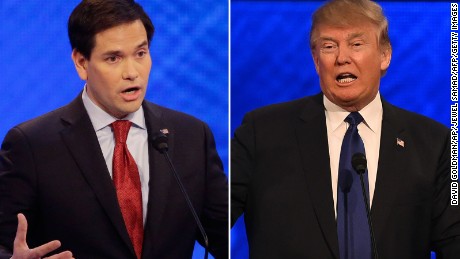 Greenville, South Carolina (CNN)The Republican presidential race has hit South Carolina in a flurry of insults, negative ads and suggestions of dirty tricks. Saturday night, the six remaining contenders will appear for their only debate before the February 20 primary, and each man has something to prove.
Donald Trump and Ted Cruz have each tasted victory in the GOP presidential race claiming the anti-establishment mantle — Trump coasted to victory in New Hampshire this week, and Cruz won the Iowa caucuses.
Marco Rubio and Jeb Bush are hoping to have strong showings in this conservative state that can boost their momentum heading into a dozen contests on March 1 known as the "SEC primary." John Kasich, coming off a second-place showing in New Hampshire, has an uphill climb but is getting more attention of late. And if Ben Carson is going to make a move, now is the time.
Here is what to watch for Saturday night:
Can Rubio shake off the last debate?
The Sunday after the last Republican debate in New Hampshire, a clip of Rubio's performance saturated the airwaves, playing on repeat on the morning shows and throughout the day.
Unfortunately for the Florida senator, it was because he had stumbled — big time.
One of the latest ads aimed at Trump focuses on the businessman's support for eminent domain — a practice in which the government seizes private property that many conservatives are not fond of. The narrator in this ad accuses Trump of having ""bankrolled politicians to steamroll the little guy — a pattern of sleaze stretching back decades."
All of this suggests that a feistier and more aggressive Cruz may take the debate stage Saturday.
Family matters for Bush
South Carolina is a state that gave victories to both George H.W. Bush and George W. Bush. And now, Jeb Bush is hoping to continue the family's winning streak here next Saturday.
But achieving that will be an uphill climb for the latest Bush to run for president.
In a cycle overwhelmingly dominated by two anti-establishment candidates, the former Florida governor has struggled to vault himself to the top-tier of the crowded GOP field. The closest thing to victory that Bush has experienced this cycle was on Tuesday in New Hampshire, when he came in at fourth place in the GOP contest there. He was virtually tied with Marco Rubio and trailed behind Trump, Cruz and Kasich.
But coming in second or third place within the establishment lane is far less acceptable for Bush here in South Carolina than in New Hampshire. He is hoping that his family name will be a plus in this southern state, and in North Charleston on Monday, Bush will have his brother, George W. Bush, campaigning next to him for the first time.
Saturday, expect to hear Bush make an explicit case for why he is the best to take on Trump or Cruz — and even remind people of his family's history of winning here.
"He's the last Republican that was president. He is the most popular Republican alive," Bush told reporters Thursday. "He has made tough decisions as president. All of that, I think, is important for people to be reminded of."
Winning the military and veterans' votes
Two constituencies in South Carolina will be key in determining the winner of the GOP South Carolina primary: military personnel and veterans.
The state is home to more than 400,000 veterans and some 38,000 active duty military members, according to recent estimates.
That means issues like national security, military spending and the treatment of veterans are likely to be front and center at Saturday's debate. And the candidates on the debate stage have their share of vulnerabilities.
For Trump, it may be a comment he made about John McCain on the campaign trail — questioning the former GOP presidential nominee's status as a Vietnam War hero — that could come back to haunt him.
Cruz has already come under fire from his rivals for voting for a budget that would have cut military spending. The Texas senator has hit back at that charge by pointing out that he supported an amendment to boost military spending.
Kasich's past support for closing military facilities is also likely to be met with disapproval in a state that has eight military bases.
Meanwhile, Bush is hoping that the endorsement from Sen. Lindsey Graham — along with George W. Bush, who is popular in South Carolina, hitting the trail for him — can win him points with the influential veterans and military community.
Read more: www.cnn.com