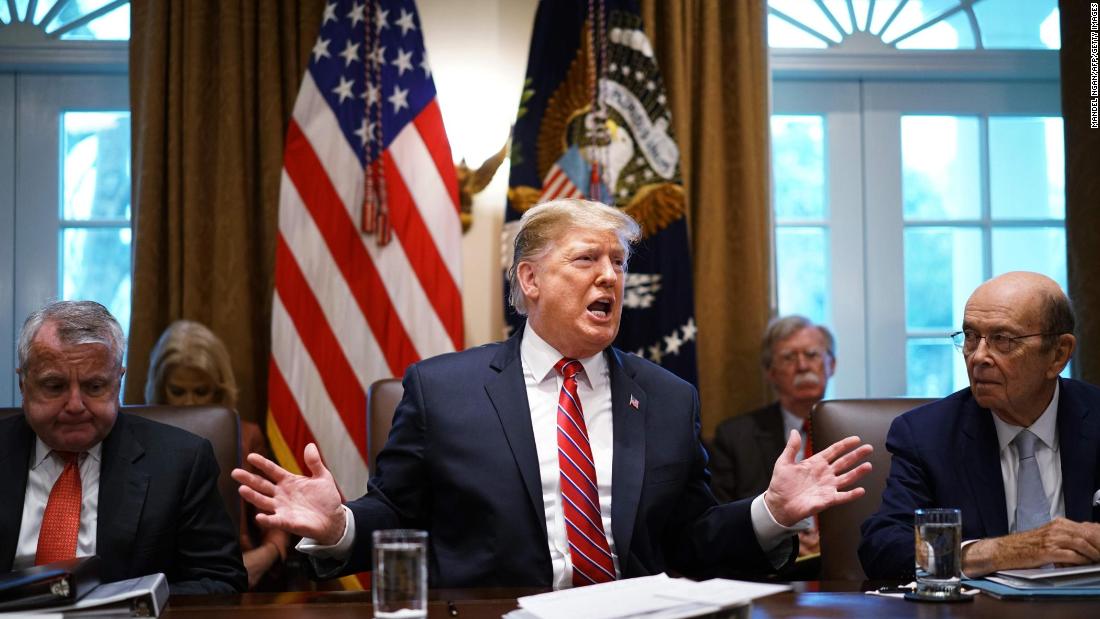 Washington (CNN)Rep. Ilhan Omar on Wednesday rejected President Donald Trump's call for her to resign after she suggested US support of Israel is motivated by money, charging that the President is hypocritical given his history of race-baiting statements.
Omar
apologized on Monday
after she ignited a firestorm with her tweets suggesting US support of Israel is motivated by money. The messages — she suggested support of Israel is driven specifically by donations from the American Israel Public Affairs Committee, a prominent pro-Israel lobby group — were condemned by lawmakers on both sides of the aisle as anti-Semitic.
On Tuesday, Trump called on her to resign, saying during a Cabinet meeting that "anti-Semitism has no place in the United States Congress."
"And Congressman Omar is terrible, what she said. And I think she should either resign from Congress or she should certainly resign from the House Foreign Affairs Committee," he said.
Omar has been critical of the Israeli government over its treatment of Palestinians and has supported the Boycott, Divestment and Sanctions movement — a nonviolent activist campaign that aims to put economic and political pressure on Israel over its actions toward Palestinians, including calling for an end to Israeli occupation of the West Bank.
Critics — both Democratic and Republican — said Omar's tweets evoked anti-Semitic tropes. House Democratic leadership called on her to apologize, and the freshman congresswoman then released a statement where she "unequivocally" apologized.
Omar's statement reads, "Anti-Semitism is real and I am grateful for Jewish allies and colleagues who are educating me on the painful history of anti-Semitic tropes. My intention is never to offend my constituents or Jewish Americans as a whole. We have to always be willing to step back and think through criticism, just as I expect people to hear me when others attack me for my identity. This is why I unequivocally apologize."
"At the same time," Omar continued, "I reaffirm the problematic role of lobbyists in our politics, whether it be AIPAC, the NRA or the fossil fuel industry. It's gone on too long and we must be willing to address it."
Trump said at the Cabinet meeting, "What (Omar) said is so deep seated in her heart that her lame apology — and that's what it was, it was lame and she didn't mean a word of it — was just not appropriate. I think she should resign from Congress, frankly. But at a minimum she shouldn't be on committees — certainly that committee."
"White nationalist, white supremacist, Western civilization — how did that language become offensive?" King asked the Times. Top Republicans sharply rebuked King, but the President did not, saying he hadn't been following the news surrounding King.
Trump himself has been accused of anti-Semitism more than once.
Read more: www.cnn.com