DJ Gallo: Who in this years Final Four will shine in the NBA? Buddy Hield and Brice Johnson show promise, but theres perhaps only one with the Wright stuff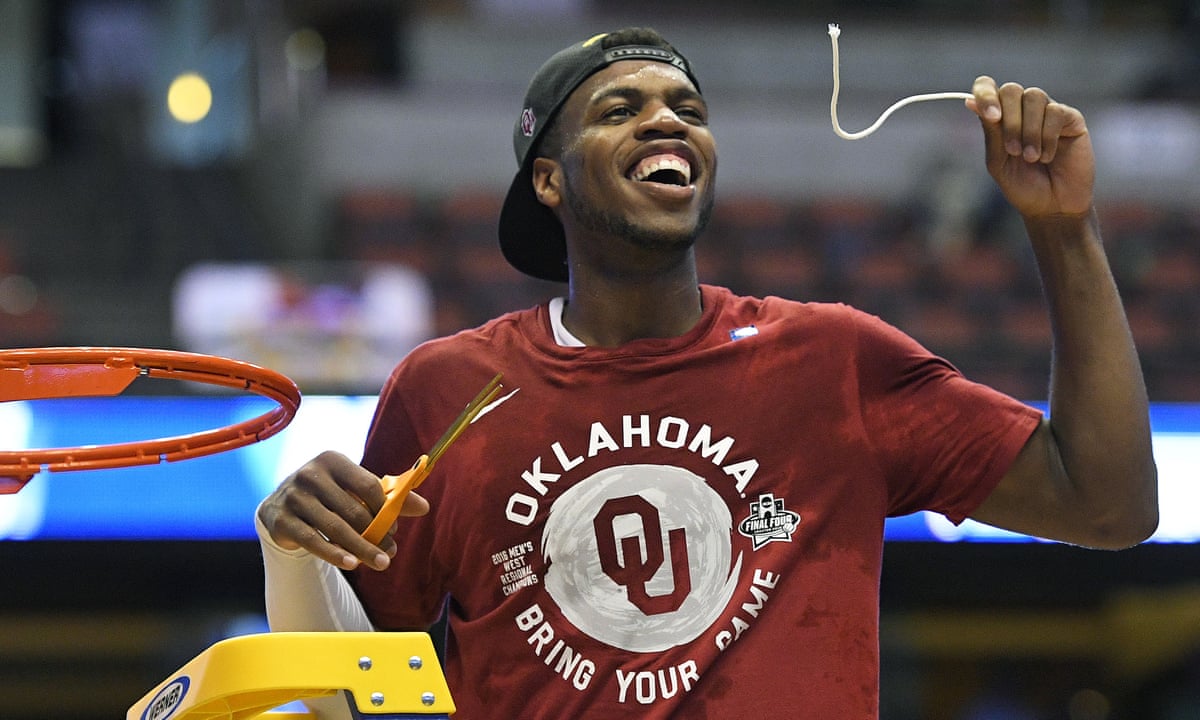 For most people, the NCAA tournament is two and a half weeks of nearly wall-to-wall college basketball entertainment with the added benefit of making office life a bit more bearable through the joy of gambling. But in the NBA community, March Madness serves as six rounds of prospect auditions with little regard given to who cuts down the nets unless the players on the ladder have NBA length and upside.
With only four teams left in the tournament and 64 watching at home, several of the top prospects Dukes Brandon Ingram and Jamal Murray of Kentucky among them have long-since been dispatched, while LSUs Ben Simmons didnt even get to play. But there a few players set to take the court in Houston this weekend that will be taking the court quite often in some NBA city next season.
Oklahoma senior shooting guard Buddy Hield is chief among them. Hield has improved significantly since showing up in Norman four years ago and was close to unstoppable all season and absolutely unstoppable in the NCAA tournament so far with 36 points against VCU in the second round and a 37-point effort to knock off Oregon in the regional semis.
Hield has ideal NBA shooting guard size at 6ft 4in and Steph Currys success has helped diminish some of the stigma around college players who arent good enough to leave for the pros after a year or two. The Suns would love to get him at the No3 spot or the Celtics, already a top Eastern Conference team and holding the Nets pick, could land a ready-made contributor and possible future star. Boston has a pretty good history with sweet-shooting college standouts whose first name ends in a y.
North Carolina power forward Brice Johnson is the other potential lottery pick in the Final Four. Most draft projections had him slated to go towards the end of the first round, but that was before he took his game to the next level in the tournament, averaging 21 and 10 to lead the Tar Heels to their first Final Four in seven years. Its unlikely he continues in superstar mode in the NBA one draft service, NBADraft.net, projects him as a Taj Gibson-type but he can be a contributing rotational player with some upside. Whoops. Theres that upside word.
Johnsons frontcourt teammate, sophomore Justin Jackson, has definite NBA potential, but could use another year or two in school. Same with Syracuse freshman Tyler Lydon, a 6ft 8in forward who can handle the ball, rebound and shoot the three.
That brings us to the final guy in the Final Four who might have some nice NBA potential … Villanova head coach Jay Wright. The Wildcats have now appeared in two Final Fours in eight years, no small accomplishment for a small Catholic school. Wright has developed NBA talent from Hofstra to Villanova in Speedy Claxton, Randy Foye and Kyle Lowry. Hes won Coach of the Year. Hes only 54. And the man would bring finely tailored suits not seen on NBA sidelines since Pat Rileys heyday. Theres no indication Wright is looking to make the jump, but theres also no reason some NBA team in the market for a new coach wouldnt make him a big offer. Maybe after coaching against Hield in the Final Four, Wright can coach him in Phoenix.
Quote of the Week
Im still an asshole. It doesnt change. It just evolves. Kobe Bryant, on the fact that he has zero technical fouls this season.
Video of the Week
In this season of the Warriors and the nearly-as-unbeatable Spurs, the Thunder are likely doomed to be a footnote in history. Theyre 30 games over .500, but somehow 14 and a half behind the Warriors and 10 behind Spurs. It will be an upset if they even make the conference finals.
But then you see Russell Westbrook make plays like this and you realize that no matter how short OKCs playoff stay happens to be this year, it will be worth watching every ultimately futile moment.
How did LeBron carry the Cavaliers this week?
The Cavaliers churned out another uneven and drama-filled week in their joyless slog of a season. Easy wins over the Nuggets and Bucks were followed by an inexplicable loss to the awful Nets despite LeBron scoring 30 points on 13-of-16 shooting. Then two nights later they blew out the Knicks behind a triple-double from James. On the social media front, LeBrons cryptic tweets and posts were upstaged by Kyrie Irvings relationship problems. And in legal news, JR Smith got sued for $2.5m by a man he got into a skirmish with outside of a New York nightclub in November.
All of it continued to conceal the fact that the Cavaliers are actually in first place in the Eastern Conference and with room to spare. Its getting exhausting. No wonder ESPNs LeBron beat reporter is falling asleep on live TV.
Power rankings
1. Golden State Warriors (1) The Warriors need to finish 6-2 to best the Bulls record of 72-10. Two of their final four games are against the Spurs, but the Spurs will likely have no chance of catching them at that point. Gregg Popovich could very easily sit his stars and grin widely throughout the games as people wring their hands over the ethics of him ceding history so easily. Its the kind of stuff he lives for.
2. San Antonio Spurs (2) The Spurs sat Kawhi Leonard, Tim Duncan, Tony Parker, Manu Ginobili and David West on Monday night and still beat the Grizzlies by 14 points. Peak Popovich is going to come in the playoffs when he rests a few key players during the first or second round. Heck, if the Spurs make the Finals, he could probably even get away with it there.
3. Cleveland Cavaliers (3) Quicken Loans Arena this year is playing host to the Cavaliers and the Republican National Convention. There is no theatre on Broadway or in the West End that can match the drama this venue will display.
4. Oklahoma City Thunder (4) Kevin Durant wore these abominations before OKCs game against the Jazz last Thursday.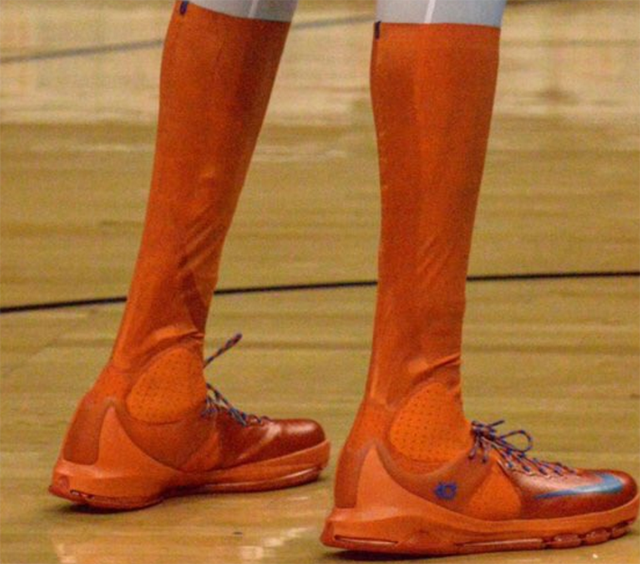 The Thunder won by 22 and Durant put up 20 points, eight rebounds and nine assists. Impressive, Kevin, but not even a triple-double would have been enough to get away with going out in public like that.
5. Los Angeles Clippers (5) Blake Griffin is close to returning to the lineup after he broke his hand punching a team employee and got suspended.
Lets hope that is a high-five emoji there and not a violent face-smack emoji.
6. Toronto Raptors (6) The Raptors clinched a playoff spot last week, but Kyle Lowry is in a big shooting slump and had to have his elbow drained. Unfortunately, its standard procedure for bad things to happen to the Raptors upon hearing the word playoffs.
7. Atlanta Hawks (8) One game after his team forgot him in Detroit, Hawks point guard Jeff Teague scored 26 points, including two late free throws, to lead Atlanta to a win in Chicago over the Bulls. Theyll never forget me again, he said.
8. Miami Heat (7) Hassan Whiteside averaged 11.1 points in December, 12.2 in January, 15.3 in February and now 18.4 in March. If the trend and Whitesides incredible improvement continues, theres a very good chance the Heat could be playing into May or June.
9. Charlotte Hornets (9) It was revealed this week that Michael Jordan may have once said that he hates rap music. Then Jordan denied he ever said that. Its likely Jordan is telling the truth. If he hated rap, would he have included the Bugs Bunny track Ya Buggin on the Space Jam soundtrack?
Fun Fact(s): the lyrics in that 1996 song were written by Jay-Z. And they include a Donald Trump reference.
10. Boston Celtics (10) Former Boston star Paul Pierce shared the court for potentially the last time with the Celtics on Monday night, but left the Clippers win early when he landed awkwardly on a lay-up in the first half. Pierce was helped off the court by two medical staffers, but did not need a wheelchair.
11. Indiana Pacers (12) The Pacers signed Ty Lawson three weeks ago after the Rockets bought out his contract, then Lawsons Pacers defeated Houston on Sunday. Hell yeah, Lawson said after the game. It does feel good to beat them. Lawson must have felt good a lot earlier this season.
12. Memphis Grizzlies (11) The constantly injured Grizzlies have now rostered 27 players this season, tying them with the 1995-96 Mavericks for the all-time NBA record. Yet Memphis is still somehow fifth in the Western Conference, meaning the only injury they probably couldnt overcome would be one to head coach Dave Joerger.
13. Detroit Pistons (16) The Pistons ran off a five-game win streak last week, including victories over the Bucks, Magic and Hornets, to further secure their spot in the Eastern Conference race. Maybe its time to celebrate now? No, still not yet, apparently.
14. Portland Trail Blazers (13) CJ McCollum will get very serious consideration for the NBAs Most Improved Player Award after this season, going from a reserve averaging six points a game to a full-time starting putting up 20 a night. Of course, Damian Lillard probably deserves some votes, too. And Allen Crabbe. And maybe even Al-Farouq Aminu and Meyers Leonard. Yes, the Blazers have had a much better season than everyone expected.
15. Utah Jazz (18) The Jazz beat the Lakers by 48 points on Monday night, the worst defeat of Kobe Bryants career. Monday was also Byron Scotts birthday.
If he got a birthday cake, the candles probably blew out his team.
16. Houston Rockets (17) Since Dwight Howard was caught using Stickum a week and a half ago that is, if someone can be caught using a substance that in no way would help a basketball player he has shot 68% from the floor, well above both his season and career percentages. Just another reminder that Howard is the worst cheater ever.
17. Dallas Mavericks (15) The Mavericks fell out of playoff position on Sunday night with a loss to Rajon Rondo and the Kings. I want them to get their plane ticket as soon as we get ours, Rondo said of trying to knock his former, short-term employer out of the postseason. So anytime we can help, thats what I try to get [my teammates] to focus on. Rondo has long been able to destroy his own team, but now he can take down two. All great players expand their game throughout their career.
18. Washington Wizards (19) When the Wizards played the Warriors back on 3 February, they gave up a season-high 134 points, including 51 to Steph Curry and 25 in the first quarter alone. When they lost to the Wizards again last night, they didnt give up quite that much. Randy Wittman is finally making real progress with this team.
19. Chicago Bulls (14) Remember how Tom Thibodeaus departure was going to usher in an era of free-flowing, beautiful Bulls basketball? Heres a visual representation of how that has gone: a shot chart from Chicago closing the second quarter of their loss to the Pacers on Monday night at a 1-for-22 clip.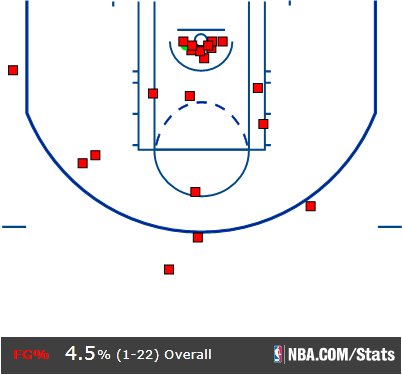 20. Milwaukee Bucks (20) After nearly pulling into playoff position, the Bucks have cratered by losing five games in a row. No matter. Theyve just given themselves a shot to land a Top 10 draft pick maybe even one of the guys above to add to their arsenal of young talent. One player they may want to avoid, however, is Southeast Missouri State freshman Tony Anderson. A reserve on his high school team, Anderson only started three games for the 5-24 Redhawks and averaged 5.0 points per game. Now he has declared for the NBA Draft. One and done, indeed.
21. Orlando Magic (21)
22. Denver Nuggets (22)
23. New York Knicks (23)
24. Sacramento Kings (24)
25. New Orleans Pelicans (25)
26. Minnesota Timberwolves (26)
27. Brooklyn Nets (27)
28. Phoenix Suns (28)
29. Los Angeles Lakers (29)
30. Philadelphia 76ers (30)
Read more: www.theguardian.com