The supreme court justice turned cultural phenomenon known as Notorious RBG is being celebrated in song thanks to her son and daughter-in-law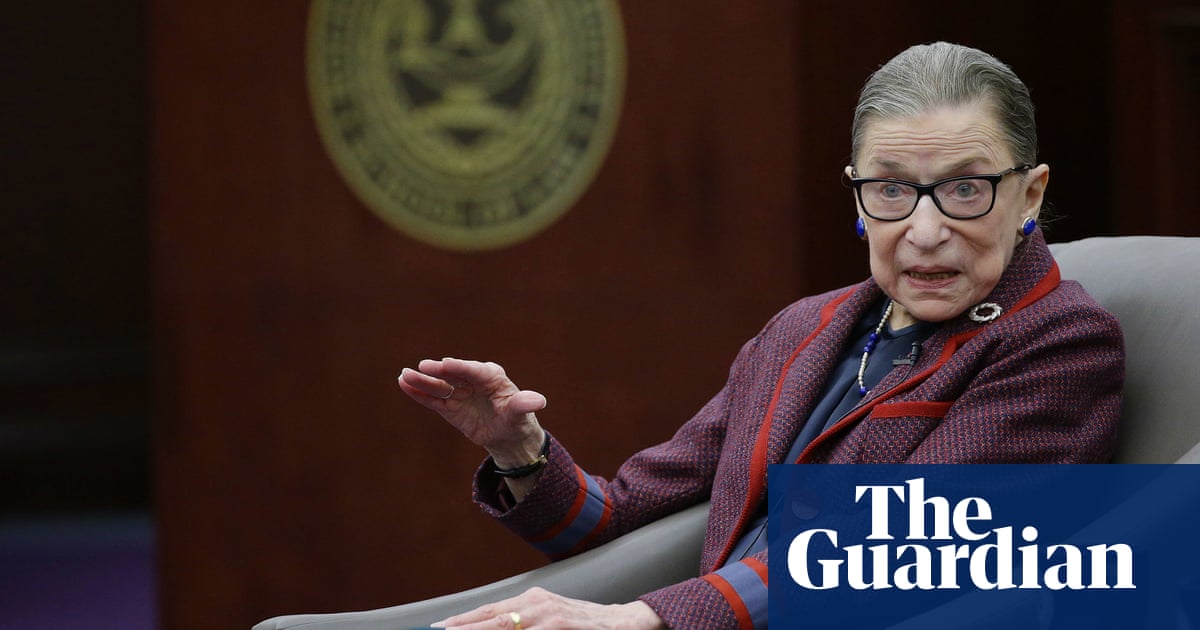 As Anthony Kennedy retires from the US supreme court nearing his 82nd birthday, triggering a furious political melee, the liberal linchpin Ruth Bader Ginsburg is still going strong at 85 – and well on her way to becoming a one-woman cultural phenomenon.
Five years after a law student popularized the meme "Notorious RBG", a nod to the rapper The Notorious BIG, her personal trainer published a book entitled The RBG Workout and the documentary film RBG is a surprise hit, scoring $11.5m at the box office. A Hollywood movie, On the Basis of Sex, starring the British actor Felicity Jones as Ginsburg, is due for release later this year.
So it was perhaps inevitable that when the opera-loving justice, her record producer son and his composer wife got together, the result would be a classical music album about her life and work called Notorious RBG in Song.
"It's pretty fun," said Patrice Michaels, 61, who is Ruth Bader Ginsburg's daughter-in-law. "Children seem to be spontaneously attracted to this tiny grandma with all of the mental punch. I know that some of it is promoted by their parents' values but I love it that I'm having to convey to her drawings by five-year-olds and photographs from 12-year-olds.
"This is so positive and the people I know well who have already participated in performing the song cycle are getting so much positive energy from it that I think, for me, it's bringing some real light in some rather dark times."
Michaels's nine-song cycle, The Long View, highlights various members of Ginsburg's family, including an imagined letter from her mother, Celia, and the mischievous antics of her son, James, when he was a boy, as well as some of her celebrated dissenting opinions at the supreme court.
The album contains additional pieces by other composers, including one inspired by a poignant letter to Ginsburg from her husband, Martin, just before he died and another riffing on her recipe for pot roast: "While you wait … drink some more black coffee, eat some prunes and rewrite your child's English essay."
It is produced by Michaels's husband James Ginsburg. Now 52, he recalls growing up in a home full of law and music. He was taken to concerts by his parents and was a record collector from the age of seven. For his mother, the opera provides rare escapism and was a passion shared with the late conservative justice Antonin Scalia.
"She's talked about how she's constantly thinking about work," James Ginsburg said. "Even when we go to the movies she'll be using the light by the seat to read her letters right before the show starts. But the opera is the one place that just totally goes away and she's just riveted on what's happening on stage."
Ginsburg founded Cedille Records, which makes classical recordings featuring Chicago-area musicians, in 1989.
The idea for the album grew organically, based on existing material andMichaels's renewed desire to compose after a career as a soprano. She dived into the research, consulting biographers and many boxes of material at the Library of Congress.
She said: "It was truly amazing and it was also a little bit frightening because many things you wouldn't expect to be in an archive are there such as my husband's letters to his family from summer camp. My husband was a very naughty child."
But there were few surprises about Ruth Bader Ginsburg herself. "Her personality has been consistent from the beginning. She's had a massive amount of energy. Her nickname is Kiki after her older sister, who sadly passed away at seven years old, named her that because she was always moving madly.
"So a baton-twirling, active, sporty woman but very reserved in a way; not unfriendly, just thoughtful. ."
On occasion Michaels cooks fish and vegetables for Ruth Bader Ginsburg, who by common consent is an awful chef. But given the justice's deep knowledge of music (she has even played a role at the Washington National Opera), the album could have been a risky move. Fortunately, she likes the result.
But how does RBG feel about her cult status with its "notorious" soubriquet? Michaels replied: "I've observed over these years of being close to her that she mostly ignored it at first. She's just kind of bemused by it and, every now and again she'll laugh, like at Kate McKinnon's over-the-top crazy caricature [on Saturday Night Live], and sometimes it's a little much.
"I think people just really love a badass, especially when the outer package would never make you think that this is somebody who's that dynamic on the inside and so willing to take on the injustices she's seen throughout her life."
James Ginsburg admitted: "I love this cottage industry that's developed around her. I don't want it to stop. I think if nothing else it's helping people pay attention to what's going on. I think of her as something of the Oliver Wendell Holmes of this generation, writing lots of dissents that will be the majority opinions of the future. I'm hoping to see that in the not too distant future."
He acknowledged that his mother, one of the liberal members of the court, is now seen as a fulcrum of the "resistance". She was forced to apologise during the presidential election campaign after publicly criticising Donald Trump, breaking the traditions of impartiality expected from a supreme court justice.
So do Michaels and Ginsburg get the impression that Ruth Bader Ginsburg is optimistic or pessimistic about the future of America? The husband and wife discussed the issue and Ginsburg answered: "I think she shares Martin Luther King's view that the arc bends towards justice but it's bending rather slowly right now."
Read more: www.theguardian.com