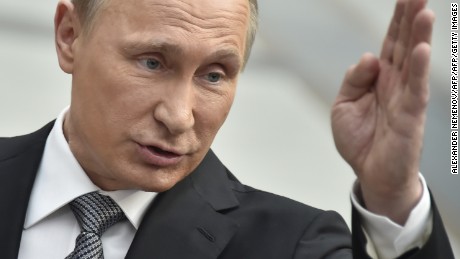 (CNN)Russian President Vladimir Putin on Friday called presumptive Republican presidential nominee Donald Trump "bright" and said his country is prepared to work with any candidate American voters elect.
Fareed Zakaria's full discussion with Russian President Vladimir Putin airs Sunday on CNN's "Fareed Zakaria GPS" at 10 a.m. ET and 1 p.m. ET.
"Mr. Trump says he's ready to restore full-fledged Russian-American relations. What can be bad about it?"
Putin, Italian Prime Minister Matteo Renzi and Kazakh President Nursultan Nazarbayev were part of a panel moderated by CNN's Fareed Zakaria at the 20th International Economic Forum in St. Petersburg, Russia.
Zakaria read from a report that had Putin calling Trump "brilliant," "outstanding" and "talented." He asked Putin what led him to that judgment and whether he still holds that opinion.
At present, sanctions have been used against Russia over its annexation of Crimea from Ukraine and its activities in Ukraine.
As for Syria, he said the United States should persuade opposition leaders to have a dialogue with the regime in Damascus. He said he agrees with an American proposal to include opposition representatives in the government.
Read more: www.cnn.com