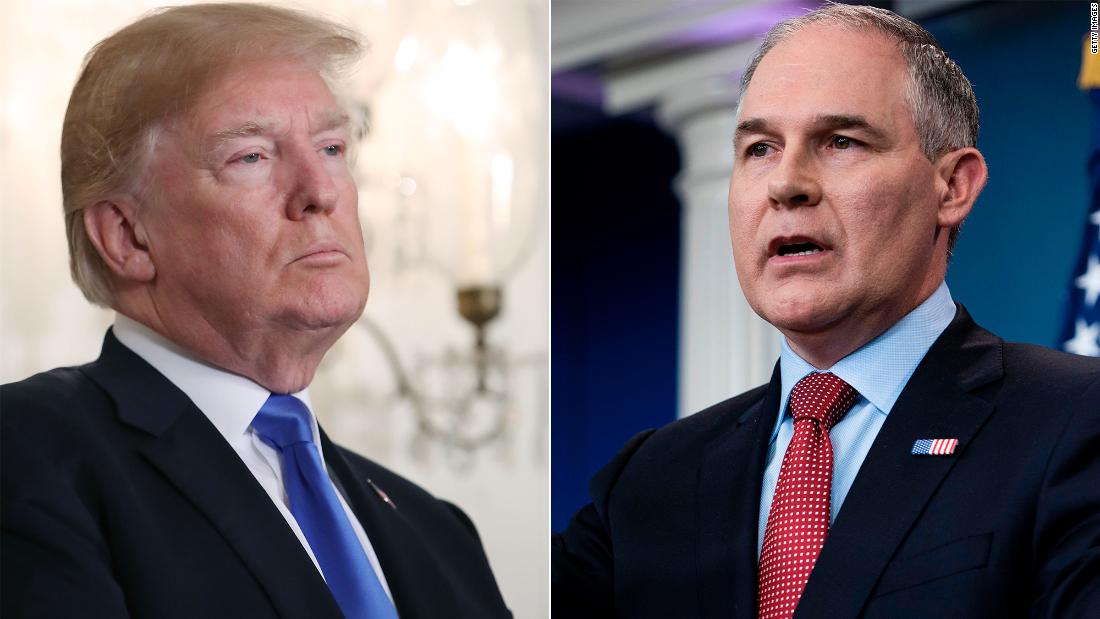 Washington (CNN)The White House on Tuesday found itself again embroiled in the foibles of a Cabinet secretary — this time Environmental Protection Agency head Scott Pruitt, who has come under scrutiny by President Donald Trump's aides for living in a $50-per-night apartment owned by a lobbyist.
"We got your back," Trump told Pruitt, according to the official.
White House chief of staff John Kelly followed up with Pruitt on Tuesday morning and reinforced the President's message, the official added.
But the show of solidarity with the embattled environmental chief belied deep concerns within the White House about Pruitt's actions, which ethics experts have said raises questions about conflict of interests in his decisions about approving energy projects and rolling back regulations.
A White House official confirmed that both calls happened, but declined to disclose the content of each conversation, leaving in question how fulsomely the President backed his EPA head.
The White House is "looking into" Pruitt's housing situation, a person familiar with the matter told CNN on Monday evening. The inquiry, which was described more as a review of the situation than a formal inquest, is meant to determine if there were any ethics issues or wrongdoing. The White House has not yet made a conclusion on the matter.
Pruitt rented a room in a condo from Vicki and Steven Hart, lobbyists whose firm has lobbied the EPA on behalf of an Oklahoma Energy company. Pruitt leased a room for around $50 a night, only paying when he stayed there. In total, Pruitt paid $6,100 for the room over six months, a rate significantly lower than market value. Pruitt's landlords, the Harts, were among his political donors when he was an Oklahoma state official.
Cabinet deja vu
Officials described a sense of deja vu inside the West Wing as they grapple with a raft of new allegations against Pruitt — just the latest of Trump's Cabinet officials to face ethics and legal questions. Similar scenarios played out before Trump dismissed Health and Human Services Secretary Tom Price and Veterans Affairs Secretary David Shulkin: aides are scrambling to sort out what is real and what isn't; they are demanding answers from Pruitt and the EPA; and they're bracing for Trump's inevitable fury at the negative headlines.
Trump has not indicated that he's ready to dismiss Pruitt, officials said, and his phone call on Tuesday reinforced — for now — the impression that Pruitt is temporarily secure in his job. But Trump is known to change course quickly, and there was little optimism inside the White House that Pruitt's standing would remain on solid ground.
Trump also reportedly held an upbeat phone call with Shulkin shortly before the top Veterans Affairs official was let go.
Responding to reports about Pruitt's shaky footing with the President, EPA spokesman Jahan Wilcox hailed Pruitt's accomplishments in a statement on Monday evening.
"From advocating to leave the Paris Accord, working to repeal Obama's Clean Power Plan and WOTUS, and cleaning up toxic Superfund sites that have been languishing for decades, Administrator Pruitt is focused on advancing President Trump's agenda of regulatory certainty and environmental stewardship," Wilcox said.
Policy agenda moving forward
Trump has not identified a replacement for Pruitt should he decide to fire him, multiple senior officials said, and he remains enthusiastic about the progress his EPA has made toward deregulation and environmental rollbacks.
That, officials said, could make the difference for Pruitt, who is liked by the President. Previously fired officials such as Shulkin and Secretary of State Rex Tillerson failed to develop chemistry with the commander in chief, exacerbating their agencies' troubles and sealing their respective demises. But Trump is much fonder of Pruitt, and even recently floated him as a
potential replacement for Jeff Sessions at the Justice Department
. Pruitt's aides took advantage of this suggestion, heavily pushing it to reporters, which irked Sessions's allies in the administration, who pointed out that the President often floats several people a day for jobs that aren't available.
On Tuesday, Pruitt openly flattered Trump amid reports that he is on shaky ground.
"This is another step in the President's regulatory agenda — de-regulatory agenda, regulatory certainty, as Peter indicated, a billion dollars in savings with respect to over 22 significant regulatory actions that we've been involved in here at the agency," he said at an event at the EPA.
"This President has shown tremendous courage to say to the American people that America is going to be put first," he added.
Officials suggested if Trump does replace Pruitt this week, it would be a much speedier timeline than occurred before the departures of Shulkin, Tillerson or national security adviser H.R. McMaster, all whom Trump let twist in the wind for weeks, if not months.
For his part, Pruitt was maintaining his schedule of events, albeit in a modified fashion. He announced new fuel standards at an event at EPA headquarters in downtown Washington, revealing little of the internal tumult which has gripped his agency.
He was originally planning to deliver the announcement at a Chevrolet dealership in Chantilly, Virginia, but the owner of the dealership, Jeff Pohanka, told CNN on Monday evening that the event had been canceled.
Read more: www.cnn.com