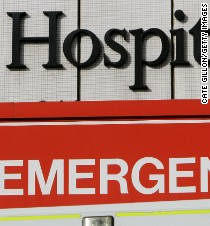 (CNN)We are a nation of prescription drug users. In any given month, half the population — an estimated 48% — take at least one pharmaceutical medicine.
One possible downside to what are often helpful medications is made clear in a
study
from the Centers for Disease Control and Prevention, published Tuesday in the Journal of the American Medical Association.
One out of every 250 Americans visited the emergency room because of a drug reaction each year in 2013 and 2014, researchers estimated.
This is an increase from 2005 and 2006, the last time drug reactions were studied.
Estimates for children, teens and young adults remained the same. However, elderly Americans ended up in the ER at a higher rate during 2013 and 2014 than in the past, even when taking into account different population numbers during the two periods.
About 35% of ER visits due to drug reactions occurred among adults 65 or older between 2013 and 2014, compared with just 26% during 2005 and 2006, the CDC estimates.
Anticoagulants (blood-thinners for preventing blood clots), antibiotics (for infections), diabetes medicines, opioids (pain medications) and antipsychotics are the most common culprits, according to Nadine Shehab, a senior scientist in the CDC's Division of Healthcare Quality Promotion, and her co-authors.
By comparison, diabetes drugs and blood thinners are lifesaving drugs for those who require them. The risk with these drugs is incorrect dosing, so doctors need to carefully oversee and manage patients taking these drugs.
"This is not a surprise, as overall medication usage has increased on a per-patient basis and the population is aging," wrote Timothy P. Ryan, founder of
Sano Informed Prescribing,
a health care technology company. Ryan said the data in the new study "are a microcosm of a much larger medication issue."
"Patients are often cared for by multiple physicians, each having an incomplete view of the patient's drug use," he said.
The authors of an
editorial
accompanying the article agree.
Dangerous interactions
"In this fragmented health care system, clinicians often hesitate to discontinue medications because of lack of familiarity with the medication or patient," wrote Drs. Chad Kessler, Michael J. Ward and Candace D. McNaughton. They add that even when doctors are familiar with patients, it is difficult to coordinate medications for multiple conditions (for example, one patient has both heart problems and chronic kidney disease).
Kessler, of Durham VA Medical Center in North Carolina, and Ward and McNaughton, both of Vanderbilt University Medical Center in Tennessee, were not affiliated with the original research.
In a
study published last year
in PLOS One, Ryan and his co-authors found an increasing number of patients who were prescribed multiple medications simultaneously. Additionally, they found that some patients were taking medications without their doctors' knowledge, and among these patients, some were combining drugs that are dangerous when used together.
Why do Americans need to be aware of this issue?
It's a "largely unrecognized health issue," Ryan said. "Americans are increasingly overmedicated."
He added that "fixing the system" will require changes in both the health care system and its patients.
Read more: www.cnn.com