Somehow, with no title race since 2014 and Manchester City all but wrapping up this one in October, it has still been enthralling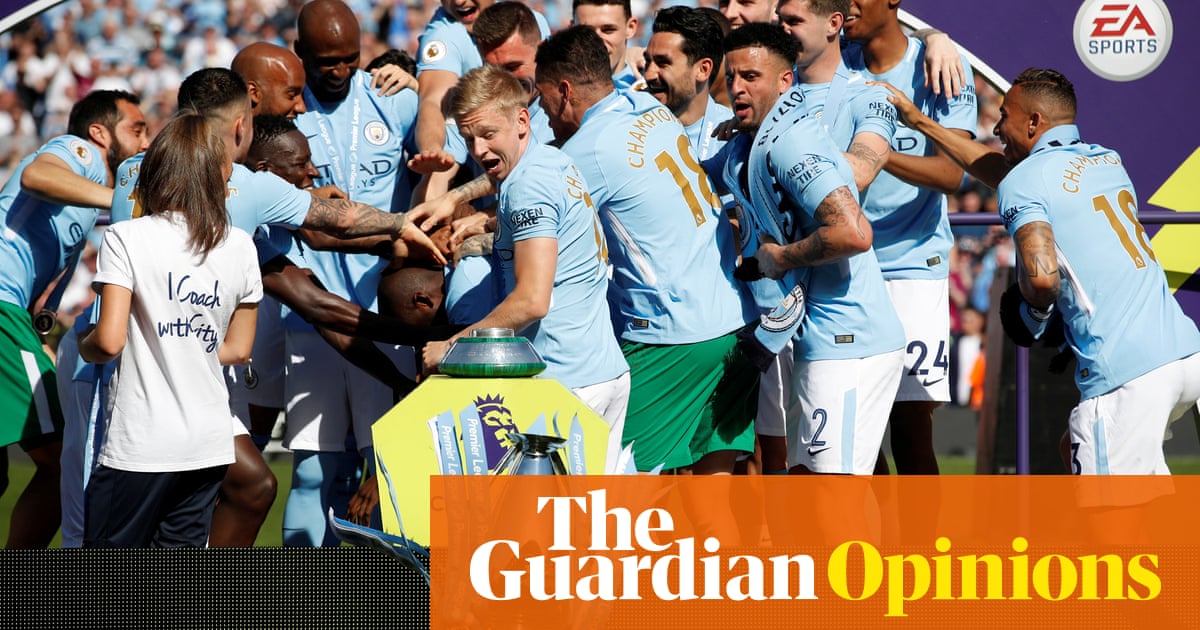 And now the end is near. And so we face the final curtain or at best a rather demob-happy, oddly tension-free final flutter of a curtain that fell some time ago for most of English football's top tier.
Sunday's final fixtures of the Premier League season will be played out in the usual conjoined fashion, simultaneous kick-offs designed to offer last-day drama and a level playing field to the final jostle for air and space.
Except this year things are a little different. Those shared three o'clock kick-offs will serve only to illustrate the lack of tension at the fag-end of the season, the fixtures lined up like a taxi rank at midnight, lights on, engines idling, contentedly at rest.
The last remaining notes of uncertainty in the Premier League are wrapped up in unlikely mathematics. It is possible Liverpool might lose to Brighton at Anfield while Chelsea win at Newcastle. On the other hand Brighton have nothing to play for and Liverpool have yet to lose at home in the league this season. In all likelihood the top four is already a lock.
Below that the Europa League places are safely packed away. The only real drama of the past few weeks has lurked at the bottom. But as it stands Swansea, who cannot score, need to enact a 10-goal swing on Southampton to avoid sliding away along with the pre-doomed West Bromwich Albion and Stoke City.
This sense of stasis is at least in keeping with the season as a whole, nine months that have provided a strange mixture of energy, colour and sweat, laced through with a peculiar air of predestination.
Not that the Premier League's promotional machine will be overly concerned as the season unspools into its final dreamy sunlit Sunday gadabout. This has been another fun, colourful season for a hugely successful product – lacking only in some vital note of tension.
This is unsurprising. Never before has the gap between the richest and the poorest been so stark. Much hand-wringing has been devoted to this process over the last quarter century but this season feels like a significant point of departure, with the summit that separates the richest and most powerful disappearing up through the clouds and out of sight.
In a sense this has its own kind of tension. It has become habit to lament the death of the FA Cup, with its folksy old notes of drama and upset, the social order briefly reversed. But the Premier League can provide this on its own now, a bespoke league pyramid all in one fixture list.
Perhaps Huddersfield successfully avoiding relegation is a modern-day stab at a third-round Cup shock. Perhaps in time David Wagner's round of arse-baring on-field bumps after the final whistle at Stamford Bridge will become our own parka-clad mods pouring out on to the Hereford mud, those moments when careers are made and legends forged, on this occasion simply by remaining in this most vertiginously stratified league.
In many ways these are the twin themes of the season. More than ever power is set one way, as reflected in finances, possession stats, the one-sided nature of so many meetings within the same league. Ranged against this is football's basic resilience, the ability of the game to resist whatever we do to it, to keep on churning out its notes of beauty and fascination, finding new forms even as its surrounding weather is drastically altered.
The champions embody this most completely. The title race to all intents ended in October, the day José Mourinho's Manchester United went to Anfield and winkled out a cautious 0-0 draw from a game in which they had a single shot on target. Mourinho defended his tactics energetically, pointing to the many twists to come, the attritional nature of the league season. He was wrong, though. The only way of hoping to catch Manchester City is to try to win like Manchester City, a team so stacked with goals and talent, so adept at depriving their opponents of meaningful contact with the ball that the majority of their Premier League encounters became near certainties.
And still there is that paradox. Despite being a project geared towards removing uncertainty and variables – best tactics, coach, talent, money – City have been hugely compelling champions, not just unusually uplifting to watch but also lurking on the side of the light, such is the purity of Pep Guardiola's commitment to his tactics, his ability to find new depths in already excellent footballers. Record points, record goals scored: this has been one of the most watchable one-sided winning runs one could hope to see.
There is an end point to this. The Premier League has had nothing even vaguely resembling a title race since 2014, Demba Ba and all that. Even the miracle of Leicester City was something of a stroll without its underdog backstory.
The gap at the top of the Premier League is even larger than it is in France, where the league really is an exercise in managing dead air. In La Liga the gap at the top is 15 points, in the Bundesliga 24. Europe's domestic leagues have a problem, an absence of internal energy. It isn't immediately clear what the answer might be. But too often the late stages of the Champions League, where power finally meets equal power, have provided the only note of interest in the spring.
The Premier League has at least offered some fascination within the usual internal tiers, the leagues within the league. Manchester United and Tottenham have had fascinatingly indeterminate seasons, soundtracked by a basic existential confusion over what success is supposed to look like these days.
Read more: www.theguardian.com