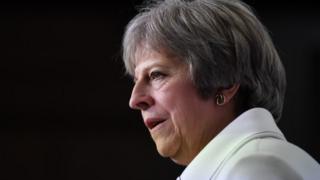 Theresa May is expected to urge potential Tory backbench rebels to unite behind the party ahead of crucial elections on the EU withdrawal bill.
She wants to overturn a series of amendments made by the Lords, but faces possible defeat if Conservative Remainers side with Labour.
Rebel MPs have suggested they have sufficient numbers to threaten the government and want more concessions.
Mrs May is expected to tell MPs it is their duty "to deliver on Brexit".
"We must be clear that we are united as a party in our determination to deliver on the decision made by the British people, " she is expected to tell the backbench 1922 Committee.
"They want us to deliver on Brexit and build a brighter future for Britain as we take back control of our money, our laws and our borders."