Women who were once dismissed are calling out exploitative Republican men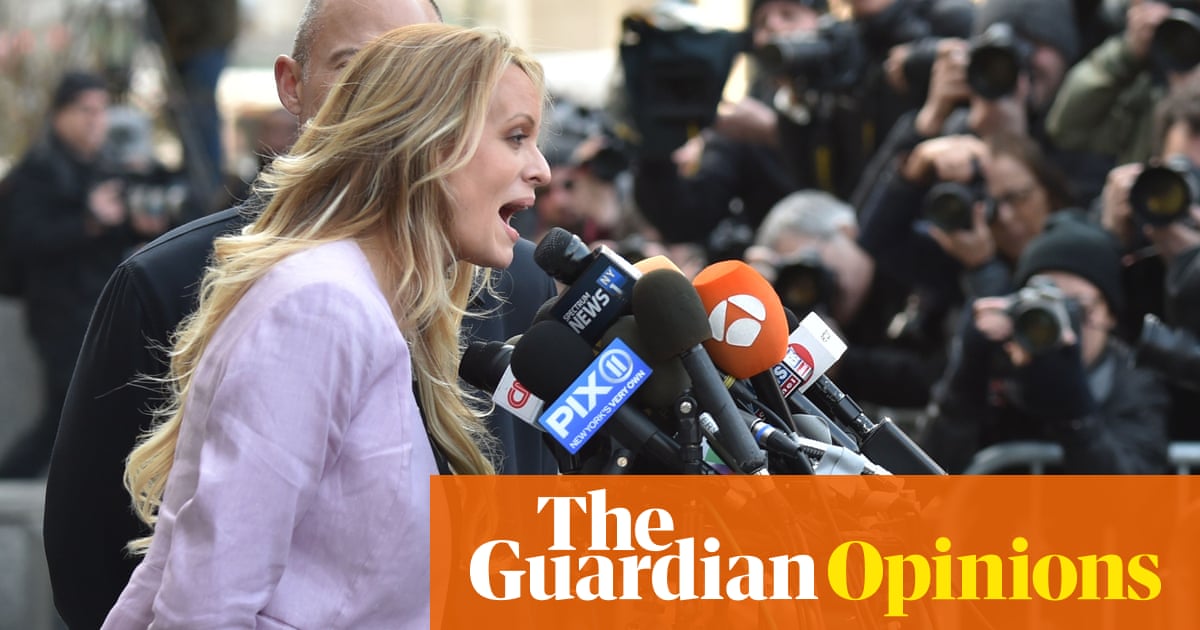 In a reality TV star presidency, Playboy models and other women who professionally cater to the mundane sexual fantasies of middling men are having a political moment.
Stormy Daniels, an adult film star, and Karen McDougal, who posed for Playboy, both say they had affairs with the president. And Elliott Broidy resigned as deputy finance chair of the Republican National Committee after it came to light that he was involved in a $1.6m payment to a Playboy model he impregnated during an extramarital affair.
There is something gratifyingly lurid and blandly predictable about Trump and Trump-adjacent Republicans allegedly cheating with Playboy models. Of course the men whose party caters to an angry, ageing white populace would seek out their extramarital jollies with the most pedestrian of male fantasy-babes. It's like knowing that Trump enjoys his steak well done with ketchup. Of course he does.
Playboy models, by design interchangeable – early 20s, white skin, blonde hair, large breasts, not women but "bunnies" – are the Olive Garden of American masculine desire: mainstream, aesthetically consistent and served up with the fixings of faux-"class".
And yet as gaudy as the whole spectacle is, there is, as always with the Trump White House, a darker side to the vulgar gold glint. Michael Cohen, Trump's lawyer-slash-fixer, facilitated the payment for Broidy, allegedly cut a $130,000 check for Daniels' silence and worked with National Enquirer owner and Trump friend David Pecker to ensure McDougal's silence.
These scandals highlight, in devastating tandem with policy and staffing decisions, just which roles the Trump men and their partners in the Republican party believe women should play. What they seem to expect: subservience, sex and silence.
This appears to be Trump's lifelong modus operandi when it comes to women. There's the obvious example of his many marriages – he gets older, his wives don't. Trump owned and reveled in the Miss Universe pageant, a markedly unsubtle beauty contest where women were placed on display and judged according to their figures. He engaged in objectifying, sexist banter on the Howard Stern Show and on the infamous Access Hollywood tape.
The Playboy model isn't so different from Trump's marital model, and it exists because men like Trump continue to hold the cards (and the cash). That there are women who trade youth and conventional beauty for money or attention or the financial stability of marriage to a wealthy man is neither surprising nor deviant – many people, including many elected officials, barter all sorts of things for money, attention and power. What's telling is the exchange rate, how one spends their capital, and how men still have the power to determine the cost of things.
The Playboy model affair stories are titillating for all of the obvious reasons, made more exciting because they offer the possibility that powerful men could be brought down not just by the basest of human desires, but by women assumed to be mere bimbos. And predictably, the media narratives around the women in these stories hinges on the incongruousness of it all.
That men who wear Italian suits to work might sleep with women for whom a Brazilian wax is professional attire isn't the surprising bit (we expect a certain type of slimy powerful man to step out on his wife with Playboy models and porn stars, just as we expect him to drive a flashy midlife-crisis-mobile); the irony is that it's these women who might just tank those men's careers, not for extramarital sex alone, but for corruption and cover-up.
This is made more complicated – and for feminists, more delicious – by the fact that we live at a crossroads between old-school sexism and significant feminist gains. Today, women still find some benefit in conforming to man-made ideals about female worthiness, but also refuse to accept the parallel narrative that they should somehow feel ashamed of working within an unfair system.
Stormy Daniels (real name: Stephanie Clifford) can be a porn star, a savvy businesswoman and a canny manager of her own image, promising to donate $130,000 to Planned Parenthood in Trump and Cohen's name; the young women Trump paraded on stage as potential Miss Universes can also speak out about his boorishness and exploitation.
As a society, we still draw lines between whores and wives, serious women and bimbos, but as feminists have pushed back on assumptions of male power and the penalties leveraged on female sexual expression, the supposed whores and bimbos are no longer so easily cowed into silence.
Maybe men have long positioned some women as sexual objects, and maybe those women have profited from it – that doesn't mean they have to keep playing a role that was miscast in the first place, simply to keep comfortable the men who misjudged them.
In March 2016, back when many of us believed Hillary Clinton would succeed Barack Obama as president of the United States, Playboy announced it would no longer publish nude photos of women, noting that "times change".
A year later, with Trump in power, the bunnies were back, and the standard Playboy helped to entrench – women only as worthy as they were young and beautiful – had made it into the Oval Office. Trump invited in the whitest and most male cabinet in decades. This approach was further reflected in the Republican party, which funnels its anti-woman animus into the more respectable realm of policy, opposing accessible contraception, paid leave for working parents, and a slew of other plans that would help women play on a more even field.
The old tawdriness of the Playboy model stories might be what keeps them in the headlines, and the old-school male entitlement the affairs and payoffs reflect tell an important story about this moment in American history. But equally important is the fact that women are speaking up, even though they were supposed to stay quiet because of both money and shame; equally important is the fact that the men in charge are learning that their privileges have limits.
Trump was a shock to the feminist system, a human incarnation of just how much work remains. The women's stories of these affairs both reinforce the misogynist image of the president, and force us to recalibrate our assumptions of who might best challenge him. Times change indeed.
Jill Filipovic is the author of the The H-Spot: The Feminist Pursuit of Happiness and a blogger at Feministe.
Read more: www.theguardian.com