Every week, we bring you one overlooked aspect of the stories that made news in recent days. You noticed the media forgot all about another story's basic facts? Tweet @TheWorldPost or let us know on our Facebook page.
People are starving in the Iraqi city of Fallujah because the Islamic State militant group, also known as ISIS, won't let them leave — and Iraqi forces surrounding the city aren't letting supplies in.
Between 30,000 and 60,000 civilians have been trapped inside Fallujah since Iraqi troops and militiamen encircled the ISIS-occupied city in January, humanitarian groups say.
Since then, shops and markets have run out of basic food supplies, cooking gas and fuel are nonexistent, and electricity only works a few hours a day, the World Food Programme said earlier this month. The price of wheat has skyrocketed sixfold since December.
"For the past several months, it has been very difficult to get supplies into Fallujah, especially medicines and food," Lise Grande, the United Nations humanitarian coordinator for Iraq, told The WorldPost. "If you are poor, you can't afford to buy food anymore. The situation is deeply worrying."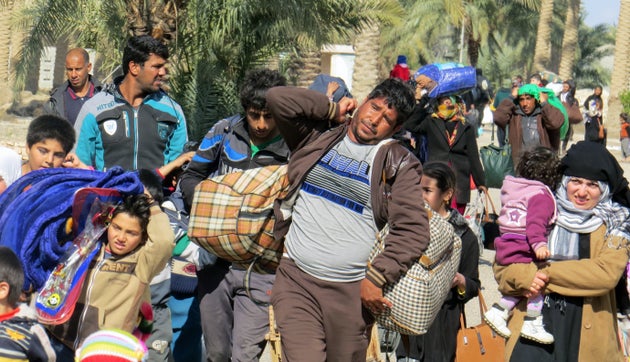 The lack of food and medicine in the city has killed some 140 people, an Iraqi official told Human Rights Watch earlier this month, although this figure has not been confirmed. Activists told the group that Fallujah residents had resorted to eating soup made from grass.
"There is no food inside Fallujah, except some vegetables grown in agricultural areas on the outskirts of the city," an Iraqi activist who asked to remain anonymous told The WorldPost via the Facebook solidarity page "We are all Fallujah."
"Some diabetes patients have lost body parts due to lack of treatment," the activist said.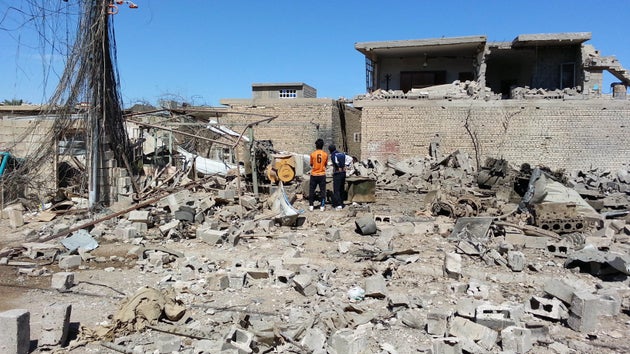 Fallujah, once home to 300,000 Iraqis, is a key battleground in Iraq's push to recapture territory lost to the Islamic State since 2014.
The city was a stronghold of the Islamic State's predecessor, al Qaeda in Iraq. In January 2014, it became the first major Iraqi city the Islamic State captured as it rampaged through Iraq and Syria.
Iraqi troops and allied militias began to turn the tide against the militant group, recapturing the nearby city of Ramadi last December. They encircled Fallujah in January as part of the slowly progressing offensive against the extremists.
The role of Shiite militias is particularly controversial — experts say their abuses against Sunni civilians could undermine Sunni support for the fight against the Islamic State as well as the national reconciliation necessary for a lasting peace in Iraq.
As the siege on Fallujah intensified in February, Sunni tribesmen fed up with the Islamic State's brutal rule and worsening conditions in the city rose up against the militant group, but ISIS crushed the rebellion.
Islamic State militants have the city on lockdown, and human rights groups say they have executed civilians who try to leave. Fallujah residents told The New York Times that anyone caught talking on a cell phone was subject to scrutiny and possible arrest.
U.S. troops and advisors are backing Iraq's offensive, and U.S. President Barack Obama recently authorized more troops to join the fight against the Islamic State in both Iraq and Syria. Vice President Joe Biden visited the Iraqi capital of Baghdad on Thursday, just 40 miles east of besieged Fallujah.
Asked if the U.S. was comfortable with Iraq's siege tactics on Fallujah, White House Press Secretary Josh Earnest said this week that the government in Baghdad is "dealing with a very difficult situation."
"Trying to root out ISIL fighters is, of course, going to have a negative impact on the local population," Earnest told reporters, using another acronym for the Islamic State.
Iraq's government assured the U.N. last month that its forces will allow emergency supplies into the city and facilitate civilians' escape. Since then, Iraqi forces have helped evacuate 13 families from the city, many of them with acute medical needs, the U.N.'s Grande said.
Yet, tens of thousands of people remain trapped without a safe route out of Fallujah, and supplies are still not reaching the city. Iraqi militia leaders defended their siege as a military necessity in a New York Times interview. Iraqi and U.S. military officials have rejected a proposal to air drop supplies to the city, fearing they would fall into Islamic State hands.
"The situation is really tragic, with the full meaning of the word 'tragic,'" the city's exiled mayor, Eissa al Issawi, told The Washington Post. "The people of Fallujah are dying a slow death."
Read more: www.huffingtonpost.com