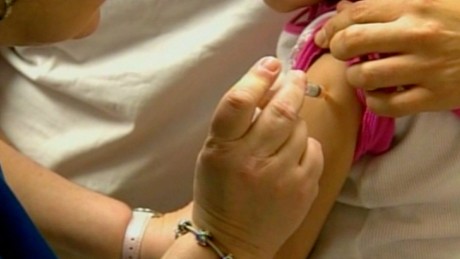 (CNN)With flu season just around the corner, parents face a difficult moment with their kids. The American Academy of Pediatrics updated its annual flu season guidelines today, withdrawing its recommendation of the child-friendly FluMist for this year. The reason? This summer, the Centers for Disease Control and Prevention deemed FluMist subpar, leaving only one option for parents and pediatricians: a flu shot.
"We've already gotten our first shipment in, and I have already had those conversations with patients," said New York pediatrician Dr. Lisa Thebner. When she explained to parents that FluMist is not being distributed this year, "there may have been an 'aw shucks' moment, but of the patients I've seen so far, they've gotten the flu shot, regardless."
The recommendation to inoculate children against the flu remains as strong and clear as it has been in previous years. Everyone 6 months or older should be vaccinated for the 2016-17 flu season by October, according to the pediatricians' academy.
Special effort should be made for American Indian and Alaska Native children and those with conditions that increase the risk of complications including asthma, diabetes and neurodevelopmental disorders. The academy also advises health care personnel and child care providers get a flu shot. Finally, it recommends that more effort be made to immunize women who are pregnant in addition to women considering pregnancy, breastfeeding or in the postpartum period.
The CDC committee of 15 immunization experts made its decision after reviewing data comparing FluMist with the standard flu shot. The easy-to-use spray had not been a successful flu fighter over the past year, the committee found. In fact, the mist had been ineffective over the past three seasons.
"Scientists are working to understand why the nasal vaccine wasn't effective at preventing influenza in the last several seasons," Dr. Sean O'Leary said on behalf of the Pediatric Infectious Diseases Society. "I think this is a good example for parents about how closely scientists and policy-makers are monitoring our vaccine systems in the US."
The CDC recommendation is an interim decision that could be reversed next year when the panel reconsiders it with additional data.
After all, the committee has changed its stance based on hard evidence in the past. The Food and Drug Administration had originally approved the mist in 2003. The earliest evidence showed that it worked better than the shot in children under the age of 8. Based on early data, the CDC committee had expressed a preference for FluMist over flu shots for young children, and so the spray quickly became a favorite among pediatricians and parents.
FluMist has accounted for about a third of flu vaccines given to children in recent years, according to the CDC. Thebner said she finds the same to be true in her own practice, and so replacing FluMist with a flu shot affects a minority of patients and shouldn't be too tough.
"Generally, they do well, and it's over with very quickly," Shu said.
That said, some patients just don't take to getting jabbed.
"It tends to be a real small percentage who have a significant needle phobia," Thebner said.
Pediatricians, after all, have a few tricks up their sleeves: distraction, cold packs and numbing creams among them, said Shu. Parents also have their ways, including the familiar cajoling: "I'll give you a lollipop!"
"In the end, the pain of a quick shot is better than the aches and pains of flu," Thebner said.
Read more: www.cnn.com