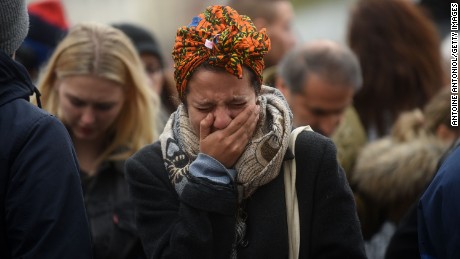 (CNN)They were concertgoers and football fans.
They were students, teachers, journalists, architects and lawyers.
One was on a roller derby team.
They are among almost 500 people from all walks of life and from all corners of the world who were killed or injured in coordinated terror attacks Friday night in Paris.
Portraits are emerging of some of the at least 129 people killed and 352 people wounded in deadly attacks at six sites in the French capital.
Here's a country-by-country look at the victims whose names or nationalities have been confirmed to CNN:
Algeria
Kheireddine Sahbi was a trained violinist who studied at Paris-Sorbonne University, the university president said in a statement. The 29-year-old Algerian national was called a "great master of music" in a Facebook post from an Algerian music group, which said he will be greatly missed by his friends and colleagues.
Belgium
The Belgian Foreign Ministry said at least two Belgians were killed, but the number could rise.
Chile
Three citizens of Chile were among the dead, according to the Chilean Foreign Ministry. All were at the Bataclan concert hall.
A newlywed architect was also among those slain. Amine Ibnolmobarak was an architect and teacher at the ENSA Paris-Malaquais architecture school, the Union Nationale des Etudiants en Architecture et Paysage said on its Facebook page.
Ibnolmobarak "was the quintessential young Muslim intellectual" who was "concerned with spreading the peaceful values of his religion," according to Jean Attali, a former professor.
Akram Benmbarek, Ibnolmobarak's cousin, posted to Facebook that the architect's wife also was shot three times and is in critical condition.
Music journalist Guillaume Decherf was also killed at the concert hall, according to his employer, French cultural magazine Les Inrockuptibles. On Twitter, the magazine posted a link to a review of the band's latest album that Decherf wrote last month.
At least two staffers with Universal Music, the band's label, were among the dead at the Bataclan.
Germany
The German Foreign Office confirmed that one German national is among the victims. The office did not name the victim, but German newspaper Bild identified him as a 28-year-old architect with Renzo Piano, a well-known firm in Paris. A message on the architecture firm's phone said the office was closed Monday because one of its associates was killed in the Paris attacks.
Italy
Valeria Solesin was also killed at the Bataclan, according to Italy's foreign minister. The 28-year-old Venice native was studying in Paris.
Italy's ANSA news agency said Solesin was at the concert with her boyfriend, his sister and the sister's boyfriend, who were rescued. They were at the entrance when the attackers stormed in, ANSA reported.
Solesin was pursuing a doctorate in demography at the Sorbonne, ANSA reported. She was interested in topics related to families and children, and sociological comparisons between France and Italy, the news agency said.
Mexico
Michelli Gil Jaimez was one of two Mexican women killed in the attacks, according to Mexican authorities.
She hailed from Tuxpan, a city in the eastern state of Veracruz, according to a statement on the Veracruz state government website.
In the statement, Veracruz Gov. Javier Duarte de Ochoa expressed support for her family and solidarity with the French people.
Mexico's Ministry of Foreign Affairs confirmed that another Mexican woman was killed in the attacks, without providing a name.
Portugal
At least two Portuguese citizens were among the dead.
Precilia Correia, 35, was born in France and had dual French-Portuguese nationality. She was killed at the Bataclan, according to Jose Cesario, Portuguese secretary of state for Portuguese communities abroad.
The Portuguese state news agency Lusa reported that one of the victims killed outside the Stade de France was 63-year-old Manuel Colaco Dias. Portuguese Prime Minister Pedro Passos Coelho wrote to the family of the victim offering his condolences.
Spain
A 23-year-old American design student at California State University, Long Beach, was also among the dead.
Nohemi Gonzalez was spending the semester at the Strate College of Design, said Jane Close Conoley, president of the California school.
Gonzalez's mother, Beatriz, told CNN en Espaol that her daughter was outside one of the restaurants with friends when it was attacked. A friend was shot in the arm. Both were put in an ambulance, the mother said, but Nohemi died en route to the hospital.
It was Nohemi's boyfriend in California who found out the news and told the family, Beatriz Gonzalez said. Nohemi lost her cell phone several weeks ago, so when the boyfriend heard about the attacks and failed to reach Nohemi on Facebook, he called one of the friends she had been out with. The friend said Nohemi didn't make it.
Nohemi didn't have money to buy a new cell phone, Beatriz Gonzalez said, so they hadn't spoken to each other in weeks. She had just sent Nohemi money to buy a new phone, but her daughter hadn't bought one yet, she said.
They last chatted to each other via Facebook on Wednesday.
"She was very secure and strong through all the issues that we went through in our life," Gonzalez told CNN en Espaol. "She always focused on her school and (reaching) her goals."
Gonzalez added, "She wanted to graduate, to be a professional, to have a family."
Michael LaForte, one of her former lecturers at Long Beach, called Gonzalez "a shining star."
Gonzalez and three fellow students finished second this year in a global contest to find solutions to food sustainability issues. Her team designed the Polli Snak, a biodegradable snack pack also containing soil and seeds to be cultivated after the snack is eaten.
Nationality unknown
Lassana Diarra, a midfielder on the French national soccer team, said his cousin, Asta Diakite, died in the attacks, though he did not say where she was killed. France was playing Germany in an international soccer match at the Stade de France when three suicide bombers detonated outside the stadium on Friday. One passerby was killed, in addition to the bombers.
Chloe Boissinot was killed at the Cambodian restaurant that was attacked, her mother wrote on Facebook.
"My love," a message read. "My honey, my baby…Take you in my arms and hold you one last time."
Chloe's sister Jenny learned of her death while backpacking in New Zealand, according to the New Zealand Herald, which interviewed Jenny's boyfriend.
Speaking of his girlfriend and how she was handling news of her sister's killing, he told the Herald, "She's not good at all. Really not good at all."
Lieffrig-Petard died along with her sister Caroline Prenat, a former student at the Ecole de Conde in Nice, in the south of France, according to a post on the school's Facebook page.
Yannick Minvielle was the creative director of Publicis and taught at l'cole Sup de Pub Bordeaux. His death was announced by the company and the school.
Anna Ptard-Lieffrig, a former student at l'cole Sup de Pub, also died in the attack. The school held a moment of silence on Monday for her, Minvielle and Marie Mosser, also a former student.
Nathalie Jardin was killed at the Bataclan, where she worked as a lighting technician. Jardin is being remembered on social media by multiple musicians and industry colleagues.
Gilles Leclerc was with his girlfriend, Marianne, at the Bataclan when he was killed, his aunt Dany Leclerc said on Facebook. Gilles' last post on Instagram showed the couple inside the Bataclan waiting for Eagles of Death Metal to take the stage. His girlfriend reportedly survived.
Thomas Duperron died at the Bataclan, his family has confirmed on social media. His parents thanked everyone who tried to help find Duperron immediately after the attack. His last facebook post said he was feeling hyper at the Bataclan.
Marion Jouanneau died after being shot at the Bataclan, her cousin Anatole Vaillant posted on social media. Jouanneau's boyfriend tweeted that she was shot and he was unable to find her after the attack.
Read more: edition.cnn.com