Israeli prime minister says Iran is lying 'big time'

France, Iran pledge joint effort to preserve the accord
Crude rose after Israeli intelligence about Iranian nuclear ambitions heightened concern an international accord may unravel.
Futures in New York rose 0.7 percent on Monday to settle just pennies shy of a three-year high. Israeli Prime Minister Benjamin Netanyahu said Iran had a secret plan to build nuclear weapons. The announcement comes less than two weeks before U.S. President Donald Trump decides whether to scrap the Iranian nuclear deal and reimpose sanctions against OPEC's third-biggest oil producer.
Brent crude, the international benchmark traded in London, closed at a level not see since late 2014.
"The geopolitical risk temperature is about to move a little higher here," said Bart Melek, head of global commodity strategy at TD Securities in Toronto. "This is, at least in my mind, raising some alarm bells."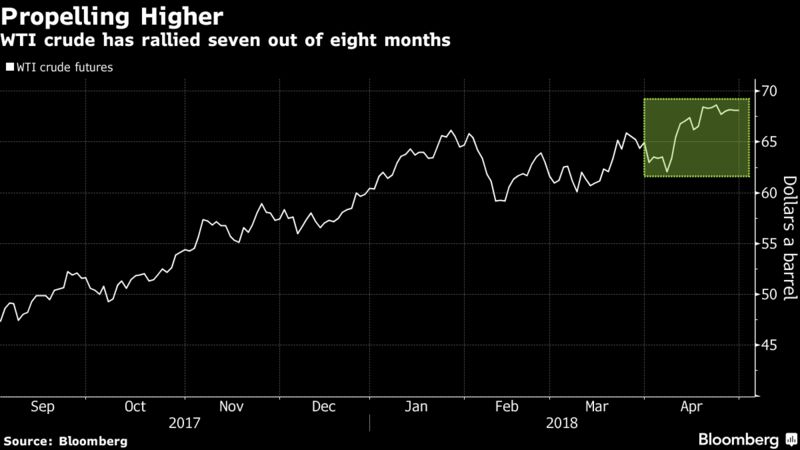 Israel shared with the U.S. documents on a secret Iranian nuclear-weapons program and the U.S. has verified their authenticity, according to a person familiar with the matter. Meanwhile, Iranian Foreign Minister Mohammad Javad Zarif said Netanyahu allegations were lies, according to state-run FARS. Trump declined to say what he'll do on the Iran deal.
Crude rallied 5.6 percent this month amid heightened geopolitical tensions and Trump's indications he may scrap the 2015 nuclear deal that eased sanctions against Iran in exchange for a halt to nuclear weapons research. At the same time, OPEC-led production cuts have continued to tighten global markets, despite record-setting U.S. crude output. In Texas, oil production climbed to an all-time high in February, the federal government said.
West Texas Intermediate crude for June delivery climbed 47 cents to settle at $68.57 a barrel on the New York Mercantile Exchange. Total volume traded was about 15 percent above the 100-day average.
A measure of oil market volatility climbed to the highest level in two weeks.
Brent crude for June settlement, which expires Monday, advanced 53 cents to end the session at $75.17 on the London-based ICE Futures Europe exchange. The global benchmark crude traded at a $6.60 premium to June WTI. The more-active July contract closed rose 90 cents to close at $74.69.
Prior to Israeli Prime Minister Benjamin Netanyahu's disclosure of the Iranian filed, French President Emmanuel Macron made a joint announcement with the office of Iranian President Hassan Rouhani in which the two leaders would work together on preserving the 2015 deal.
"They want to try and work out a deal that could be independent of any kind of Trump walk-away," said Bob Yawger, director of futures at Mizuho Securities USA Inc. in New York. "That gives some hope to the market here that if you take the United States out of the Iran nuclear deal, you may still have some kind of scrappy deal left on the sideline."
Oil-market news:
Gasoline futures rose 0.1 percent to settle at $2.1292 a gallon on Monday, the highest since August.
U.S. Oil Fund call options were the most active in U.S. trading, with call volume outpacing put volume by about 4 to 1, according to data compiled by Bloomberg.
U.S. crude stockpiles probably increased by 1.25 million barrels, according to the median estimate of analysts surveyed by Bloomberg.
Crude stockpiles at the biggest U.S. storage complex rose by an estimated 1 million barrels last week, according to a forecast compiled by Bloomberg.
Read more: www.bloomberg.com