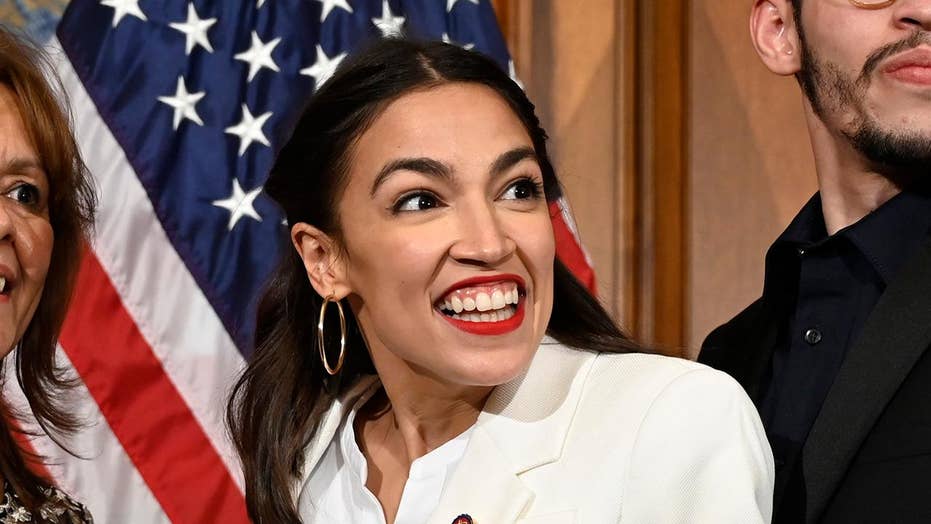 House Committee on Financial Services Ranking Member Rep. Maxine Waters, D-Calif., left, listens during a hearing, Wednesday, July 18, 2018, on Capitol Hill in Washington.
"I don't know enough about her to be able to determine if she's going to be a good member or what," Missouri Democratic Rep. Lacy Clay, who sits on the financial services committee and who was challenged in 2018 by a Democratic candidate backed by Ocasio-Cortez, told Politico. "Time will tell, and this one term will tell us a lot about her abilities as a legislator."
Another financial services committee member, New York Democratic Rep. Gregory Meeks, backed Ocasio-Cortez's appointment to the committee but told the paper that he had some reservations.
HARRY REID SWIPES AT OCASIO-CORTEZ TAX PROPOSAL
"I don't want a scenario like they had on the Republican side — I don't think we're going to get there — where you had a Freedom Caucus that ends up just trying to break and stop everything and any kind of progress," Meeks said. The conservative House Freedom Caucus frequently sparred with more moderate House Republicans, particularly on immigration, last year.
Ocasio-Cortez, 29, has made no secret of her progressive approach to the financial industry. She has called for "taxing Wall Street to support tuition-free public universities and trade schools," and has argued that the banks she will soon oversee have long held undue influence in American politics.
But she has struggled to explain how she would fund her proposals to provide Medicare for all and guarantee housing and education, and has falsely claimed that wasteful military spending could be reappropriated to pay for her laundry list of policy goals.
The far-left advocacy group Justice Democrats had called for Ocasio-Cortez, as well as California Rep. Ro Khanna, to be seated on Ways and Means. Responding to the snub by the committee, Ocasio-Cortez spokesman Corbin Trent said that "she hoped to be on it, but we're excited to see what committees she does get."
GROWING NUMBER OF 2020 DEMOCRATS SUPPORTING RADICAL 'GREEN NEW DEAL'
Khanna had also personally sought membership on that panel, and advocated for more freshmen representatives to be seated on powerful committees in general.
"Progressive representation on key House committees will decide whether or not we get Medicare For All, free college, a Green New Deal, and end to mass deportation and mass incarceration," Jusice Democrats said in a statement on their website.
Also shot down was Justice Democrats' bid to have Tlaib placed on the Appropriations Committee, which announced a list of new members on Thursday that did not include Tlaib. The critical committee handles government expenditures.
"In my 12 years here, I don't think there's ever been a freshman on Approps, Ways and Means or Energy and Commerce," Kentucky Democratic Rep. John Yarmuth, who chairs the Budget committee, told Politico. Democratic Reps. Ed Case and Ann Kirkpatrick are expected to join Appropriations instead.
CLICK HERE TO GET THE FOX NEWS APP
But Justice Democrats has also campaigned for progressive California Rep. Katie Porter to join the financial services committee, a goal that was achieved on Tuesday.
Porter, a law professor, has repeatedly said she does not take money from corporate political action committees, which she characterizes as a corrupting influence.
Read more: www.foxnews.com