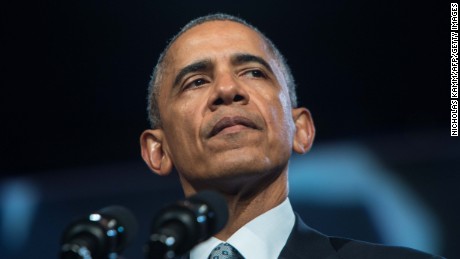 ( CNN) President Barack Obama tore into Republican presidential candidates Monday night at a Democratic fundraising event in New York, saying their complaints about CNBC's debate moderation aren't an encouraging preview for their governing abilities.
"Have you noticed that everyone of these candidates say, 'Obama's weak. Putin's kicking sand in his face. When I talk to Putin, he's going to straighten out, '" Obama said, impersonating a refrain among Republican nominees that he's permitted President vladimir putin too much leeway.
"Then it turns out they can't manage a bunch of CNBC moderators at the debate. Let me tell you, if you can't manage those guys, then I don't suppose the Chinese and the Russians are going to be too worried about you, " Obama said.
Republicans widely condemned the GOP primary debate sponsored by the financial news network last week, saying the questions absence substance and the moderators failed to adhere to agreed-upon standards. An great efforts to insist upon debate reforms, however, appeared uncertain Monday evening.
In 2007, when he was pursuing the Democratic presidential nomination, Obama had his own issues with debate hosts: Fox News. He, along with nominees Hillary Clinton and John Edwards, skipped out of a Fox News-Congressional Black Caucus co-hosted debate, spurred by pressure from the liberal Moveon.org, which claimed Fox News was biased against Democrats.