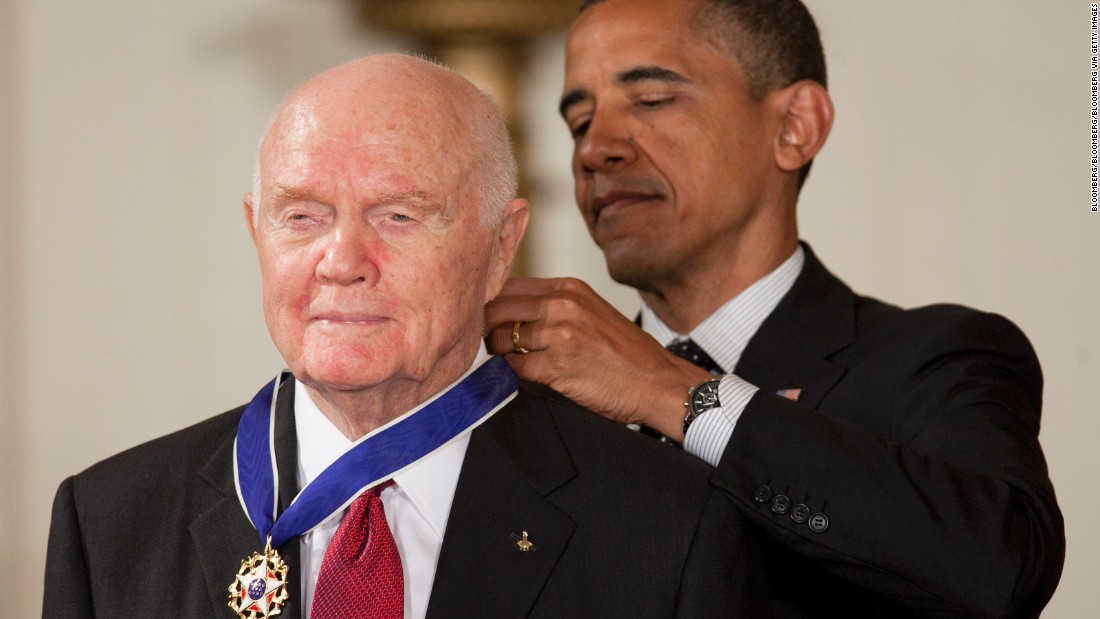 Washington (CNN)President Barack Obama said that with the death of John Glenn, a former US senator and the first American to orbit the Earth, America "lost an icon" and he and First Lady Michelle Obama "lost a friend."
"John spent his life breaking barriers, from defending our freedom as a decorated Marine Corps fighter pilot in World War II and Korea, to setting a transcontinental speed record, to becoming, at age 77, the oldest human to touch the stars," Obama said in a statement from the White House on Thursday. "John always had the right stuff, inspiring generations of scientists, engineers and astronauts who will take us to Mars and beyond — not just to visit, but to stay."
The statement continued, "Today, the people of Ohio remember a devoted public servant who represented his fellow Buckeyes in the U.S. Senate for a quarter century and who fought to keep America a leader in science and technology."
Glenn, who was born in Ohio, made history in 1962 when he completed a three-orbit flight in a cramped space capsule dubbed Friendship 7. He later served for nearly a quarter-century as a US senator.
He ran for the Democratic ticket for a US Senate seat in 1964. But his political career was sidelined for a few years when an injury forced him to withdraw from the campaign.
In 1998, he returned to space at age 77, becoming the oldest person to ever do so.
House Speaker Ryan ordered the US Capitol flags to be lowered to half-staff in honor of John Glenn's passing. They will remain down until the date of interment.
NASA also honored the late astronaut, tweeting on Thursday, "We are saddened by the loss of Sen. John Glenn, the first American to orbit Earth. A true American hero. Godspeed, John Glenn. Ad astra."
Other politicians
President-elect Donald Trump tweeted about Glenn, writing "Today we lost a great pioneer of air and space in John Glenn. He was a hero and inspired generations of future explorers. He will be missed."
Ohio Gov. John Kasich took to Twitter once the news broke to honor Ohio's "ultimate hometown hero."
"His passing today is an occasion for all of us to grieve," he wrote in the tweet. "As we bow our heads and share our grief with his beloved wife, Annie, we must also turn to the skies to salute his remarkable journeys and his long years of service to our state and nation."
He continued, "Though he soared deep into space and to the heights of Capitol Hill, his heart never strayed from his steadfast Ohio roots. Godspeed, John Glenn!"
And Ohio Sen. Rob Portman tweeted, "John and Annie have been a model for Jane and me, and we send our condolences to Annie & the Glenn family at this difficult time."
Ohio Sen. Sherrod Brown tweeted, "It has been a blessing to know John Glenn and for Connie and me to count him and Annie as mentors and friends. We will miss him."
And Kentucky Gov. Matt Bevin also tweeted on Thursday, "With sadness, we bid farewell to John Glenn, a true American hero. … May he rest in peace."
Glenn is survived by his wife of 73 years, Annie, his two children, John David and Carolyn Ann (Lyn), and two grandchildren.
Read more: www.cnn.com