New York University's medical school has no plans to remove Martin Shkreli's name from an endowed professorship, a spokeswoman told The Huffington Post this week.
The professorship named for Shkreli — the result of a donation from Shkreli that was not publicized — is currently held by Howard Trachtman. Trachtman previously served as a consultant at Retrophin, where Shkreli was CEO.
Shkreli was arrested last week by the FBI and indicted for allegedly running a Ponzi-like scheme at Retrophin and his former hedge fund, MSMB. Shkreli was already much maligned for jacking up the price of a drug used by some cancer and AIDS patients by 5,000 percent.
After the arrest, a homeless charity said it would return a $15,000 donation from Shkreli. Hunter College High School in New York, under scrutiny for a $1 million donation from Shkreli, declined last week to say whether it would return the money. In October, Bernie Sanders (I-Vt.), a Democratic presidential candidate, refused Shkreli's donation and instead gave it to a health clinic.
NYU's medical school declined to say how much money Shkreli donated, when it was given or whether there were any stipulations attached. However, the school said that — despite the previous collaboration between Trachtman and Shkreli — it had no ethical concerns.
"The generous gift we received was provided to advance care and treatment for pediatric patients with kidney disease," said spokeswoman Lisa Greiner. "We reviewed potential conflicts of interests at each step in the process, and there was no conflict when the gift was accepted. Should a review of the gift become necessary as the situation evolves, we will do so at that time."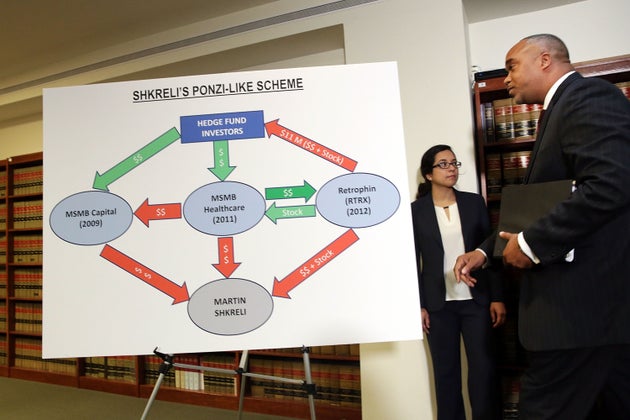 Trachtman, the current Martin Shkreli Professor of Pediatric Nephrology at the NYU School of Medicine, did not respond to a request for comment.
Retrophin and Shkreli directly approached Trachtman, then the director of pediatric nephrology at NYU Langone Medical Center, to conduct research for a drug they were developing, Forbes wrote in 2012, when the magazine named Shrekli to its "30 Under 30" list.
Trachtman was named the lead investigator in a trial of a drug developed by Retrophin called sparsentan. Trachtman is also identified as a "consultant" for Retrophin in a 2014 paper on kidney disease he co-authored.
Retrophin, which became known for buying obsolete drugs and repurposing them, ousted Shkreli in 2014. (The company said it would retain sparsentan.) It then sued Shkreli for $65 million, claiming he had "committed stock-trading irregularities and other violations of securities rules."
On Dec. 17, Shkreli was arrested and charged with multiple fraud charges after allegedly using $11 million from Retrophin investors to pay off defrauded investors of MSMB, where he was previously the Chief Investment Officer. He allegedly lied about the profits from his companies and tried to cover it up by transferring money from one company to another.
Skhreli did not immediately respond to a direct Twitter message.
Read more: www.huffingtonpost.com