The balance of power in North America has skewed south in recent times but competition could help both teams improve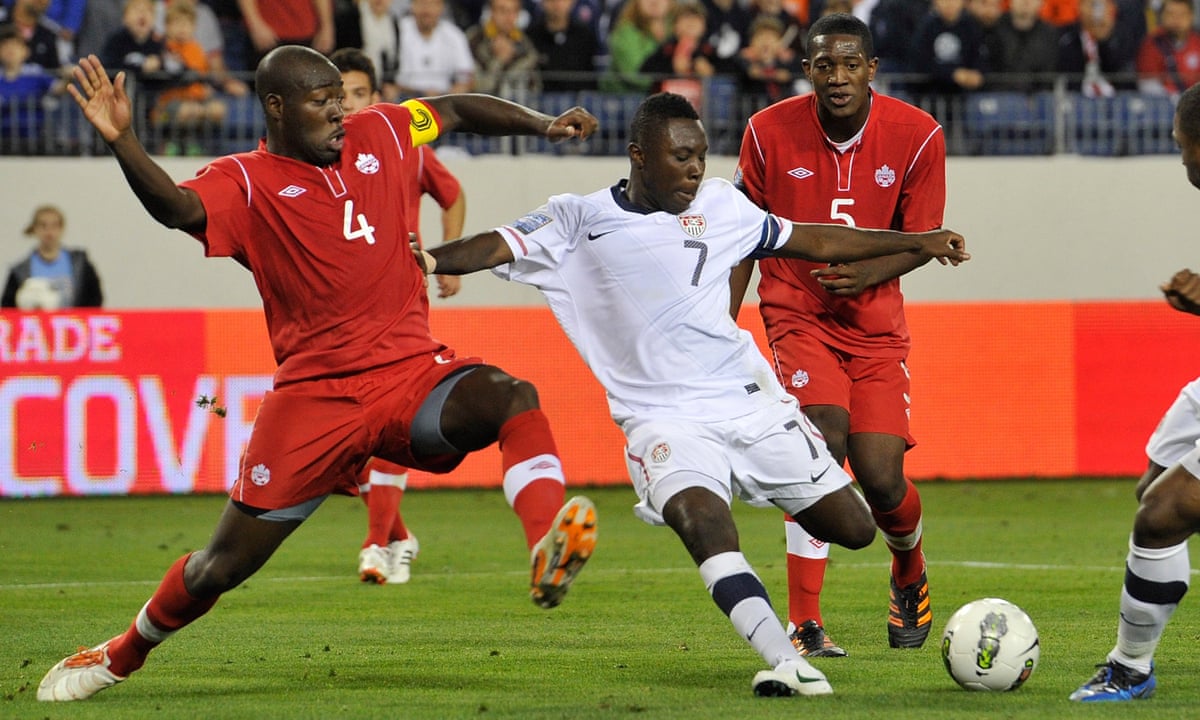 Picture the hype. No, no, no. Picture the hate. Its not often that a window presents itself to talk smack about the War of 1812. Or to put it another way: Where have you gone, Igor Vrablic? A rivalry turns its lonely eyes to you. Woo, woo, woo.
Although lets face it a rivalry, it aint.
Hell, its barely a skirmish. Over their last 16 meetings, the United States mens national soccer team is unbeaten eight wins and eight draws against its contemporaries from Canada. The finer points are even more farcical: Since a 2-0 victory in April 1985, the Stars & Stripes have outscored The Great White North by a combined margin of 23-4. Its hard to hate the bug when youve been the windshield for decades at a time.
We mention this because the two neighbors meet on Friday evening in California, their first senior mens tussle if you want to call it that since January 2013 in Houston, which ended in a 0-0 draw. We also mention this because USA v Canada (in soccer, at least) seems to move the needle these days about as much as a Martin OMalley rally, save for bragging rights around greater Windsor. Which is a pity.
Well, maybe not so much a pity as a missed opportunity. In the four senior mens friendlies in the series since 2003, only one another 0-0 draw, this one in 2006 at San Diego filled more than half of the stadium. The only thing duller than a winter friendly is a winter friendly thats perceived as a foregone conclusion.
When the Yanks and Les Rouges hook up in hockey, its an event. On the pitch, its a shrug.
Look, we know what youre saying, at least south of the border: thats the way we like it, no stress, no fuss. Theres already enough bile in the US-Mexico series to fill the Aleutian Trench, and the last thing Jurgen Klinsmann needs is another sharp wooden stake to hand to his detractors.
Yet its curious that the US and Canadian national teams, post-world war two, have rarely been relevant OK, relevant-ish at the same time. Since Fifa created world rankings, USA have averaged a No19 slot; Canada No77. Over the last 23 years, the North American twosome have only been ranked in the top 50 in the same year twice: In 1993 (US 22nd, Canada 44th) and 1996 (US 18th; Canada, 40th).
When Les Rouges was flying high in 1986, the first and only time theyve qualified for a World Cup, US soccer had nearly bottomed out. In 2014, while World Cup fever gripped the States, Canada endured a 958-minute goal drought and saw its Fifa ranking dip to 122 that August, the lowest mark in the countrys history.
But what if both sides of the border actually had incentive to sit up and take notice when America and America Nice locked horns? USA v Mexico is fun for the same reason, by and large, as Broncos v Patriots and Cruz v Trump: anything could happen. El Tri still lead the overall series with USA, but since the 1994 World Cup marked the perceptive rebirth or rediscovery of football in American circles, the northerners hold a 15-10-8 edge.
Meanwhile, about the closest weve come to controversy or even a pulse in the US-Canada rivalry was in 2007, when during the Gold Cup semi-final, Canuck Atiba Hutchinsons equalizer in the fourth minute of stoppage time was disallowed for offside, and the US held on, 2-1.
At least the names returning to the fold for national coach Benito Floro elicit the potential for drama: Junior Hoilett (QPR), Steven Vitoria (Benfica, Philadelphia Union), Fraser Aird (Rangers, Vancouver Whitecaps), Teho Akinele (FC Dallas) and Lucas Cavallini (Central Atletico Fenix) chief among them. Although youve got to whisk Marty McFly and the DeLorean back 31 years for Canadas last victory in the series, thanks to two goals by striker Vrablic.
Les Rouges would later be crowned Concacaf champions to secure that historic 1986 World Cup place, but even that glory comes with a few asterisks. For one, Mexico didnt compete in the qualifying tournament that year, having already sewn up a berth automatically as the host nation in 86. And second, Vrablics career came to screeching halt not long after for his role in a match-fixing scandal.
So maybe its karma.
Or money. Or numbers. Or, more likely, all of the above.
Hindsight can sum up the relative fortune gap between the countries in two words: America cares. Or enough Americans and American television networks care that cash and eyeballs tend to follow in due course. The US have invested in development and grassroots cohesion (more or less) over the last 20 years or so, a cohesion that some Canadian fans believe their countrys youth system, at present, sorely lacks.
A win on Friday wouldnt change that. Not overnight. But it might light a fire that leads to bigger things.
Read more: www.theguardian.com