Will Duke retain the title? Who is the player to watch? And who has the best nickname. Guardian writers make their calls for the upcoming action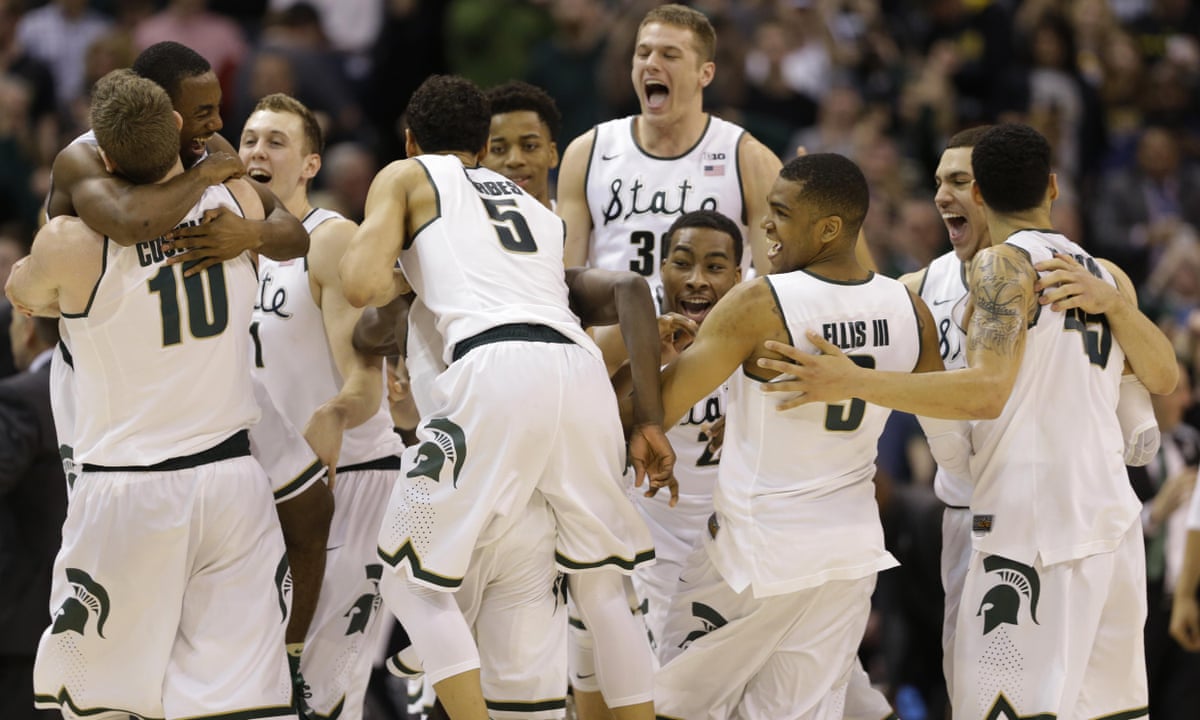 Best team to go out early
Les Carpenter: Duke. As always, the Blue Devils are talented and deep. They have several skilled scorers and are led by Grayson Allen, one of the best players in the country. But they are young, give up a lot of points and dont rebound as well as many past Duke teams. Their lack of depth was exposed in late losses to Pitt, North Carolina and Notre Dame.
DJ Gallo: Duke. The Blue Devils dont have their usual high seed, but theyre still Duke and they are the reigning champs. Mike Krzyzewskis team has lost four of seven and eight of their last 17. Allen will have to do a lot of opponent tripping for the Blue Devils to make a long run.
Brandon Lilly: West Virginia. The Mountaineers play a pressing style designed to cause turnovers and unnerve the other sides ballhandlers. But Stephen F Austin faced another pressing team, VCU, two years ago and sent them home in the first round. If SFA doesnt get West Virginia, Notre Dame and point guard Demetrius Jackson will.
Sean Keeler: Oregon. Although any of the No. 1 seeds could wind up toast by Sunday night.
The tournament dark horse
LC: Notre Dame. They were just blown out of the ACC Tournament semi-final by North Carolina and do have some lopsided road losses that keep them from being a higher seed. But the Irish have an excellent, experienced guard who can control a game in Demetrius Jackson, and an overall ability to grind out big wins.
DG: I feel confident in No9 seed Butler. And if not them, then No11 Gonzaga. The No10 VCU Rams are also worth a dark horse look. Dont sleep on No16 Florida Gulf Coast either. Am I just listing smaller programs that have done remarkably well in the NCAA Tournament in the past? I sure am.
BL: Although I made the argument against them last week, I really love Wichita States draw. Yes, they are in the first four, but its not hard to see them getting by Vanderbilt. This is not a vintage Arizona squad theyd be facing in the first round, and Im not sold on either Villanova or Miami.
SK: Michigan, if you want to call Big Blue a dark horse. Somebodys going to vault to the Sweet 16 out of that play-in round, and as much as you love Gregg Marshalls Shockers this month, Wichita State (or Vandy) are going to find Arizona a beast of an out.
The toughest region
LC: South. When a team as deep and talented as Maryland is a fifth seed you have a tough region. Kansas and Villanova are the class of this region but the Final Four team could easily come from the Connecticut-Colorado 8-9 game. Cal, Iowa and Arizona are also tough teams to beat and could make deep runs as well.
DG: In a year without any top teams or heavy favorites, its hard to settle on any region as tougher than the next. But lets go with the West, which, in Texas A&M, Duke, Baylor and Texas, has three through six seeds talented enough to go deep.
BL: The consensus seems to be the South, but theres a case to be made for the East. North Carolina will probably see either Kentucky or Indiana in the Sweet 16. Those teams are peaking now. Thats if they get by Providence, who have the regions best player in Kris Dunn. Not a cakewalk for the Heels.
SK: The South. But the West might wind up the wackiest.
The team youre most looking forward to watching
LC: Maryland. Few teams in the NCAA Tournament are as deep as the Terrapins who should have all the right pieces with a great guard in Melo Trimble, a powerful center in Diamond Stone and several key role players. They can both shoot and defend. And yet they might be the most confounding team with five losses in their last eight. They can win the title or lose in the first round and neither would be a surprise.
DG: Oklahoma. The Sooners are a high-scoring team behind star guard Buddy Hield and launch (and make) a ton of three-pointers. If youre an NBA fan who only dabbles in the college game, Oklahoma can give you an extra hit of Warriors-style basketball.
BL: Oklahoma. They got bogged down in conference play, but guard Buddy Hield is primed to have a Kemba Walker-esque tournament. They were one of the best teams all year, and now they have the opportunity to show it.
SK: Iona and Yale, though Im not counting on either of them being around for very long. On paper, the moxie of the Gaels AJ English versus the sheer will of Iowa States Georges Niang and at high altitude, no less sets up to be must-see television
The surprise star of the tournament will be …
LC: Roosevelt Jones (Butler). It feels like Jones has been at Butler since they filmed Hoosiers at Hinkle Field House and in the NCAA Tournament experience matters. Jones is a versatile player who can penetrate, rebound, pass and defend almost any position on the floor. He doesnt score enough to be considered a big star but this tournament could be a great place for him to demonstrate his immense skill.
DG: Christian James (Oklahoma). The freshman played heavy minutes over Jordan Woodard in Oklahomas Big 12 Tournament loss to West Virginia and responded with 13 points and five boards. He has a hot hand and gets extra credit for outplaying a guy named Jordan.
BL: Dillon Brooks (Oregon). The sophomore from Alberta has been one the countrys true unheralded stars and led the Ducks to a surprising No1 seed. He can do everything on the court and has a chance to become a star this month.
SK: Kris Dunn (Providence). With Wayne Seldens uncle running close second.
The MOP will be …
LC: Denzel Valentine (Michigan State). Despite poor shooting, the senior guard still tore through Ohio State and Maryland in the Big Ten Tournament with great passing and surprisingly effective rebounding. Nothing matters more in the NCAA Tournament than an experienced guard who can also hit a key three-pointer. If the Spartans win the title it will be because of Valentine.
DG: Valentine. Granted, its not a bold prediction to state that the best player on Michigan State will do well in the NCAA Tournament. Its almost a lock. An even bigger lock: the Most Outstanding Player will not be Ben Simmons.
BL: Usually the best player on the national champion gets the nod hear, but I think Hield will get the Sooners to the Final Four and be so dominant in doing so that it will be hard not to give him the trophy.
SK: Valentine. Final Four teams have a rock. Valentine has been the Spartans Gibraltar.
Best team nickname
LC: South Dakota State Jackrabbits. Since few people ever watch South Dakota State basketball, few people ever see the Jackrabbits logo an angry racing bunny. Runner up, the Cal State Bakersfield Roadrunners who have an equally angry roadrunner logo.
DG: Providence Friars. Friars are monks who take a vow to live in obedience and poverty. Theres not a team name that captures what college athletes do more than that.
BL: Its hard to be Wheat Shockers (Wichita State), but Lumberjacks (Stephen F. Austin) is kinda cool, too.
SK: Stony Brooks Seawolves. Until 1994, the school went with the rather tamer Patriots. According to the university website, the Seawolf is a mythical sea creature of the Tlingit tribe, said to bring good luck to all those fortunate enough to see it.
How would you improve the tournament?
LC: Get rid of the play-in games. The NCAAs money-grab of extra games to push the field from 64 to 68 has never made sense. It seems unfair that a small-conference winner is punished by having to play an extra game to have a shot at a top seed. Often the NIT games that are on TV opposite of the play-ins are more exciting (who can forget Robert Morris beating Kentucky in 2013?). The NCAA needs to kill off this farce, but of course they wont.
DG: Make play-in games only for the 16 and 15-seed spots. Why should two quality 11-seed teams like Vanderbilt and Wichita State have to open in Dayton while 18-17 Austin Peay gets to play in the real tournament? Oh, and another idea: pay the players at least the same amount as what the average office pool awards. That seems fair.
BL: Eliminate the First Four. No one who plays in it feels as if they have actually played in the NCAA tournament. At thats fine for the middling majors in the at-large games. But the small schools who won their conference tournaments should get a free pass into the main draw.
SK: Make sure Charles Barkley has gotten at least three practice runs on the giant touchscreen before the cameras go live. Also, leave the 16 seeds alone. Make the play-in games for bubble teams only, one per region.
The Final Four will be …
LC: Michigan State, Kansas, Baylor, Xavier
DG: Villanova, Oklahoma, West Virginia, Michigan State
BL: Oklahoma, North Carolina, Michigan State and Kansas
SK: Maryland, Texas A&M, Kentucky, Michigan State
The national champion will be …
LC: Michigan State. This might be one of the most-balanced NCAA Tournaments in recent history. You can pick any number of 15 teams and make a compelling case for their winning the title. But nobody is better-built for this tournament than Michigan State. The Spartans are an excellent defensive team who can also rebound and score at will. In Tom Izzo they have a coach who knows how to coach a team deep into the tournament and Denzel Valentine might be the best all-around guard in the country.
DG: Michigan State. Kentucky are an eight-loss No4 seed and Ben Simmons isnt even in the postseason. This is a season for upperclassmen, not freshman, and Michigan State are led by three seniors: Valentine, Bryn Forbes and Matt Costello. Izzo is skilled enough to coach a smelly bag of gym socks to a Final Four, but this year he has the talent to win it all.
BL: I picked North Carolina at the beginning of the year, and although a potential Sweet 16 matchup with Kentucky will be a doozy, Im sticking to my guns. They have a higher ceiling than any other team in the country, and sometimes talent wins. The Heels will cut down the nets.
SK: Michigan State. Izzo is a Sweet 16 machine, one of the few reliable things in a tournament that could go pear-shaped in any number of bizarre and unexpected ways. Fun fact: The four top seeds in the 2016 field bring a combined 23 losses to the party the most, collectively, by four No1s since the 2000 Big Dance. The national champion 16 years ago? Izzos Spartans, led by guard Mateen Cleaves, running mate Morris Peterson, a unit that boasted swagger, confidence, and an iron determination to survive. Valentine has that same kind of look in his eyes. For that matter, so does Sparty.
Read more: www.theguardian.com