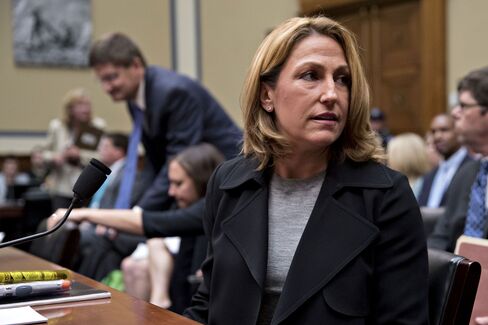 Mylan NVs chief executive officer faced skeptical lawmakers Wednesday as the Houses Oversight Committee questioned her honesty, ethics and $19 million pay package during a hearing examining how the company raised prices on its EpiPen allergy shot.
In several heated back-and-forths with CEO Heather Bresch, Committee Chairman Jason Chaffetz, a Utah Republican, accused Bresch and Mylan of downplaying its profits while at the same time paying its senior executives hundreds of millions of dollars. Bresch was testifying about the $600 price tag for a two-pack of EpiPen, which has become the latest high-profile example of rising drug costs.
Chaffetz, holding up an EpiPen, told a packed hearing room in Washington that he found Mylans arguments that it makes only about $50 of profit on each device a little hard to believe when the cost of the medicine inside the pen, which he called the juice, was about $1. He was followed by Maryland Representative Elijah Cummings, the panels top Democrat, who accused the drugmaker of taking advantage of the U.S. health-care system.
Mylan raised EpiPens to get filthy rich at the expense of our constituents, Cummings said. Their strategy was to find an old cheap drug that has virtually no competition and raise the price over and over and over again as high as you can.
Latest Hearing
Breschs compensation was an issue for lawmakers as well, as it often is when CEOs appear before lawmakers. When asked about her pay, Bresch briefly stuttered before saying, Its in the middle compared to others in the industry. Bresch was awarded $19.4 million in pay last year, which made her the 25th-best paid executive in the health-care industry, according to data compiled by Bloomberg. Her response generated more outrage from lawmakers.
I am a very pro-business Republican, yet I am really sickened by what Ive heard about this situation, said Representative John Duncan of Tennessee. Nobody can really earn or deserve that much money, he said.
Mansions and Jets
Cummings predicted that despite all the questioning, little would change.
Today, we will hold yet another hearing where the industry will take these punches, but then go right ahead and keep raising their prices, Cummings said. They will fly back to their mansions in their private jets and laugh all the way to the bank while our constituents suffer, file for bankruptcy, and watch their children get sicker, and in some cases die.
Bresch said she took the companys private jet from Pittsburgh to Washington for the hearing. The admission was in response to a question from Democratic Representative Bonnie Watson Coleman of New Jersey. Bresch received more $310,000 worth of rides on the companys aircraft last year, according to data on her pay and perks compiled by Bloomberg.
Bresch, who is the daughter of Senator Joe Manchin, Democrat of West Virginia, made her case to lawmakers that Congress should recognize that Mylan has increased access to the drug. She said in her prepared testimony that Mylan only takes home about $100 after rebates, fees and discounts for each two-pack of the shots. Bresch said Mylan wasnt getting every dollar of the price increases.
Recent EpiPen price increases have not yielded the revenue to Mylan that many people assume, she told the committee.
Financial Issues
Looking back, I wish we had better anticipated the magnitude and acceleration of the rising financial issues for a growing minority of patients who had to pay the full list price or more, she said. We never intended this.
You never anticipated this? You raised the price, what did you think was going to happen? Chaffetz asked her.
When asked after the hearing whether Bresch should step down as CEO, Chaffetz said, I want to give her 10 days. Shes on the clock. The committee had ordered Bresch to provide more information within 10 days on several subjects, including details on EpiPen pricing, manufacturing costs and lobbying strategies. Were not letting go of this one, he said.
State Investigations
The company, which is run from Canonsburg, Pennsylvania, but is officially registered in the Netherlands after a so-called tax inversion, is facing multiple inquiries from lawmakers and law enforcement. The probes include state attorneys general investigating possible Medicaid fraud as well as legislative committees demanding internal documents from the company about EpiPens price.
The oversight panel held a similar hearing in February with former pharmaceutical executive Martin Shkreli and a top official at Valeant Pharmaceuticals International Inc., who were both criticized for dramatically jacking up the prices of old drugs right after buying them.
Cummings didnt offer specific legislative proposals in his statement, though Democratic presidential candidate Hillary Clinton has called for a group to review sudden, unjustified price increases, especially for older drugs.
Authorized Generic
Mylan bought the right to sell and market EpiPen in 2007, from Merck KGaA. Since then, it has raised the price of the product from about $50 for a single pen to more than $600 for a two-pack. It has subsequently said it will introduce a lower-priced, authorized generic for $300 per two-pack.
Cummings said that wasnt good enough, and accused the company of using the same PR playbook that other companies use by adding patient assistance programs.
Thats what Martin Shkreli did, that is what Valeant did, and that is what Mylan is doing, he said at the hearing.
As Mylan raised the price, it also helped push policies to have schools stock the shot, which is now the dominant epinephrine auto-injector in the U.S. In addition, it has led campaigns to raise awareness of dangerous allergic reactions and to get parents and children to carry EpiPen for rapid use. Cummings said documents that Mylan handed over to the committee show the drugmaker spent $100 million on advertising and marketing last year.
Seeking Competitors
The committee also heard from the Food and Drug Administration, which has yet to approve a generic version of EpiPen that can be automatically substituted by doctors and pharmacists across the U.S. Douglas Throckmorton, a deputy director at the FDAs Center for Drug Evaluation and Research, said in prepared testimony that the agency is helping closely held drugmakers, including Kaleo Inc., to make available more EpiPen competitors.
Current EpiPens have a shelf life of up to 18 months. Mylan has been working on a new formulation of the drug in the EpiPen that wouldnt expire for two years, Bresch said, and the company plans to apply soon to the FDA for approval.
Read more: www.bloomberg.com