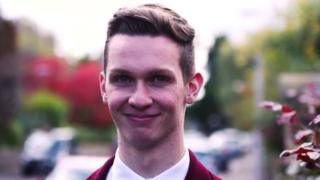 Neil Ferguson was a sporty 13-year-old when a stroke left him suffering from paralysis and speech problems.
His mother Lynne Meekison told BBC Scotland's Stephen Jardine programme it was "very much out of the blue".
She now traces the problem back to an injury during a school rugby game in November 2015.
It appears Neil, from Morningside in Edinburgh, suffered a carotid artery dissection during the match. But this was not known at the time and it was three weeks later that he suffered the stroke.
Lynne, who is a doctor herself, says: "He had torn the artery in his neck supplying the brain and a clot had formed and flew off into his brain."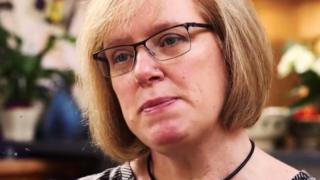 She says it was "very much a freak accident" and she does not blame rugby at all.
In fact, at the time they thought it was nothing more than a sore neck.
Lynne says Neil was 6ft tall, even though he was only 13, and always threw himself into tackles.
"The sore neck went on for a couple of days then eased off," Neil's mum says.
"He had the odd headache for the next few weeks and then very suddenly without any warning at all he got up and things were clearly not right."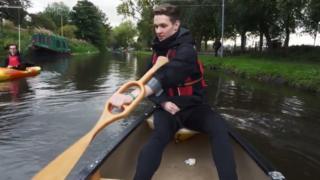 According to Lynne, Neil got dressed but forgot about the right-hand side of his body.
"His arm was not in a sleeve, he did not have a sock and shoe on that side, his arm was limp at his side and he could not speak at all," she says.
Within a couple of minutes he had become unconscious and was taken to A&E at the Royal Infirmary in Edinburgh.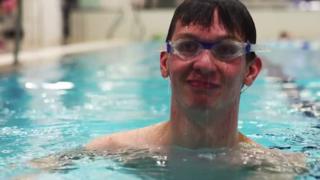 Despite her medical background, Lynne works as a gastroenterologist, she says she did not think it was a stroke.
She says: "I said to my husband 'it's like he's having a stroke, but it can't be'."
The results of an MRI showed it was.
Neil was transferred to a children's hospital and his brain started to swell more.
On Boxing Day 2015 he was prepared for an operation to remove a section of his skull because the brain swelling was so severe, but it was deferred when he opened his eyes.
After a week he started to be able to respond by moving his head but there was "absolutely no speech at all" and he was paralysed down his right side.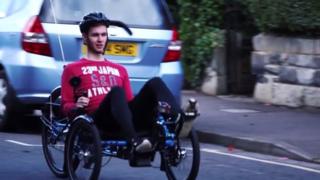 In the two years since his stroke, Neil has made great efforts to recover his speech and movement.
His mother says: "The fantastic thing is that his personality is absolutely unchanged.
"He is exactly the same person as before with the same quiet determination to achieve what he can and he has never, ever moaned about what has happened to him."
She says he has worked hard with his speech.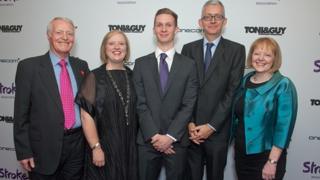 "He is now able to express himself, given time and given support and patience to be able to do so," Lynne says.
"Speaking is very hard work for him. It is very tiring but it is improving."
Neil has also worked hard with a physiotherapist and can now stand and walk with the aid of a leg splint.
He still does not have the use of his right arm but he goes to the gym and continues to work on improving it.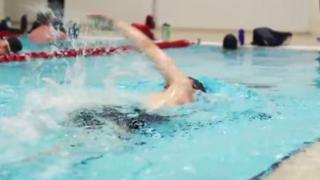 Neil is also back swimming.
His mum says: "His only goal was to learn to swim again. He had a fantastic physio who got him into hydrotherapy and then into a disability swim club.
"It is early stages but he is very determined. He only swims with one arm and one good healthy leg.
"It is very difficult to stay in a straight line and breathing is difficult but it is great for him."
Neil, who is now 15, will sit his National 5 exams next year.
His mother says he is doing the best he can but he is still recovering from his devastating illness.
She says: "The main thing is he wants to be as happy and fit as possible.
"He is trying to be like very other teenager."

Guidelines on childhood stroke
The Royal College of Paediatrics and Child Health has issued new guidelines for diagnosis, management and rehabilitation of children suffering from a stroke.
Dr Vijeya Ganesan, a paediatric neurologist who was involved in drafting the guidelines, said the causes in children were different to adults, where smoking and high blood pressure were often responsible.
She said: "I think a really important factor is infection. It seems that affected children are often predisposed to respond to infection in an unusual way, which can result in a stroke.
"However, the signs of stroke in children are very similar to the signs in adults – weakness at the side of the face, difficulty in speaking, difficulty moving one side of the body.
"Stroke in children can have more subtle features, such as fitting affecting one side of the body or sudden severe headaches, for instance."
Read more: www.bbc.co.uk