As gym-bunny bloggers aspire towards big bums and fashion popularises black body shapes, will ethnic-minority women remember how to love their bodies once the trend is over?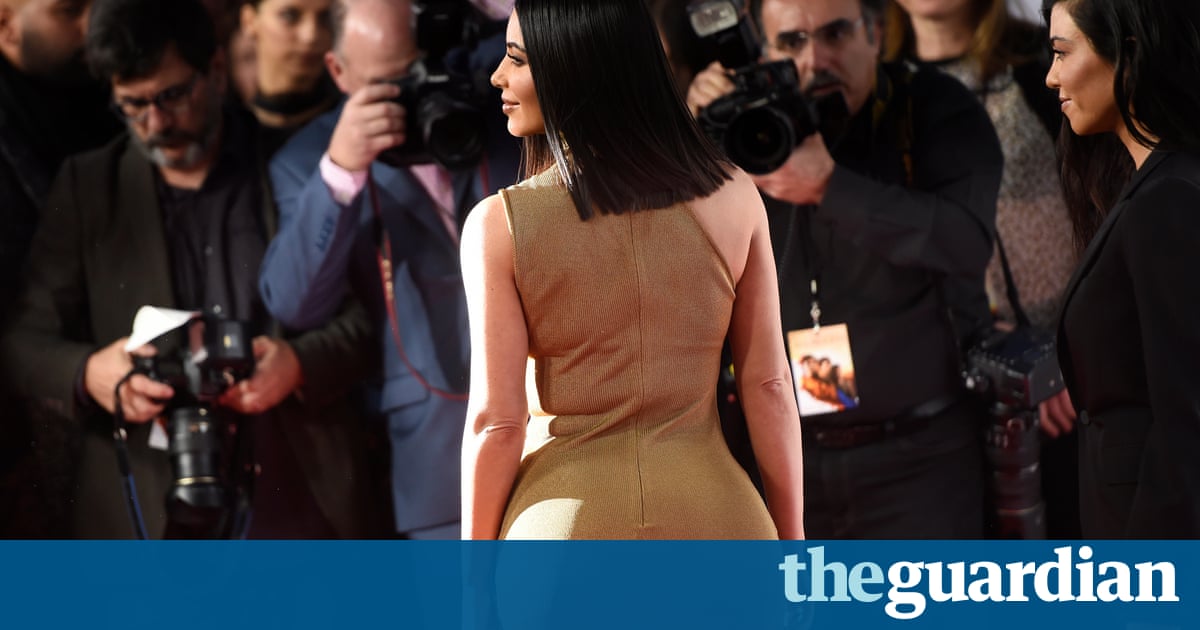 I cant remember when I stopped hearing the phrase Does my bum look big in this? But the question makes my skin crawl. I think of that weird scene in Bridget Joness Diary where her (very small) bum slides down towards the camera on a firemans pole.
Vogue established in 2014 that big bums were back in fashion, while in 2015 the Guardian asked if big lips were the new bushy brow. What isnt often mentioned is how these trends are intimately tied to black peoples bodies, like my own.
Although, like most feminists Im sure, I dont believe that body parts should be seen as fashionable or unfashionable commodities, I know that part of the reason Ive become more accepting of my own body shape is because its become societally desirable. In the past eight years, between the ages of 15 and 23, Ive gone from painstakingly attempting to hide my large bum in oversized skater skirts to proudly celebrating a good big booty twerk.
Big bums are now what all the gym-bunny bloggers are working towards with their gains. And Ive not even had to try. It felt gratifying, to a degree: theres no denying its been to the detriment of other womens body shapes. And although my blackness is not a fad, and the black body comes in many shapes and sizes despite the stereotype of us having big bums and lips, this is a massive step up from the historic, animalistic portrayal of us as grotesque thanks to our natural shape.
Only last week the Pirelli calendar was revealed to feature an all-black cast including Whoopi Goldberg, Naomi Campbell, RuPaul and more underground black British influencers, like activist-model Adwoa Aboah and illustrator-model King Owusu. Any girl, whether she is black or Chinese or Indian, they should be able to have their own fairytale, the Guardian was told about the Alice in Wonderland-inspired shoot.
Representation is so important to your sense of self-worth, and the internal calmness Im feeling in terms of my identity as a curvy black woman seems to be a sweet glimpse of how white people have felt for decades. As model Thando Hopa says, all minorities deserve to see positive depictions of themselves, your mental health suffers if you dont. As a study released in May by Leeds Beckett University revealed, black women are rarely featured in mainstream womens magazines, with the researchers claiming that our lack of representation increases our body dissatisfaction, reproducing racism by virtue of bodily exclusion.
White people never really go out of fashion, and we have had to watch as theyve popularised our aesthetic traits; from Kylie Jenners enhanced pout to Kim Kardashians large, glazed, internet-breaking derrire on the cover of Paper magazine. Edward Enninful, who styled the Pirelli shoot, may now be the first black, gay editor of British Vogue, but the rest of the industry is still woefully lacking in ethnic minority staff members and the way fashion journalists talk about diversity can be disgustingly obtuse. Make sure weve got at least one Asian, Ive overheard a colleague saying. My jaw dropped open like that surprised cat meme.
Even so, I cant help wondering how skinny, flat-chested women, all the rage during the heroin chic era of the 90s, are feeling now. Are they more dissatisfied with their bodies since theyve moved away from being ideal? All it takes is one snooty casting director to decide your fashion moment is over. Racial trends move at a slower pace than the length of trouser hems, but I do worry that it will be a struggle to remember how to love my body as the traits associated with blackness fall from grace.
White people still rule the roost in commercial terms, but luckily, unlike when I was growing up, there is now a vast support network of grassroots black-led creative organisations. Even if things stop moving forward, my black peers will still push our voice, faces, even our bums, into the spotlight. Meanwhile, conversations questioning the capitalism that forces women into caring so much about the way our genes have knitted us up as people need to continue.
Eva Wiseman is away
Read more: www.theguardian.com