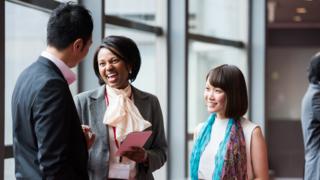 The majority of medium and large companies have a higher wage bill for men than women, according to the latest government figures.
The disparity, known as the the gender pay gap, reflects the breakdown of a firm's total wage bill, as divided between men and women.
The government data showed some 74% of firms pay more wages in total to their male staff.
Just 15% of businesses with more than 250 employees pay more to women.
As many as 11% of firms said there is no difference between the amounts paid to men and women.
Unlike pay inequality – which compares the wages of men and women doing the same job – a gender pay difference at a company is not illegal, but could possibly reflect discrimination.
The average gender pay gap across all medium and large-sized firms is now 8.2%.
Among those with the largest gender pay gap are airlines such as Tui and Easyjet, and banks including Virgin Money, the Clydesdale and TSB.
Easyjet has said its pay gap of 45.5% is down to the fact that most of its pilots are male, while most of its more modestly paid cabin crew are female.
Tui Airways – where men earn 47% more than women – has the same issue.
Many banks also appear to have a gender bias on salaries. The Bank of England pays its male staff 24% more than its female employees.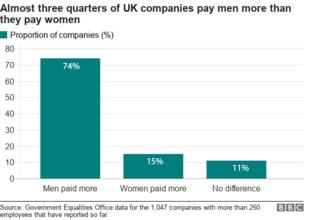 By law, all firms with more than 250 staff must report their gender pay gap to the government by 4 April this year.
So far only 1,047 firms have complied, leaving another 8,000 to go.
Carolyn Fairbairn, director general of the CBI, denied companies were dragging their feet in reporting the data.
"I don't see a reluctance," she told the Today programme. "I think this is genuinely quite difficult data to find, it is often sitting on different systems and firms are working very hard towards that deadline.
"I think we'll see the vast majority of firms reporting on time."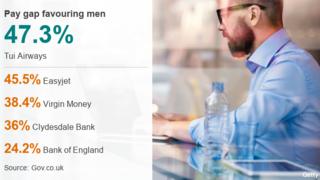 Personnel experts urged companies to hurry up with their returns, even if they prove to be embarrassing.
"Some businesses may be concerned about reputational issues, which may be holding them back from reporting early," said Charles Cotton, senior performance and reward adviser at the Chartered Institute of Personnel and Development (CIPD).
"They may be hoping that by waiting until the deadline and submitting at the same time as others that their results will get lost in the crowd."
But he said the main task was to change "societal norms" to help women progress at work.
Ms Fairbairn said: "That's the really important thing about this – what changes – because we do really need this to change.
"It is about fairness but it is also fundamentally about productivity in our economy. I think firms are embracing this."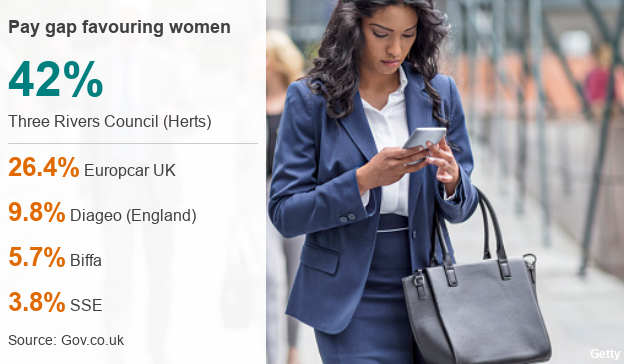 On the other side of the coin, a minority of organisations pay their female staff more than their male colleagues.
These include Three Rivers Council, where the wage bill for women is 42% larger than its bill for men.
Europcar, drinks giant Diageo, refuse collector Biffa, and energy supplier SSE are also among the better-known names.
Diageo – which has a 9.8% pay bias in favour of women in its English operation – said most of its sales and manufacturing roles were taken by men, while more women were employed in higher-paid office positions.
Separate figures published by the Office for National Statistics (ONS) show the pay gap for all employees at 18%.
However, these are calculated differently and are for all employees, not just those who work in firms of over 250 staff.
The ONS figures suggest that the pay gap has been narrowing over the last few years.
Read more: www.bbc.co.uk