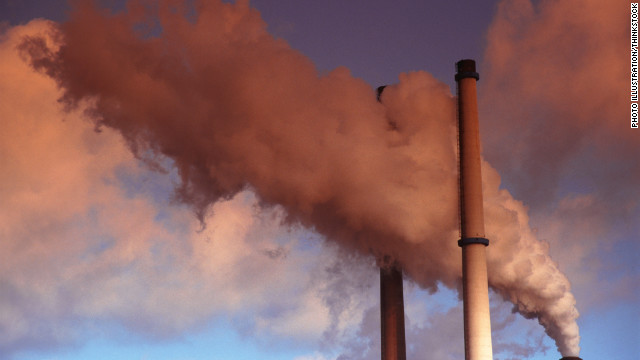 (CNN)Even at levels below international air quality guidelines, short-term exposure to pollution can send you to the hospital for more reasons than scientists originally thought, a new study finds.
The pollution investigated, known as fine particulate matter or particle pollution — with a diameter less than 2.5 micrometers and smaller — is a mix of solid and liquid droplets found in the air, according to the
US Environmental Protection Agency.
It's so tiny — 1/20th of the width of a human hair — that you cannot see it, and it can travel past your body's usual defenses.
This form of pollution can be very damaging to your health because once you breathe it in, the particles can get stuck in your lungs or work their way into your bloodstream, causing irritation and inflammation that can lead to respiratory problems and other diseases.
Some of the sources of this particulate matter are coal- and natural gas-fired plants, cars, agriculture, unpaved roads and construction sites, with the pollution then coming in the form of dirt, dust, soot or smoke.
To find out thefull extentof the risks and the costs of hospitalization due to short-term exposure to this pollution in the United States, researcherslooked at more than 95 million records gathered from Medicare inpatient hospital claims from 2000-2012. For the environmental data, the researchers created a model based on pollution concentrations measured at 1,928 EPA monitoring sites.
"Remember, this is the health care cost for an increase of one unit, To give you a sense of how small this increase is, it could be the difference between a Sunday and a Monday when you have a little more traffic, or you are exposed to a little bit more when you are walking by a house where they are doing a renovation. With this tiny increase, there are enormous health care costs," Dominici said.
Evenat levels below those recommended by World Health Organization guidelines — meaning concentrations of 25 micrograms per cubic meter or less — there was both an absolute and relative percentage increase in risk of hospital admissionfor most of the diseases examined in this study.
"This is a highly contentious debate right now, but this is probably one of the most robust pieces of evidence that should inform the review of these guidelines and make the argument for lowering these standards," Dominici said. "These health problems persist even if we have lower numbers."
Several studies published in 2019 have shown pollution is taking a much more devastating toll on our health than we realize.
While there is still much research to be done on exactly how damaging fine particulate pollution can be to your health, the authors of an editorial that published alongside the new study wrote that "we should not mistake knowledge gaps for paucity of evidence."
"The sooner we act, the sooner the world's population will reap the benefits,"they concluded.
Read more: www.cnn.com