Cock-up casts shadow over victory for Barry Jenkinss acclaimed drama as movie musical is mistakenly named winner by Faye Dunaway and Warren Beatty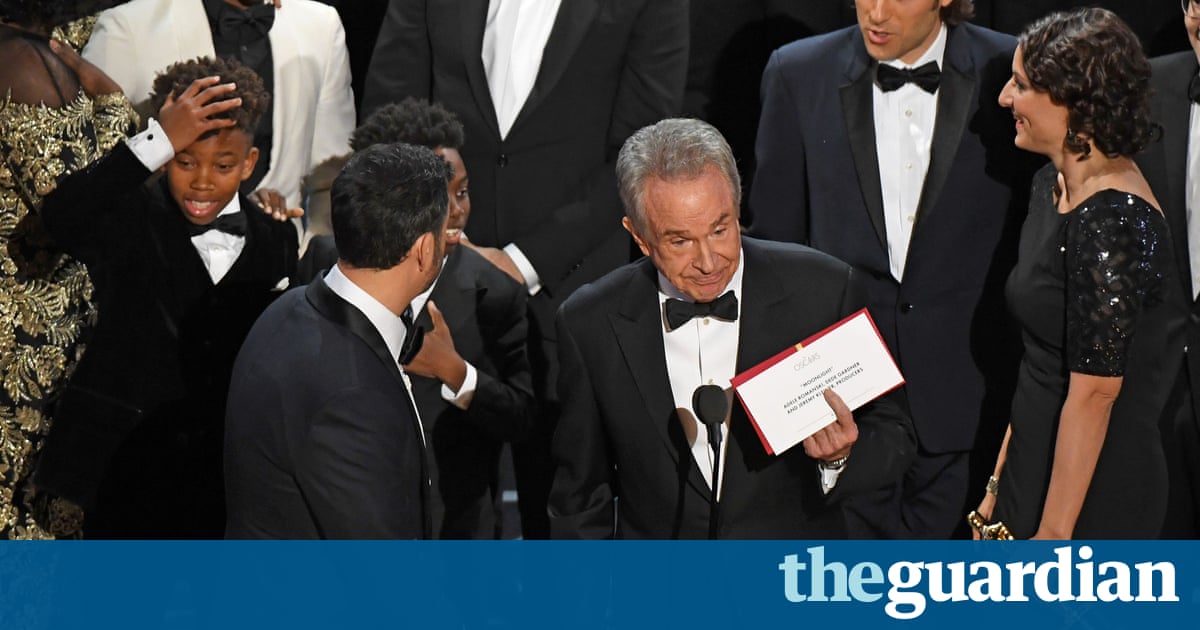 Moonlight has won the best picture Oscar in a chaotic awards ceremony climax which mistakenly awarded the top honour to La La Land, a fiasco which stunned Hollywood and viewers around the world.
Faye Dunaway named La La Land as the years best picture at the end of Sunday nights ABC broadcast only to be corrected a few minutes later as the musicals makers celebrated on stage, a tableaux likely to be immortalised in Hollywood annals.
Audible gasps were heard in the Dolby theatre when La La Land producer Jordan Horowitz declared the real winner was Moonlight, a coming-of-age drama revered by critics.
It appeared Dunaway and Warren Beatty had an envelope containing a card naming a previous award won by La La Land, prompting visible hesitation between the two veteran actors before Dunaway went ahead and named La La Land.
Two minutes later Horowitz, as celebrations on stage turned into commotion, bewildered millions by saying a mistake had been made and that it was not a joke. He held up a card showing Moonlight was the winner.
The host Jimmy Kimmel tried to make light of the extraordinary bungle: I knew I would screw this show up. I really did.
Speaking backstage minutes later, Moonlights director Barry Jenkins said the error had left him speechless. Id never seen that happen before. It made a special feeling more special but not in the way I expected. The last 20 minutes of my life have been insane beyond life changing.
Read more: www.theguardian.com