Daughter of cartel leader Joaqun Guzmn said he poured money into politics, and deals with authorities played role in his prison break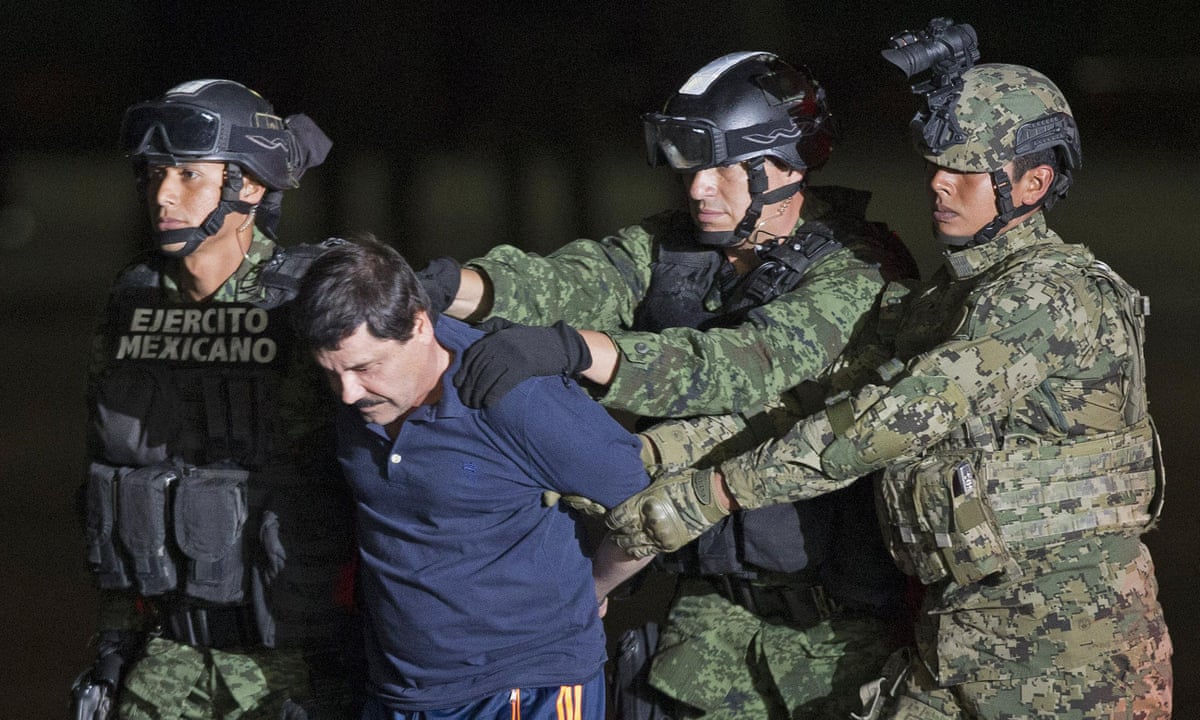 Opposition politicians in Mexico have pounced on comments made to the Guardian by the daughter of recaptured cartel capo Joaqun El Chapo Guzmn, alleging the countrys most wanted man poured money into politics and that his outlandish escape was part of a pact with the authorities a deal supposedly broken with his arrest earlier this year.
What El Chapos daughter said is a strong revelation, which must be investigated and must be taken seriously, said two-time presidential candidate Andrs Manuel Lpez Obrador, who leads early polls for the 2018 elections. [President Enrique] Pea Nieto cannot stay silent.
National Action Party spokesman Fernando Rodrguez Doval told the newspaper Reforma: A clear disavowal, an authentic clarification [is needed] because its a very sensitive issue [and] above all because its hanging over this matter of there being complicity on the part of prison authorities in the escape.
Guzmns wife, meanwhile, entered damage control mode, saying in a statement that Rosa Isela Guzmn Ortiz was not the drug lords daughter and only started contacting him in prison after his January 2014 arrest.
We completely disavow this womans declarations and the relationship she claims to have with Joaqun and the family, Emma Coronel, Guzmns spouse since 2007, said in a statement on Saturday night.
Her statement also said Guzmns first contact with Ortiz who says she visited her father in prison came after his 2014 capture, coinciding with letters containing claims of parentage.
Coronel also dismissed claims that she and her twins lived in Los Angeles. Yet the statement acknowledged the Guzmn responded to the letters and did not deny the paternity claims. Instead, his wife said that the family knows nothing about Rosa Iselas mother.
Joaquns sister[s] affirm that they have never known of the existence of this person, hence it is more than obvious that she has no idea of what she is saying, since no one in the Guzmn Loera family and not even Joaqun himself identifies her, the statement said.
The disavowal and petty politicking added to the intrigue of case, which has caused a sensation in the Mexican media and discomfort for an image-conscious presidential administration. It also continued the media management attempts by the drug lords kin in which El Chapo has been portrayed as more a family man and over-the-hill farmer than a feared cartel kingpin.
The interview raised eyebrows in Mexico for its assertions, such as the suggestion that El Chapo twice travelled to the US while on the lam to visit his daughter another claim Coronel disputed. Claims of his illegally funding political campaigns, not uncommon in Mexico but seldom proven, made headlines, too.
All I know is that my dad told his lawyer to deliver some cheques to [a politicians] campaign, and asked that he respect him, said Ortiz, 39, who was born in the Guadalajara area and lives in California.
If theres a pact, they dont respect it. Now that they catch him they say hes a criminal, a killer. But they didnt say that when they asked for money for their campaigns. Theyre hypocrites.
Manlio Fabio Beltrones, president of the governing Institutional Revolutionary Party (PRI), did not respond to questions about dirty money possibly making it into campaigns, but dismissed the familys claims that El Chapo whose lawyers want his extradition expedited is enduring intolerable prison conditions such as not being able to sleep.
What a paradox, right? A criminal complaining of poor treatment, he told reporters. We also think he should be extradited to the United States and that he pay for his offenses or his crimes in this country and that country, too.
Analysts expect opposition politicians to opportunistically attack the PRI over the allegations of drug money ending up politics, but see little enthusiasm for proceeding with a proper investigation.
If one is charged and tried, they all fall, said Fernando Dworak, an analyst and political consultant in Mexico City. The rules are made so that politicians cover up for each other.
Read more: www.theguardian.com