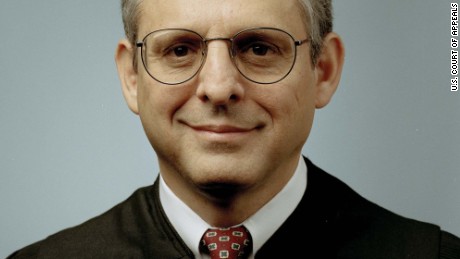 (CNN)CNN commentators offer their take on President Barack Obama's selection of Merrick Garland as his nominee to the Supreme Court. The opinions expressed in these commentaries are those of the authors.
Paul Callan: The best Republican option?
Merrick Garland represents a solid compromise candidate, one with both pros and cons for liberals and conservatives. His credentials are impeccable, given his Harvard degrees and the fact that he clerked for liberal champion Supreme Court Justice William Brennan. Though Garland may seem disappointing to some observers who hoped President Obama would make history by nominating Sri Srinivasan or Paul Watford, he is nonetheless a pragmatic pick.
It will be hard for conservatives to oppose someone who is pro-law enforcement (Garland "rarely votes in favor of criminal defendants' appeal of their convictions," according to SCOTUS blog) and who was confirmed to his current Appeals Court spot with bipartisan support. At age 63, he is also older than other potential candidates, meaning his tenure on the court will be limited.
The one potential drawback regarding Garland? His long judicial record, which will now face intense scrutiny by conservative opponents of his candidacy. Garland's adversaries will be combing through his body of legal work in search of any potential objectionable opinions. His vote to re-consider the Heller case in 2007, which struck down the District of Columbia's ban on handgun possession, will likely be used as evidence of liberal bias.
That said, Senate Republicans need to stop putting their partisan loyalty before the national interest, and act on this nomination. The Appointments Clause of the Constitution says the president shall nominate Supreme Court justices, with no exceptions — not for election years, not for lame-duck periods, and not for "when the president is Obama." Nor is there precedent for refusing to give a nominee a hearing; there is in fact a long history of confirming nominees during election years.
Just as it is the president's obligation to nominate a justice, it is the duty of the Senate to provide "advice and consent." Consider that a full Supreme Court is a critical component of our system of checks and balances. Or that polling shows most Americans want Obama to name a justice, and for that nominee to receive a hearing. So the members of the Senate Judiciary Committee need move ahead as our founders intended — and as the American people want.
If Garland is confirmed, he will face major issues this term, including cases involving executive action on immigration, Texas' redistricting plan, the right of unions to collect dues, and a challenge to the University of Texas' affirmative action program.
Based on his record, we can expect that he would stand with the administration on these cases — given that many legal experts consider the Obama administration's position on them to be legally sound. Certainly, Garland's experience on the D.C. circuit — which is the second-most powerful court in the country, after the Supreme Court — means he will be uniquely qualified to rule on such matters.
Raul A. Reyes, an attorney and member of the USA Today board of contributors, writes frequently for CNN Opinion. Follow him on Twitter @RaulAReyes.
Join us on Facebook.com/CNNOpinion.
Read CNNOpinion's Flipboard magazine.
Read more: www.cnn.com