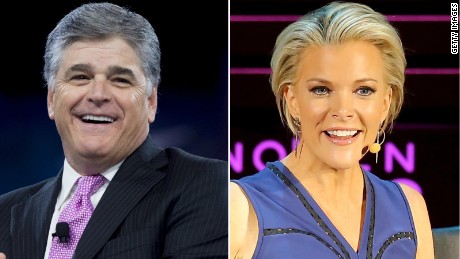 (CNN)Megyn Kelly has apparently had enough of Donald Trump ducking tough questions. On her Fox News' show Wednesday she called out Trump in no uncertain terms while also taking a subtle shot at her colleague Sean Hannity: "Donald Trump, with all due respect to my friend at 10, will go on Hannity and pretty much only Hannity and will not venture out to the unsafe spaces these days, which doesn't exactly expand the tent."
Hannity
responded
by channeling his inner Trump and lashing out at Kelly on Twitter: "@megynkelly u should be mad at @HillaryClinton Clearly you support her." It's truly jaw dropping that Hannity would publicly call Kelly a Clinton supporter since that is akin to accusing a person of treason in the eyes of Fox News viewers.
Putting aside my personal enjoyment at watching Fox News anchors fight over and with Trump, Kelly is 100% correct. Trump is
trailing
Clinton in the RCP average of polls by more than 3 points, the biggest gap in over a month. And
polls
released in the last few days show Trump not only trailing in most battleground states — including Ohio, where Trump had recently been leading — but shockingly a new poll published Thursday also shows him trailing Clinton by 2 points in the traditionally red state of Arizona.
How can Trump expect to close this electoral gap if he doesn't venture out beyond the conservative base that watches Hannity's show?! It's truly irony defined that Trump, in many ways a creation of the media, has now morphed into the political version of Greta Garbo when it comes to answering questions from members of the media other than Hannity.
But by limiting himself only to the Hannity audience, Trump may effectively be ruling himself out of a victory and courting political bankruptcy. His other option is to give himself a shot at winning by holding press conferences and appearing on various networks to field questions. Knowing Trump, he might agree to finally holding a "press conference" but with the proviso that only Hannity could ask questions.
Read more: www.cnn.com