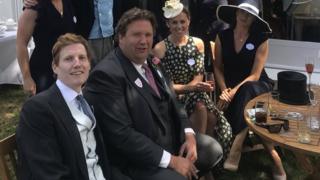 The suit that the Duchess of Sussex's father, Thomas Markle, had planned to wear for the royal wedding has been snapped up for "half-price" and worn to Royal Ascot.
Public relations consultant Johnno Spence bought the "semi-bespoke" suit from men's outfitters Oliver Brown.
Mr Markle had been expected to walk his daughter down the aisle but missed last month's wedding because of ill health.
He later said he watched the event on television.
He bought the suit for £2,000 – around half of its full price – from Chelsea-based Oliver Brown, an official licensee of Royal Ascot which specialises in silk top hats worn inside the Royal Enclosure.
The duchess had commissioned the owner of the menswear company, Kristian Robson, to make several outfits for her father ahead of his planned visit to Britain it has been reported. She requested shirts, a weekend suit, a waistcoat and a set of tails.
According to a source quoted in the Mail on Sunday, the tailor said that with a few adjustments, the outfits would "fit Johnno like a glove – and they did".
Mr Spence, who founded PR firm JSC Communications, is understood to have attended Royal Ascot on Tuesday – the same day the Duke and Duchess of Sussex were also there.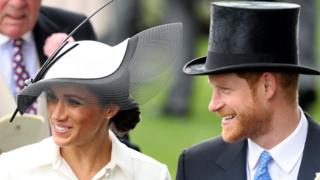 Earlier this month Mr Markle, 73, appeared on Good Morning Britain and said daughter Meghan cried when he told her he would not be attending the wedding.
He said he was recovering well from his heart surgery.
In the run-up to the wedding Mr Markle – a former cinematographer – became embroiled in a controversy over reports he had staged paparazzi photos of himself in wedding-related activities, such as being measured for a new suit.
Speaking to GMB, he explained that it was meant to be "a way of improving my look", adding: "Obviously that all went to hell." He said he apologised to both Harry and Meghan.
Read more: www.bbc.co.uk