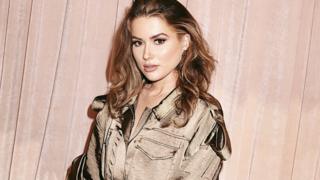 At 17 years old, Conna Walker not only had school work and the stresses of teenage life to deal with, but her own business to run too.
Using her parents' background as market traders for inspiration, she started buying and selling dresses online, before branching out into designing her own pieces.
Conna noticed a gap in the market for designer-inspired party clothes that were better quality than the items on offer on the high street.
Now 26, the Brit is the CEO of House of CB, an affordable luxury fashion brand with collections that are designed in-house and sold around the world.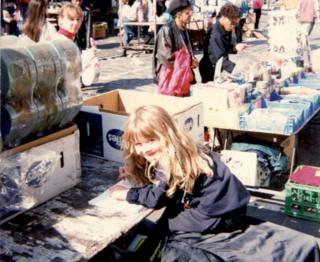 "My parents were market traders and I would go with them to Ridley Road market in Dalston," Conna tells the BBC.
"My dad is a hustler, they've taught me in that sense, but no-one did fashion in my family, that was something new.
"Originally I didn't have a business plan. I wasn't trying to do anything specific as such, my dad was just like, 'You need to get a job', and then I didn't feel like doing a nine-to-five.
"So I started buying and selling ready-made pieces and I was at school at the time so I put them on eBay."
Conna says her days would consist of putting up listings, going to school, then coming home and answering questions and packing up orders. But it wasn't until she started making her own designs that her business really took off.
"It came from me wanting specific things that weren't available in the market place, so I set up my own website, as there was only so much that ready-made products could do for me and there were pieces I wanted made," she says.
"It was stuff I wanted as an 18-year-old that wasn't available, it was a trendy item of the time and the brand still has that feeling about it."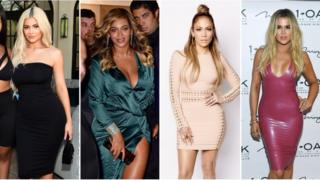 One of House of CB's biggest selling points is the celebrity following it has attracted – Beyonce, Rihanna, Kim and Khloe Kardashian, Kylie Jenner and Jennifer Lopez have all been spotted in Conna's designs.
House of CB's clothes vary in price, but her key pieces, like dresses and jumpsuits, sit around the £100 mark – considerably cheaper than a lot of big fashion brands.
"I remember when J-Lo first wore something – I literally squealed," she says. "I wasn't expecting it and it had a huge impact on us.
"It took a few more placements after that for people to start really being like, 'Oh, they are being worn by those celebrities', because so many brands were like, 'Get the look', but we were really being worn by them.
"We don't pay for placements so for us it's flattering when [celebrities] wear something, because they're choosing to wear us over items that cost thousands of pounds."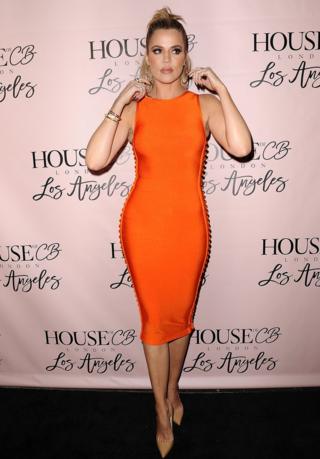 The industry's take on House of CB
Kirsty McGregor, deputy editor of fashion industry magazine Drapers, tells the BBC that while the demand for "throwaway fashion" isn't going away, House of CB fits into a trend for more people to buy into higher-priced pieces with a longer shelf life:
"The young fashion market is crowded with brands that target the Instagram generation of shoppers who want to wear something new and on trend but don't have a lot of money in their pockets.
"House of CB has sought to carve out a niche for itself and justify its higher price points by offering better quality collections that are designed in-house in London.
"It is tapping into a gradual shift away from throwaway fashion – more consumers want to know where and how their garments were made, especially in the wake of documentaries that have exposed sweatshop conditions in the factories used by some of the biggest fast fashion brands.
"However, research has shown that shoppers still tend to park their moral values at the door when they get a whiff of a good bargain.
"So, equally crucial to House of CB's success will be the continued support from high-profile celebrities. Their endorsement guarantees sales despite the higher price point."

Conna also says that celebrity influence has helped build her brand online, but that marketing through social media influencers also has its benefits.
"The way we're positioned in the market is more luxury so the A-list endorsement makes more sense," she says.
"But influencers have a lot more trust from their followers than celebrities do and they may have a lower following but higher volume of sales.
"They have more of a local appeal, whereas celebrities have a global appeal and you'll see sales spike around the world, so you'll deal with both."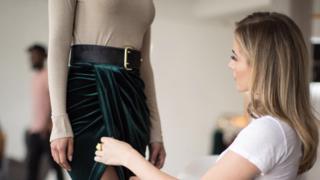 Conna, who now lives between her London and Los Angeles stores, also has units in Manchester, Liverpool, Las Vegas and concessions in more than 40 Topshop branches around the world.
Her main competitors aren't on the high street, but online, with brands like Pretty Little Thing and Missguided offering similar styles for a fraction of the price.
These "fast fashion" outlets have enjoyed huge growth in recent years. So is Conna able to keep up with the competition?
"There are other brands whose quality is a little less and the price points are lower as well, but we've always kept that more luxury product at a more accessible price point," she says.

"Everything we do is designed to enhance someone's figure and I think a lot of fast fashion is designed around the latest trend, and you throw it on and it either fits you or it doesn't."
She adds that "a lot of brands are based on ripping off runway shows and other brands like mine – but people always want the original", and that the cost of her products comes from the quality of material.
"Our product is not cheaply made, and when you're buying it you're investing in it, and you're going to keep it in your wardrobe for years – you can wash it and it won't fall apart."

Follow us on Facebook, on Twitter @BBCNewsEnts, or on Instagram at bbcnewsents. If you have a story suggestion email entertainment.news@bbc.co.uk.
Read more: www.bbc.co.uk