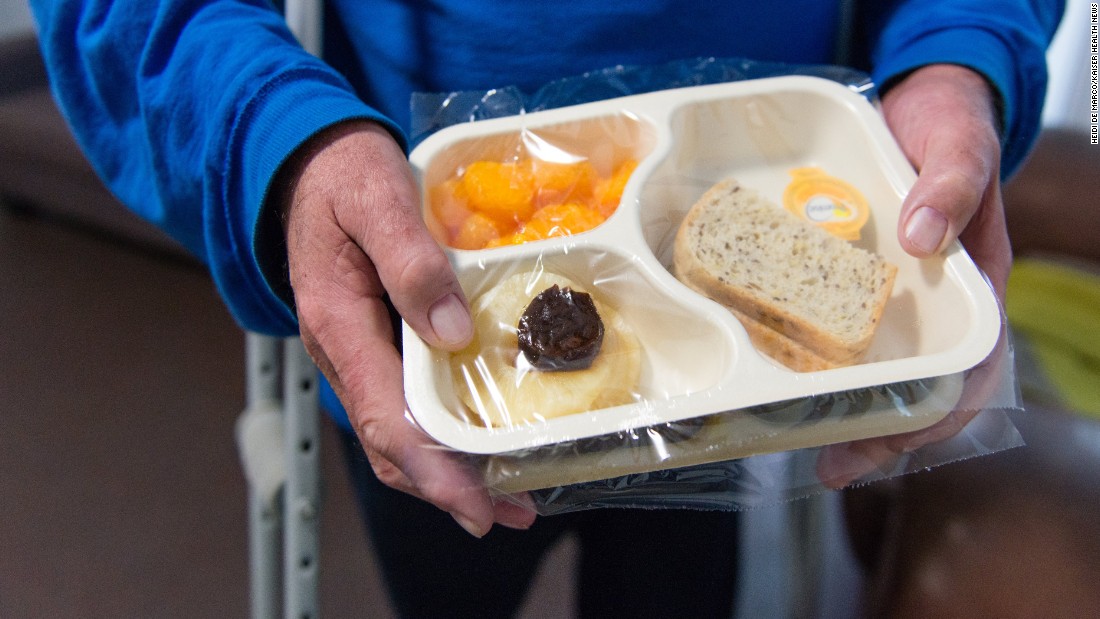 (CNN)Debbie Case held an insulated bag with two packaged meals — a sandwich wrap and fruit for lunch, a burrito and cauliflower for dinner.
"You're going to eat well today," Case told 75-year-old Dave Kelly as she handed him the meals. Kelly lost his sight about two years ago and reluctantly gave up cooking.
"The fact that you don't have resources to feed yourself or you are so frail you can't cook is a very big marker that you are going to have high health care utilization," Agha said. "There is value in targeting these clients through this meal delivery service."
That's also what Meals on Wheels America is planning to do in a new partnership with Johns Hopkins Bayview Medical Center and Meals on Wheels of Central Maryland. The project aims to keep seniors at home and reduce their need for costly health services after hospitalization. The idea is to have trained volunteers report red flags and ensure, for example, that patients with congestive heart failure are weighing themselves regularly and eating properly.
Dan Hale, who is leading the project from the hospital, said the meal delivery volunteers can help track patients' health even months after discharge and keep them from returning to the hospital. "It makes sense financially," he said.
Funding for Meals on Wheels organizations primarily comes from the federal government, state organizations and donors.
The partnerships with health care organizations and insurers mean additional money for the Los Angeles County programs, said Baca, who heads a countywide association of local Meals on Wheels organizations.
On a recent day in Santa Monica, volunteers showed up just after 10 a.m., loaded up their cars with meals and headed out to deliver them. One of the clients, 58-year old Patrick Ward, receives daily meals at his apartment in Venice.
Ward, who has osteoarthritis and knee problems, said he has fallen numerous times and also had a heart attack this year. He said he can take care of himself pretty well, but his lack of mobility makes cooking difficult.
"It takes one thing out of the day that I don't have to worry about," Ward said. "I know they are going to be here every day."
This story was produced by Kaiser Health News, an editorially independent program of the Kaiser Family Foundation.
Read more: www.cnn.com