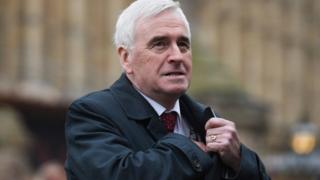 The shadow chancellor says Labour MPs will not be "bribed" into supporting Theresa May's Brexit deal in exchange for funding for their constituencies.
John McDonnell said any such offer would be "pork-barrel politics" and "dangerous for our democracy".
It follows reports that investment could be made in Leave-voting constituencies to secure MPs' votes.
A spokesman for the PM said this week any investment to tackle inequality could not be called "cash for votes".
The government is understood to be considering proposals from a group of Labour MPs in predominantly Leave-supporting constituencies to allocate more funds to their communities for big infrastructure projects.